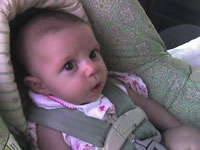 As Darcy says…"Our story is not that uncommon, but it's the kind of thing no one ever talks about…" In their personal and honest interview, the Casavants buck conventional wisdom and talk openly about their determination to have a child. In the interview, they discuss how their challenge was complicated by a small tumor on Darcy's pituitary gland which prevented her from becoming pregnant. Medication helped overcome some of the affects and allowed Darcy to become pregnant twice, but both times, she miscarried. In both cases, the Casavants named their babies to help deal with the loss. The unfulfilled dreams of baby Gabriel and baby Raphael proved to be motivating forces for the Casavants. Despite their shared loss, the couple continued pursuing medical options and infertility treatments. The determination paid off and as of this recording, Darcy is pregnant and the Casavants are anticipating the July birth of baby Kathleen.
**Update**: Geoff and Darcy celebrated the birth of baby Kathleen on July 18, 2007 (pictured above). Her parents say she's perfect in every way.
For more information or if you would like to tell your story to KUHF, contact Paul Pendergraft at PPendergraft@KUHF.org.