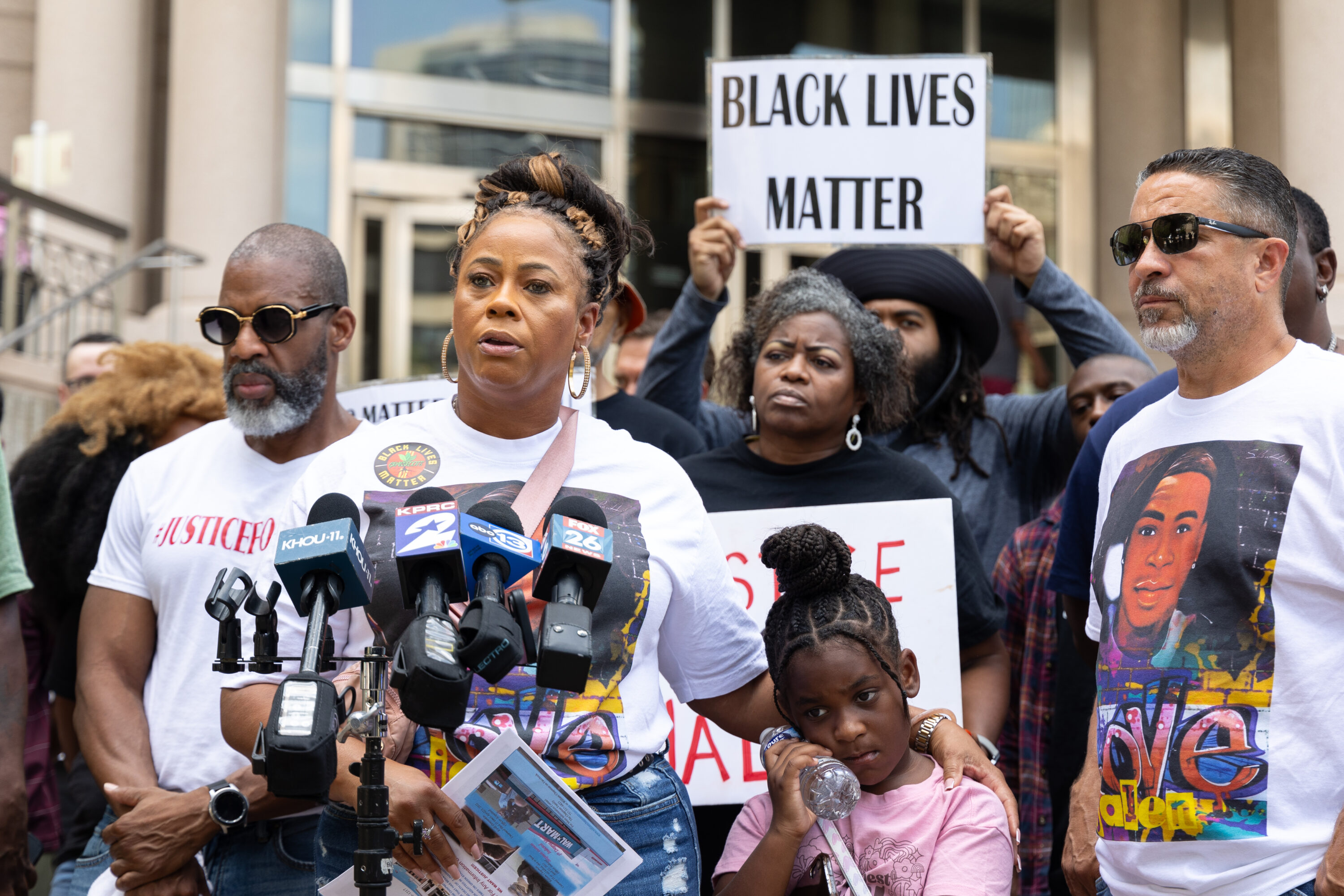 The family of Jalen Randle is continuing their fight for accountability against the Houston police officer who shot and killed him in April 2022.
During a press conference on Wednesday outside the Harris County Civil Courthouse, Randle's family members demanded criminal charges be filed against HPD Officer Shane Privette, who fired the bullet that ultimately took Randle's life.
"Officer Privette, you get to go home to your wife and to your family," said Tiffany Rachal, Randle's mother. "The loss of my son, Jalen, is not something that can be justified."
More than a year has passed since Randle, a 29-year-old Black man, was killed while HPD officers were serving an arrest warrant against him on April 27, 2022. At the time, Randle was charged with aggravated assault of a family member, evading arrest and being a felon in possession of a weapon.
After getting into an SUV and leading officers on a brief pursuit, body camera video shows Randle get out of the vehicle. Seconds later, Privette fires a bullet into Randle's neck.
Now, nearly 15 months after the shooting, Privette remains on paid leave at the Houston Police Department.
"It is unacceptable that someone can unjustly take a life and still be employed," Rachal said. "Today, we demand that Officer Shane Privette be relieved of his duties as he poses a liability to the city and undermines the oath he took as an officer."
This comes after a Harris County grand jury decided to take no action against Privette in April, leaving the door open for another grand jury to eventually take up the case. In a statement, a spokesperson for the Harris County District Attorney's Office said the department was "committed to seeing these cases presented to the appropriate grand jury as soon as it is appropriate to do so."
Privette was previously indicted in 2019 for aggravated assault against a Black man during an arrest in 2017. During a drug bust outside of a gas station, Privette allegedly hit the man in the face with his knee while taking him into custody. Those charges were eventually dropped.