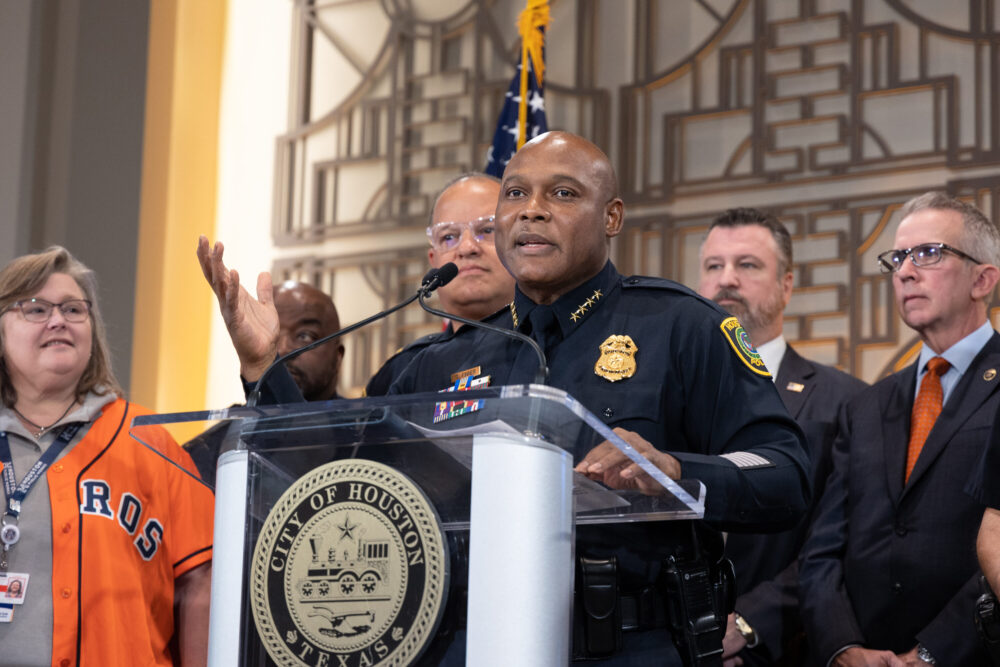 Houston saw a nearly 10 percent decrease in murders and other violent crimes from 2021 to 2022 – a sharper year-over-year decline than the United States as a whole – according to a nationwide report released Thursday by a professional organization for police executives.
The Major Cities Chiefs Association (MCCA), which serves the U.S. and Canada, reported a 0.8 percent decrease in violent crime nationally based on data provided by 70 law enforcement agencies in the largest American cities. The Houston Police Department (HPD) was one of seven U.S. agencies to report decreases in all four types of violent crime included in the survey – homicides, rapes, robberies and aggravated assaults – with the others being Dallas; Indianapolis; Oakland, California; St. Louis County, Missouri; Tucson, Arizona; and Wichita, Kansas.
A total of 26,223 of those violent crimes were reported to HPD in 2022, according to the survey, representing a 9.9 percent decrease from the 28,825 reported the year before. The country's three larger cities – New York, Los Angeles and Chicago – each reported overall increases in violent crimes.
Houston's 435 murders in 2022 represented a 9.7 percent year-over-year decline in that category – but were fourth-most in the country behind Chicago (697), Philadelphia (516) and New York (438). Houston's homicide total last year also was a nearly 50 percent increase compared to 2019, the last year before the onset of the COVID-19 pandemic, according to data released last month by HPD.
The national report showed Houston had year-over-year decreases of 9 percent in aggravated assaults, 10 percent in robberies and 24 percent in rapes. Nationwide, there were 5 percent year-over-year decreases in homicides and rapes, along with a 5 percent increase in robberies and 0.2 percent increase in aggravated assaults.
The 2022 crime data released by HPD in January largely matched up with the national report, which included statistics only for 2021 and 2022, and showed the city mostly dropped to pre-pandemic levels in the overall numbers of violent and non-violent crimes. The higher numbers of murders, kidnappings, aggravated assaults and auto-related thefts were the exceptions.
In January, HPD reported a 7 percent year-over-year increase in non-violent property crimes, including an 11 percent spike in auto-related thefts, which the department said was driven in part by a surge in catalytic converter thefts.
"The overall data shows HPD's crime-fighting efforts are working, but there's still more work to be done," the department said in a January news release about its 2022 crime statistics.
Among the other Texas cities included in the national survey, Arlington, Dallas and Fort Worth saw year-over-year decreases in the overall number of violent crimes reported, while Austin, El Paso and San Antonio experienced increases. San Antonio was the only Texas city to see a spike in murders from 2021 to 2022.