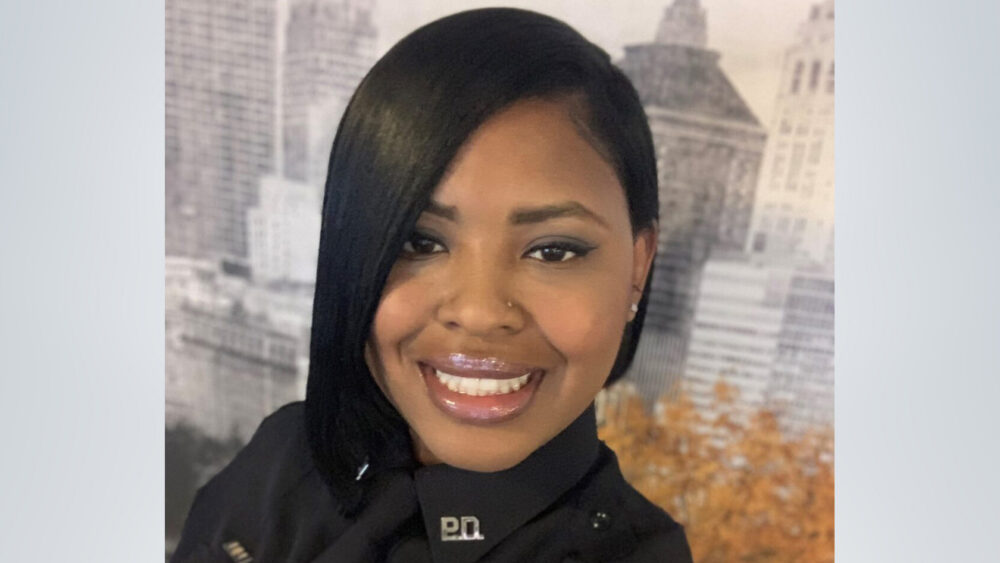 A police officer who is running for mayor of Houston – with the campaign slogan "Back the blue but not bullies in blue" – was arrested Tuesday and accused of assaulting her live-in boyfriend with her police baton and stun gun, according to Harris County court records.
Missouri City Police Department officer Robin Williams, 32, faces a felony charge of continuous violence against a family member. Court documents show she is alleged to have punched her boyfriend in the mouth and struck him with her department-issued baton early Dec. 31 at their Houston home – four months after allegedly beating him with the baton and using a taser on him.
Williams has posted a $15,000 bond to be released from jail, according to court records, which did not list an attorney for her as of Wednesday.
"We don't have a comment at the moment," Williams' campaign manager, Julia Williams, said late Wednesday morning. "We will soon."
The Missouri City Police Department, in a statement released Wednesday, said Robin Williams was arrested at department headquarters on Tuesday by the Harris County Precinct 7 Constable's Office, which is conducting a criminal investigation. The department did not immediately respond to emailed questions seeking to determine her current employment status and how long Williams has worked as an officer there.
Williams' campaign sent out a news release Monday – the day before she was arrested – saying she had "sustained a dislocated shoulder and minor injuries to her hand, knee, and elbow" while working as a police officer and responding to a call shortly after 2 a.m. Dec. 31. Julia Williams would not say Wednesday whether that happened before or after her alleged altercation with her boyfriend.
The Missouri City Police Department did not immediately respond to an emailed question seeking confirmation about the on-the-job incident.
"The alleged offense happened on Dec. 31 as well as her accident," Julia Williams said. "We have no other comments about that."
During an interview about the Dec. 31 altercation, Robin Williams' boyfriend told a constable's deputy she allegedly shot him with her stun gun in August of last year, according to the probable cause affidavit filed in court. Her boyfriend also showed the deputy a video from Aug. 4 that allegedly shows Williams striking him in the body and legs with her police baton while wearing a Missouri City Police Department T-shirt, the affidavit shows.
Williams could allegedly be heard on the video making a threatening comment as well as telling her boyfriend, "... you broke my phone and you know I'm a police officer. B—- that's worth over $2,000," according to court documents.
Williams, who has not held public office, has been campaigning to become Houston's next mayor since last year. Her campaign website says she served in the United States Marine Corps before becoming a police officer.
She writes on her campaign website, "I want to suppress the crime and ensure that the residents of Houston are safe. ... There is no place for a bully in society and I plan on enforcing that."
According to the only campaign finance report she has filed with the city, in September of last year, Williams had received nearly $189,000 in donations at that point. That amount included a $52,700 contribution from herself as well as a $3,009 donation from her boyfriend, according to the report.