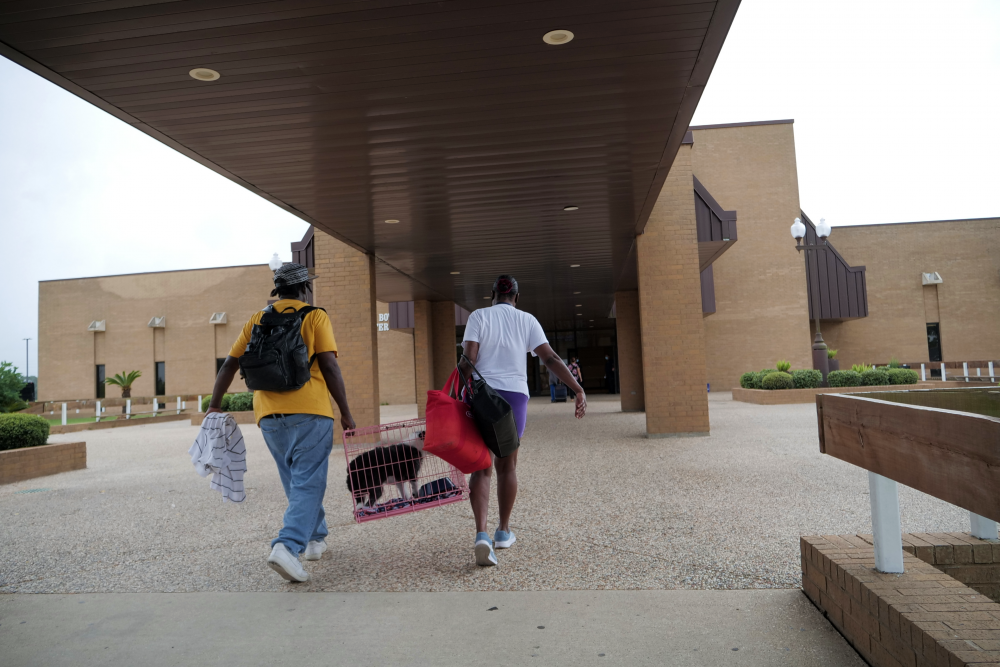 The streets of Beaumont were largely empty Wednesday morning, dotted with boarded-up businesses closed well ahead of Hurricane Laura's landfall. Beaumont officials were loading people into buses at Westbrook High School amid a mandatory evacuation order.
But many people still planned to remain in the city, stocking up on last-minute groceries before hunkering down.
At an HEB location there, 58-year-old Deirdre Davenport said she was gathering provisions to ride out the storm.
"I can't afford to go anywhere," she said. "A lot of places people are being turned around, and just the amount of time to spend in traffic trying to get somewhere. You know, I keep telling everybody, 'it's faith over fear.'"
Local officials in Texas and Louisiana have asked hundreds of thousands of people to evacuate as Hurricane Laura headed for communities along the coast. But while many people in some of Texas' most vulnerable areas have left town, some residents say they can't afford to leave.
The poverty rate in Jefferson County, where both Beaumont and Port Arthur are located, is more than 18%. That's higher than both the Texas and U.S. rates, according to U.S. Census data. The average income is $68,549 a year — nearly $20,000 less than the state average.
And the storm comes even as people continue to deal with the spread of COVID-19, a health emergency that's now compounded by a storm that looks set to wreak havoc on parts of the region.
The unemployment rate in the Beaumont-Port Arthur area in February was 5.5%. But since the COVID-19 pandemic, that number has more than doubled: The unemployment rate in June was 12.8%, although that's down from an April high of 18.1%, according to the U.S. Bureau of Labor Statistics.
"The pandemic is already a major disaster," said Bob Sanborn, CEO and president of the advocacy group Children at Risk. "And this has the added component of a disaster over disaster, which is going to be super hard on low-income families."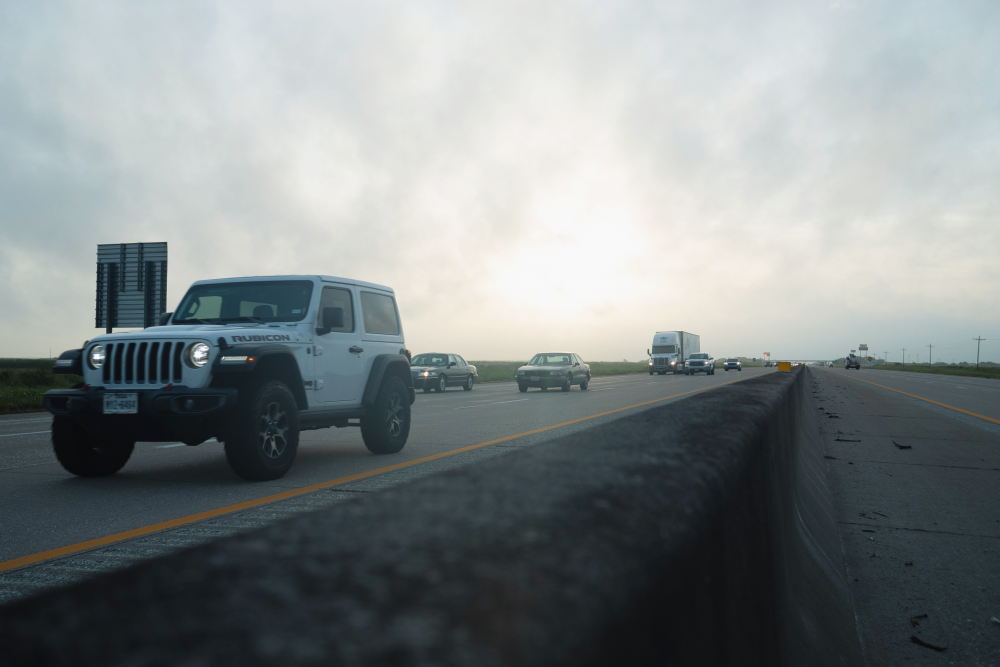 Sanborn said Children at Risk and other nonprofits have stepped up to support vulnerable families in the wake of previous storms, like Hurricane Harvey in 2017 and Hurricane Ike in 2008.
This time around, however, he said that nonprofits in the region are already strained because of the ongoing pandemic and recession.
"I had a meeting this morning with a big group of 40 nonprofits and I think people didn't know whether to laugh or to cry because they are overtaxed in terms of energy," Sanborn said.
As far southwest as Galveston, local officials had ordered a mandatory evacuation Tuesday, filling as many as 50 buses to head north on the Gulf Freeway.
But others were preparing to ride out yet another storm in their coastal community.
Standing outside their Galveston home Tuesday, Thomas Rodriguez and his wife Kimberly said they couldn't leave ahead of Hurricane Laura, because they had no place to stay.
"We don't have no choice," Rodriguez said. "So we're going to have to stay here, and hopefully I can find us some kind of place that might have some food for the seniors because our checks don't come in until the next month."
Hurricane Laura is expected to be a Category 4 storm when it makes landfall late Wednesday or early Thursday, after gaining strength in the Gulf Coast and threatening to bring with it an "unsurvivable storm surge with large and destructive waves," which could cause "catastrophic damage" from Sea Rim State Park up the coast into Louisiana, according to the National Weather Service. The surge could penetrate up to 30 miles inland, NWS said.
Hurricane force winds were also projected from San Luis Pass, Texas, up the coast to Morgan City, Louisiana, and were expected to cause widespread damage at the state border, according to the weather service.
Beaumont and nearby Port Arthur look to be among the most impacted communities. And many people in both places say they're stuck at home.
Outside the HEB in Beaumont, some customers waited in vain to be let in, after store management said they closed an hour early to let their employees prepare to shelter or evacuate.
One of those people waiting was David Taylor, 61, who said he was sticking around Beaumont because he didn't own a car. He was expecting to do some last-minute shopping for supplies ahead of Laura's landfall.
"I'm gonna stay, because I have no way to get out," he said. "But I need bread, I need coffee, I need all kinds of stuff, you know? I had work, and I didn't have a chance to come and get it yesterday, so I'm here today trying to get what I need, and I can't get it."
"That's the way it goes, I guess," he said.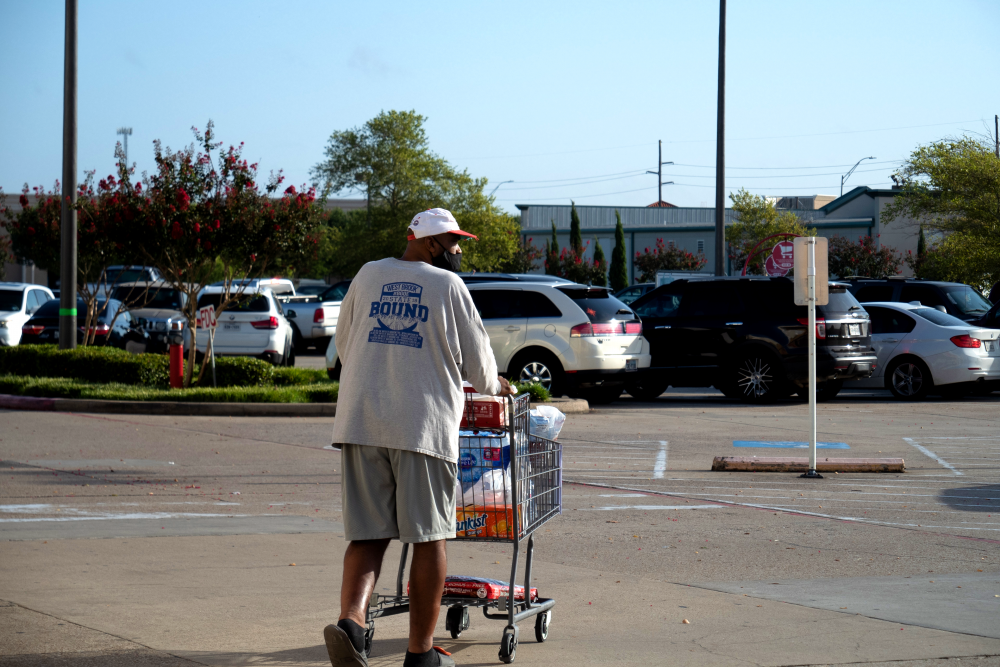 But there would be no stopping others from leaving the area.
Hints of the storm began in Port Arthur before noon, as the rain fell and people flocked to the Robert A. "Bob" Bowers Civic Center, where buses were shuttling evacuees out of town.
There, 24-year-old Jheryl Sterling and 27-year-old Fernando Barahona waited anxiously for transport. The buses were headed out to San Antonio, to Huntsville, to Dallas — on which bus they would end up was anyone's guess. But they gathered anyway, intent on leaving.
"We're trying to get a number, and trying to get a seat right now, but no one's given us no information on where the buses are going, or where it's located," Sterling said. "That's what we're trying to find out now"
Both men said they were experiencing homelessness — for Sterling, that's been the case for two years.
He said it's been hard, but he's hopeful that wherever he ends up, he can get work and get back on his feet.
"I'm just trying to get out of the position I'm in," Sterling said. "That's all there is to it."
Additional reporting by Florian Martin and Laura Isensee. Interns Addison Antonoff and Maria Mendoza contributed to this report.