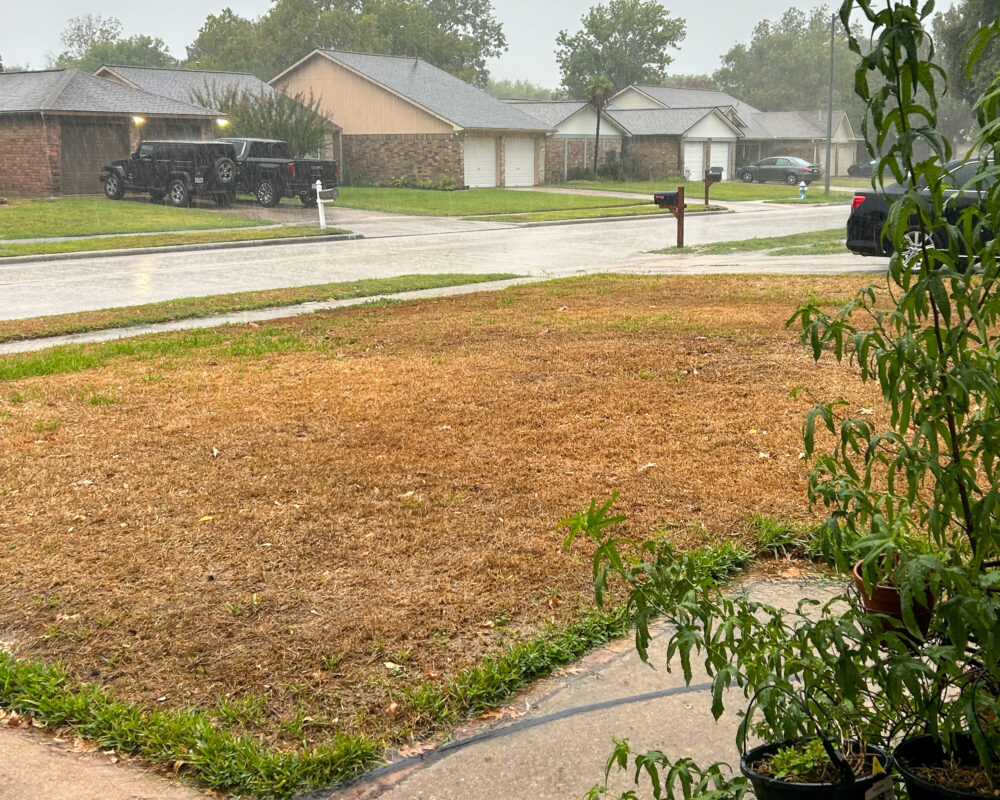 If your lawn took a beating during the hot and dry summer in the Houston area, then now is the time to rebuild.
Robert "Skip" Richter, a horticulturalist with Texas A&M University, said there are a few things that need to be done to get your yard back into shape if it has turned brown amidst drought conditions and record-setting heat. The first is to make sure the yard gets a good soaking of water at least once a week.
"Number 2, I would get down on my hands and knees and check the runners that are going along the surface of the ground," said Richter, referring to the stolons that allow grass to spread. "If they are brown the grass is dead, especially if it's St. Augustine, and you are going to need to replace it."
Replacing it means sodding with new patches of living grass. Richter said it takes 3-4 weeks for new sod to take root, so that needs to be done as soon as possible before the weather gets cooler.
If you are not ready to re-sod, then Richter said you can wait until next spring. Not all yards need to be totally redone. Richter said some yards with patchy green will recover.
RELATED: City of Houston water restrictions making progress, but still implemented
"When you are looking at the grass, if you are finding living tufts of grass here and there it may be that you can avoid the replacement and allow it to grow in, which it will do if the grass is healthy, sometime next spring to early summer," Richter said. If those living tufts are no more than about a foot apart then the grass can come in pretty quickly when we get to the next growing season."
Sodding a lawn does not need to be done by a professional. Richter said the Aggie Turf website has useful information for anyone wanting to do it on their own.
RELATED: Prolonged summer heat wave taking toll on Houston-area trees
Whether you decide to sod your yard or not, the time to fertilize is now, according to Richter.
"It's time to do fall fertilization," he said. "Get that down and water it in so there's plenty of time for the grass to take it up and do some good preparing for winter. The most important fertilizer we do is in the fall, because that is the energy the grass uses to come out next spring."
Also, the need to water is reduced with cooler weather, Richter said.
"With every 5 degrees the temperature drops, our need to water goes down significantly," he said. "When we were just about 100 (degrees) and dropped to 95 that's helpful. It doesn't mean you don't need to water, but it's helpful. By the time we are in the 80s our lawns are not so touch and go like it has been this summer."