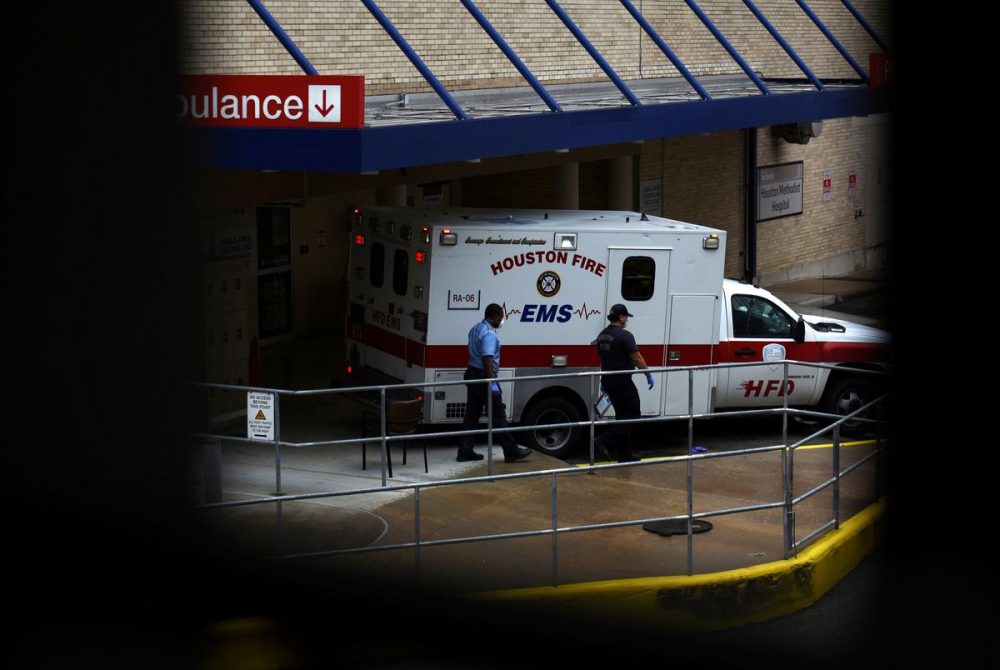 We're continuing to report on how heat affects Houstonians. Our next coverage will look at METRO bus stops. What are the bus stops like in your neighborhood? Tweet a picture using #GotShade? and tag @HoustonPubMedia, or send me an email with your thoughts: swernst@houstonpublicmedia.org
The latest heat wave plaguing the City of Houston has resulted in a surge of 911 EMS calls from people experiencing heat illness.
911 operators have received 390 calls related to heat over the past three weeks, according to Alicia Whitehead-Breaux, a spokesperson at the Houston Fire Department. She said HFD typically receives 3 heat calls a day, but the daily tally started rising as of June 11th.
That was around the beginning of a history-setting heat wave notable for how early in the season it arrived. The National Weather Service said it's the longest stretch of back-to-back 100 degree days that Houston has ever experienced in the month of June.
This month's extreme temperatures caused more heat-related calls, compared to last July's heat, according to records obtained by Houston Public Media.
These 911 calls are also trickling into the emergency room. Houston Methodist is one hospital system that has seen an uptick of patients in need of medical attention due to the heat.
"We usually see these cases in late July, early August," said Dr. Neil Gandhi, the Regional Director of Emergency Rooms. "This is probably the first time I can remember that we've seen patients coming in with heat related illness, heat exhaustion, or heatstroke in June."
30-40 patients have shown up at emergency rooms at seven hospitals in their system, as of last Thursday.
"This might be leading to a trend where we're going to have more and more days of high heats and unfortunately, we may be expecting more patients and more cases this year as we really just started summer," Gandhi said.
An annual heat surveillance study from the Houston Health Department reported at least 1,400 visits to hospital emergency rooms and clinics across the metro area in 2022. This number represents an undercount since not all facilities volunteer to share their data.
Researchers analyzed data from 68 facilities across Harris, Fort Bend and Montgomery Counties and found that most cases were among young people who identified as white or Hispanic.
58 percent of illnesses happened while working, particularly construction workers, warehouse workers and firefighters.
A 46-year-old construction worker in Fort Bend County died on June 16 while working outside, what is considered the first heat death in Houston this year.
Recreational activities like outdoor exercise or attending an event was the second most common category.
"The issue of heat is a health problem," said Loren Hopkins, Chief Environmental Science Officer for the Houston Health Department. "This shouldn't just be something that environmental groups handle. This should be something that we all need to take responsibility for right there in your own front yard."
Katie Watkins contributed to this report.