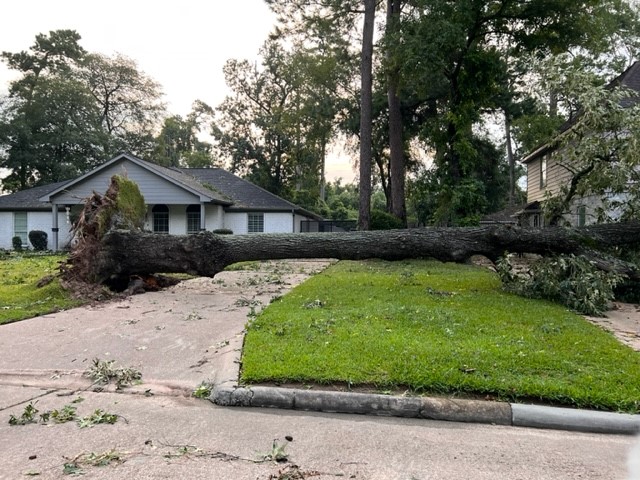 A surprisingly strong storm knocked out power to hundreds of thousands Wednesday night across the Houston region.
Sustained winds as high as 60 miles per hour were recorded and a record-high 97 MPH wind gust occurred at Bush Intercontinental Airport about 9 p.m. That tops the previous record of 82 MPH during Hurricane Ike in 2008.
At its peak, right after the storms blew through, more than 320,000 people were without power in the area, according to CenterPoint Energy, which said about 120,000 were still without power as of noon Thursday. The regional electricity provider said strong winds, heavy rain and lightning strikes caused "extensive damage" to its transmission and distribution systems, with the Bellaire, Cypress, Greenspoint and Humble areas being the most significantly impacted.
"Assessments of CenterPoint Energy's electric system will continue throughout the day and the company expects its customer outage numbers to continue to decline," the company said in a Thursday afternoon news release. "The company also expects to have the majority of the remaining customer outages restored by the end of the day (Friday). In the hardest hit areas, due to the significant infrastructure and equipment damage that will take time to repair, restoration work is expected to continue through Sunday, with remaining isolated outages addressed thereafter."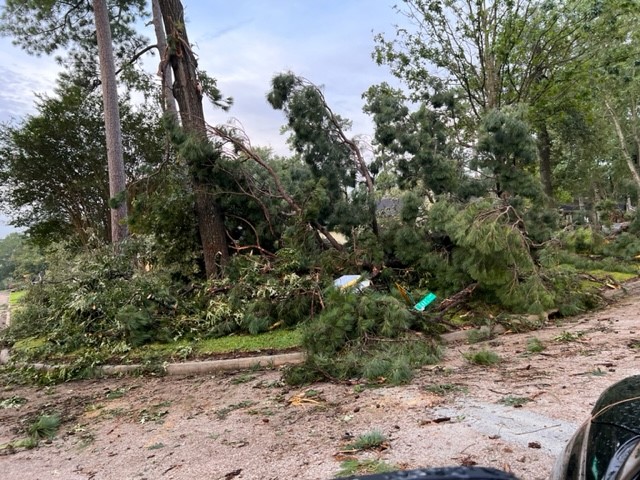 The fast-moving storms brought up to an inch of rain to some in the region, but were most notable for their high winds. Countless trees lost limbs or were toppled, especially in the northern parts of the region.
"Not going to lie, we did not expect this to happen this evening," wrote Eric Berger on Space City Weather late Wednesday. Meteorologists had predicted the system, which originated in the Dallas area, would die out as it moved south toward Houston.
The only good part of the storms – a brief respite from the scorching hot temperatures. Temperatures late Wednesday and overnight plunged into the mid-70s.
The heat will ease slightly for Thursday. Forecasted highs are in the mid 90s, with a heat index forecast in Houston of 103. There is a chance for rain and storms Thursday afternoon.
Wind gust reports from last night's storms can be found here: https://t.co/Nri9Eg5vag

Some Notable Gusts:
Bush Airport – 97 MPH
Spring – 80 MPH
The Woodlands – 70 MPH
Tomball – 62 MPH
Texas A&M Kyle Field – 61 MPH
Madisonville – 60 MPH
Pearland – 58 MPH
Houston Hobby – 51 MPH

— NWS Houston (@NWSHouston) June 22, 2023