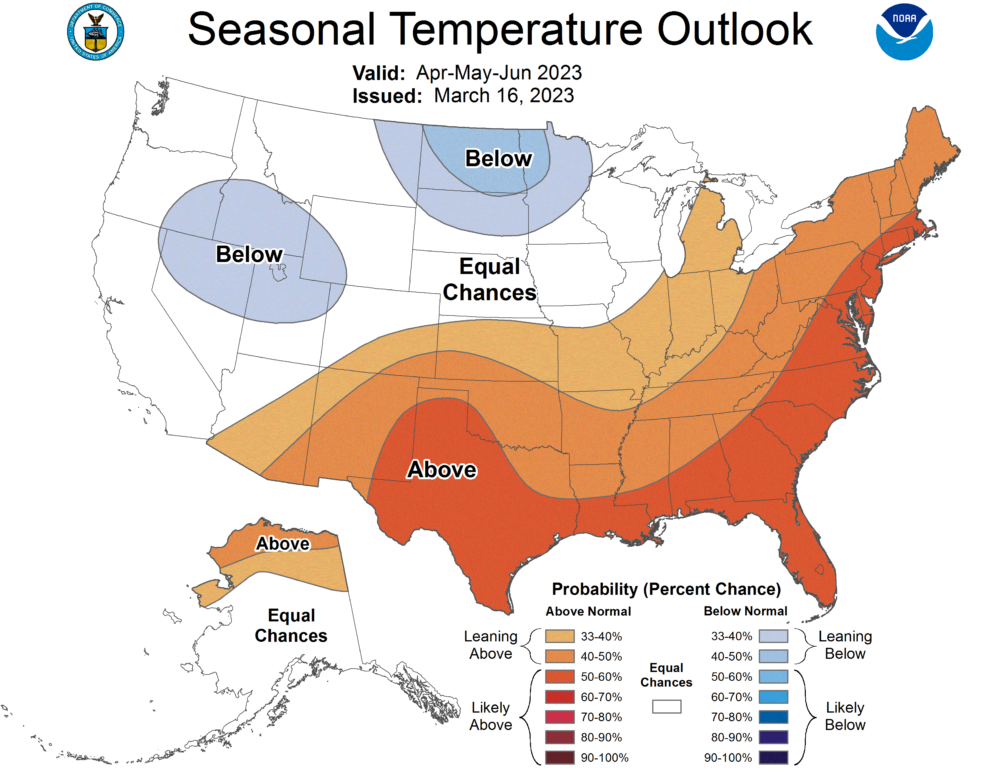 Houston, along with much of Texas, likely will see warmer-than-usual weather this spring.
The National Oceanic and Atmospheric Administration (NOAA) recently released its outlook for the spring season in the United States, which began Monday and lasts until June 21. Drought conditions are expected to continue improving across most of the country – with the western half of Texas being an exception – while there is greater than a 50 percent chance of flooding this spring in much of the South and Midwest in addition to California and some other western states.
The southeastern half of the U.S., meanwhile, likely will see hotter temperatures than normal. Locales along the Gulf and Atlantic coasts have the greatest probabilities for above-average temperatures, according to the NOAA, with the Houston area and most other parts of Texas having among the highest chances nationally at 50-60 percent.
The average April temperature in Houston is 70 degrees, with a mean high just above 80 and a mean low near 60, according to National Weather Service data from 1991-2020. The city's average temperature for June is 83, with a mean high of 92.3 and a mean low of 73.7.
June is typically Houston's wettest month, with precipitation totaling 6 inches on average, while the city sees an average of 5 inches in May and 3.95 in April.
Houston has an equal chance of seeing more- or less-than-usual rainfall this spring, according to the NOAA's precipitation outlook. As for flooding risks, the Houston region is on the southwestern edge of a large, multi-state area that has a greater-than-50-percent chance of experiencing flooding between now and late June.
"Approximately 44 percent of the U.S. is at risk for flooding this spring," Ed Clark, the director of the NOAA's National Water Center, said in a news release.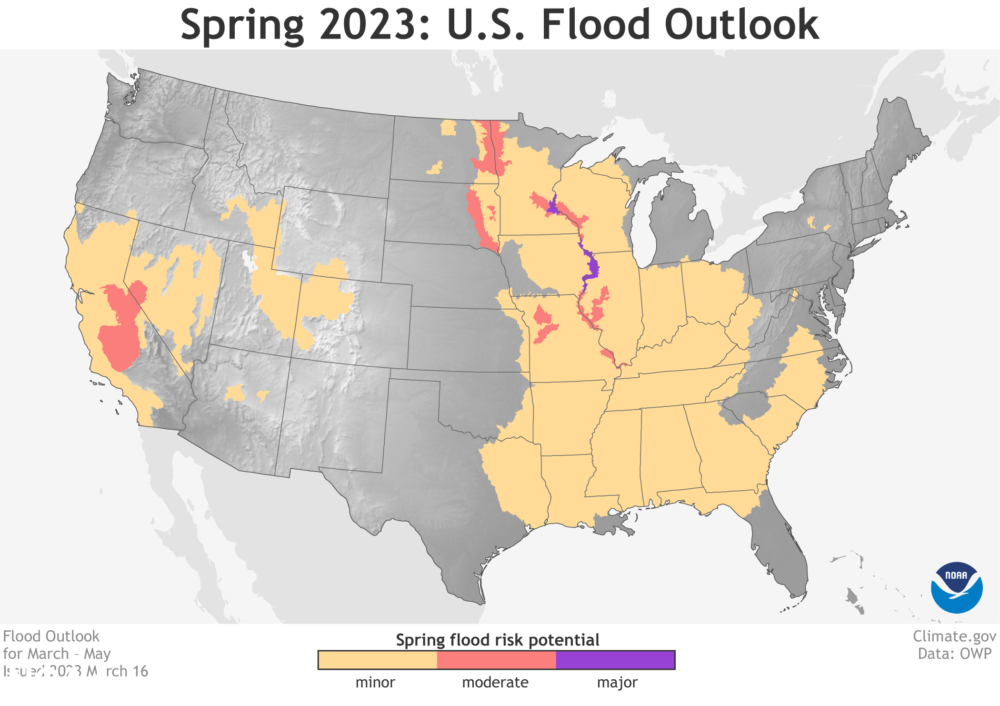 Flood risks can change rapidly during the spring, the NOAA said in its outlook, which highlighted drought, flood, precipitation and temperature predictions for April through June. The idea, according to the agency, is to "help the nation prepare for potential weather and climate threats to lives and livelihoods."
"Climate change is driving both wet and dry extremes, as illustrated by NOAA's observations and data that inform this seasonal outlook," NOAA Administrator Rick Spinrad said.
The NOAA also noted in its report that the La Nina climate pattern ended March 9 after being continuously in place for nearly two years. La Nina and El Nino refer to oscillating global weather patterns, with La Nina translating to warmer, drier winters in Texas and the rest of the South.
The Houston area, along with the eastern and northern parts of Texas, are not expected to experience drought this spring, according to the NOAA. But drought conditions are likely to develop, continue or worsen in the Panhandle and Rio Grande Valley as well as in Central Texas and West Texas.