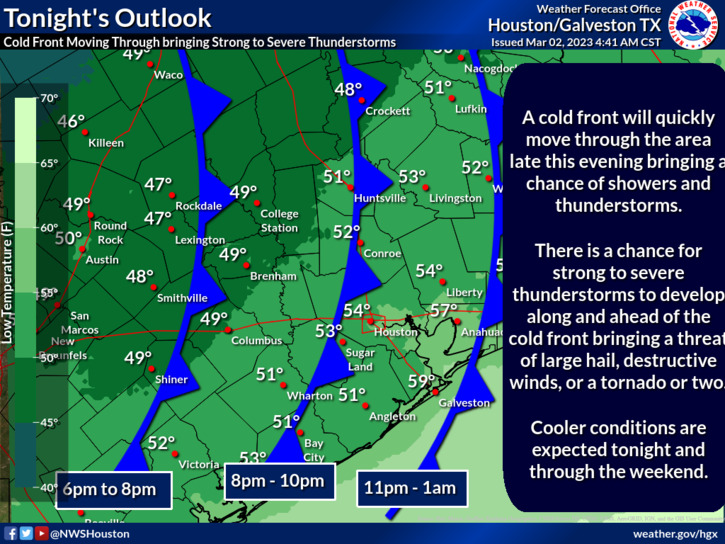 A cold front is expected to blow through the Houston area Thursday night, bringing with it the potential for severe thunderstorms and other hazardous weather.
The front, which is moving west to east, likely will cross the Interstate 45 corridor between 8-10 p.m., according to meteorologist Jimmy Fowler with the National Weather Service's Houston-Galveston Office. It is expected to leave the region around midnight.
"For a couple hours out ahead of that cold front, and until that cold front passes, there's a chance we might have one to two strong to severe thunderstorms developing along that cold front line," Fowler said. "When that cold front pushes through, all kinds of severe thunderstorm hazards are possible. That includes strong winds, hail and possibly a tornado or two."
Fowler said there is a greater threat for severe weather north of Montgomery County, which is north of Houston, as well as in the northeastern part of Texas.
Houston's forecast for Thursday calls for a 20 percent chance for showers and thunderstorms during the day, with a high temperature near 80 degrees and southeasterly winds between 10-15 mph, with gusts up to 30 mph, according to the National Weather Service. The chance for precipitation increases to 60 percent Thursday night, when the low temperature is expected to be in the mid-50s. A south wind between 20-25 mph is expected to shift to a westerly wind as the evening progresses, with gusts up to 40 mph.
Breezy conditions are expected to last through the early part of Friday, which will be sunny with a high temperature near 71, according to the National Weather Service. Saturday and Sunday also are projected to be sunny, clear days, with highs in the high 70s.
More immediately, Houston-area residents should brace for the possibility of severe weather.
"This is a nighttime kind of storm passage, so you want to make sure you have, just in cases there's any warnings that are issued, you have multiple ways to receive said warnings," Fowler said. "So make sure you have your weather alerts turned on on your phone and are checking the news and following up on social media."
10:42am CST #SPC Public Severe Weather Outlook #PWO concerning #arwx #lawx #mswx #okwx #tnwx #txwx https://t.co/gatco1F2Wp pic.twitter.com/ScT30UTiD6

— NWS Storm Prediction Center (@NWSSPC) March 2, 2023