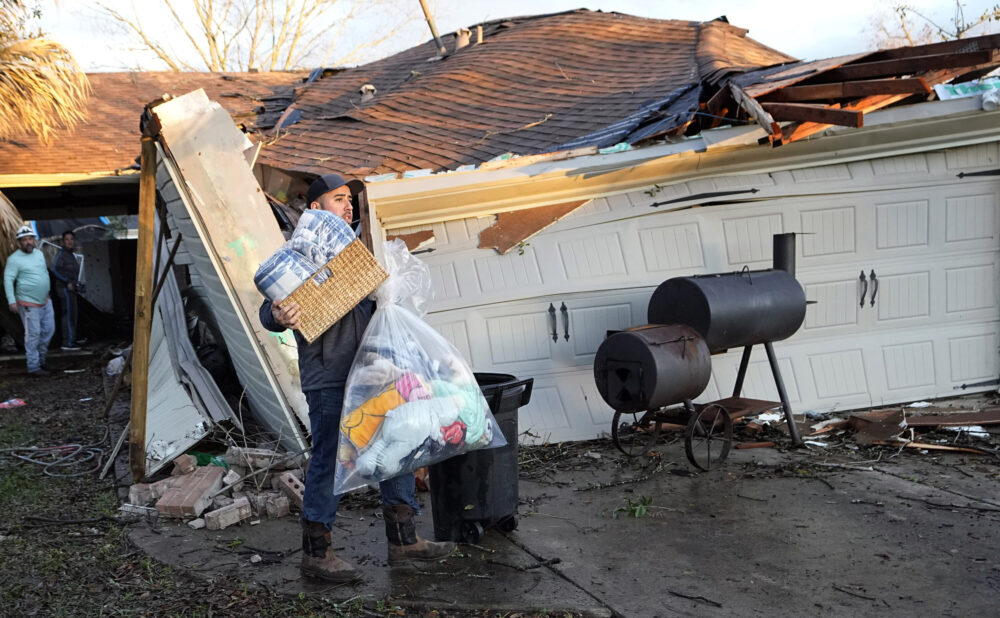 An EF-3 tornado tore through Deer Park and Pasadena on Tuesday, according to the National Weather Service.
NWS survey crews were out on Wednesday morning assessing the strength and path of the tornado as the community worked to clean up in the aftermath of an unusually strong January severe weather outbreak.
By the afternoon, they had upgraded their initial rating of the tornado from an EF2 to an EF3.
The twister had an "estimated maximum path length of 18 mi, maximum path width of 0.66 mi, and maximum wind speed of 140 mph," the weather service said.
There were only a handful of minor injuries reported and no deaths from the tornado.
RELATED: Tornadoes reported, high water across Houston region as severe storms move through
School districts in Deer Park and Pasadena cancelled classes for the day to allow assessment of facilities and so families could work on clean-up efforts.
The Red Cross opened a shelter on Tuesday evening in Pasadena that had more than a dozen people at it.
As of Wednesday morning, there were still more than 20,000 houses without power, according to CenterPoint Energy.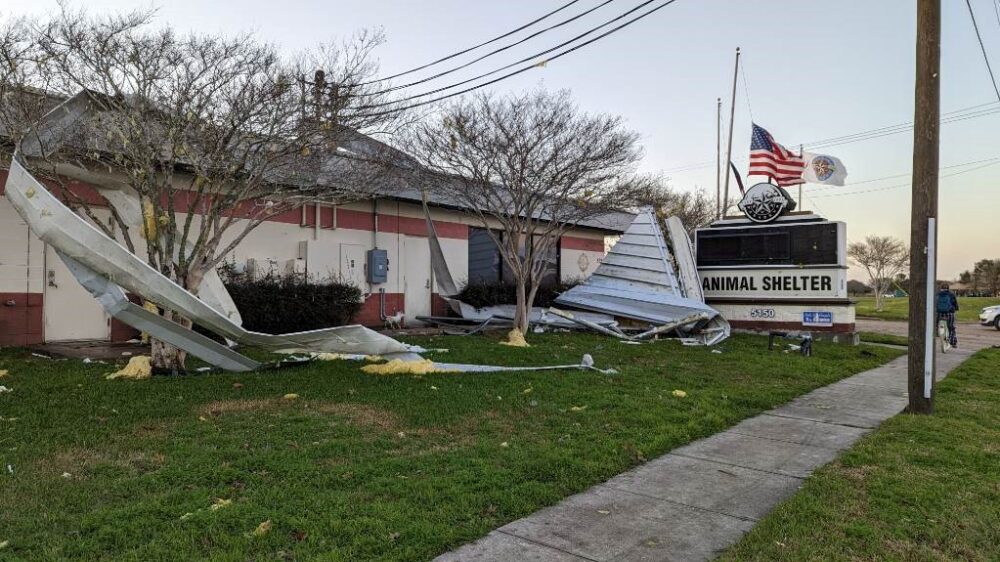 Among the buildings damaged by the tornado was the Pasadena Animal Shelter, where 170 dogs and cats were being housed at the time, according to Lisa Tynan of Houston PetSet, which is among the many local animal advocacy and rescue groups to jump into action and help the shelter. Tynan said all but 23 of those animals had been taken in by other shelters, fosters or rescue groups as of late Wednesday morning.
The Pasadena Animal Shelter, operated by the City of Pasadena, wrote in a Tuesday night Facebook post that all the animals and its staffers were OK even though the tornado ripped off the roof of a kennel facility while dogs were inside. The shelter remained without electricity, phone service or running water and was temporarily closed.
"All of the animals did survive, which is really quite amazing considering the state that building is in," Tynan said. "Fortunately, it looks like there will be a place for all of them to go."
J. Malone is the owner of Skate World. He said the tornado took out about 140 feet of cinderblock wall.
"Some of my roof's gone, it looks like a bomb," he said. "You see the videos of buildings getting bombed … and this is exactly what it looks like."
Malone has owned Skate World since 2004. He said he has had lots of people reach out to help clean up the place.
"It's a big outpouring of people wanting to help, it's pretty cool," he said.
Malone said he plans to rebuild, but it will take time to have it happen.
"I was actually at Home Depot when the tornado hit," he said. "I had a manager here who is actually seven months pregnant, and I told her to get in the corner and get out of the office. She called me back not even two minutes later, and all I could hear was the wind and her screaming at the top of her lungs. But she was the only person here, and she is safe."
Deer Park resident Waylan Booker was at work when the tornado was first reported. He said his house had some damage from a tree that had fallen. He said much of the cleanup has been from the community.
"The community kind of rallied together and started clearing the debris from the streets so that people could get in and get to their homes," he said. "I did see some city trucks some time later start to make their way out. I guess to restore the power, because the power is still out. But it was mainly the community trying to get stuff back to, I guess normal."
Booker said there was damage to the back of his house, so he did reach out to his insurance adjuster. But the first priority is getting power back to his house.
"It ripped a pole out of the top of the house, so our powerline and the pole are just lying on the ground, so we're trying to figure out what it means to get that up."