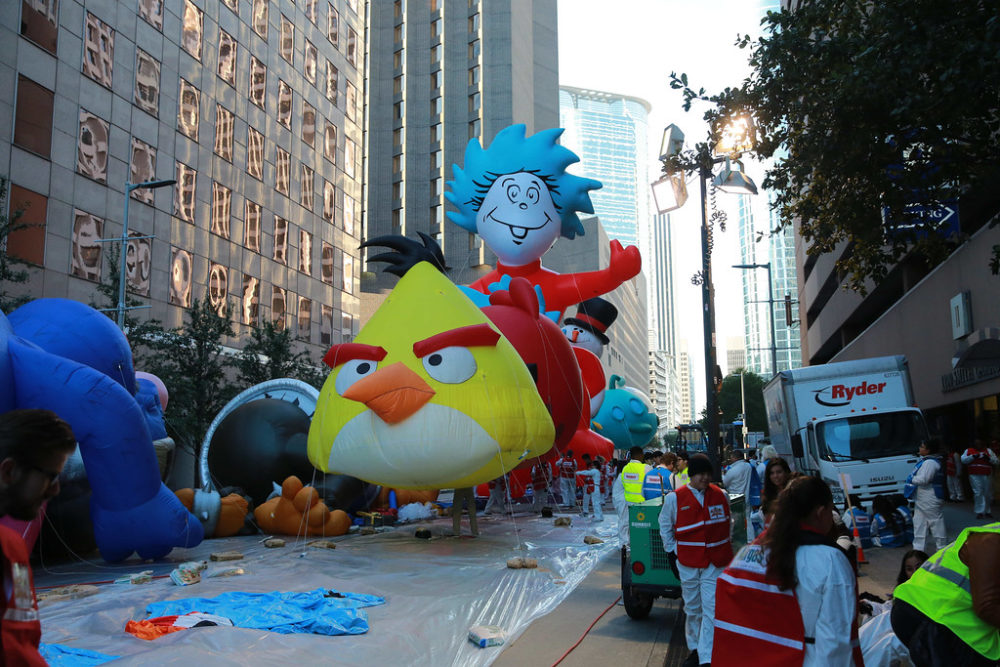 It likely will rain on Houston's Thanksgiving Day parade.
The city's forecast for Thursday calls for precipitation throughout the day – with isolated and scattered showers in the morning and heavier rainfall in the afternoon and evening – according to the National Weather Service's Houston/Galveston office. It also will be chilly through about mid-morning, with temperatures in the high 40-degree range, before warming up to the low 70s later in the day.
The 73rd annual H-E-B Thanksgiving Day Parade, which is returning to Downtown Houston after a two-year hiatus caused by the COVID-19 pandemic and inclement weather, is scheduled to start at 9 a.m. Thursday and conclude during the early part of the afternoon. Parade organizers said earlier this week that it will be held "rain or shine," although lightning could cause another cancellation.
Katherine Walts, a meteorologist with the local National Weather Service office, said the start of the parade figures to be met with a "kind of annoying rainfall, where it's just cold and dreary and a light steady rain."
"What we're uncertain about is toward the end of the parade," she added. "Around lunch time, anywhere from 11 a.m. to noon, that's when the coverage of the showers starts to increase. The chances for thunderstorms start to increase, too."
Walts said the weather outlook for Thanksgiving and Black Friday "looks a little messy" in general, with an 80 percent chance of rain on Thursday and a 60 percent chance on Friday. Temperatures are expected to be cooler on Friday, with a forecasted high of 62.
The culprit for the expected rainfall, Walts said, is a cold front coming off the Rocky Mountains and into the Southern Plains, which is expected to keep moving southeast toward the Gulf Coast and enter the Houston region on Thursday morning. She said there also is a stalled warm front just off the coast that is expected to move north and into the area on Thursday.
"So we have that cold front pushing south, that warm front moving north, and they're just kind of converging over the Southeast Texas area, mainly around the (Interstate 10) corridor," Walts said.
While Houston-area residents might want to maximize their time indoors on Thursday and Friday – perhaps by feasting with family, watching marquee sporting events and shopping inside and under cover – Saturday and Sunday figure to provide better opportunities for getting outside. No rain is in the forecast for either of those days, according to the National Weather Service, with temperatures expected to climb back toward 70 by Sunday.