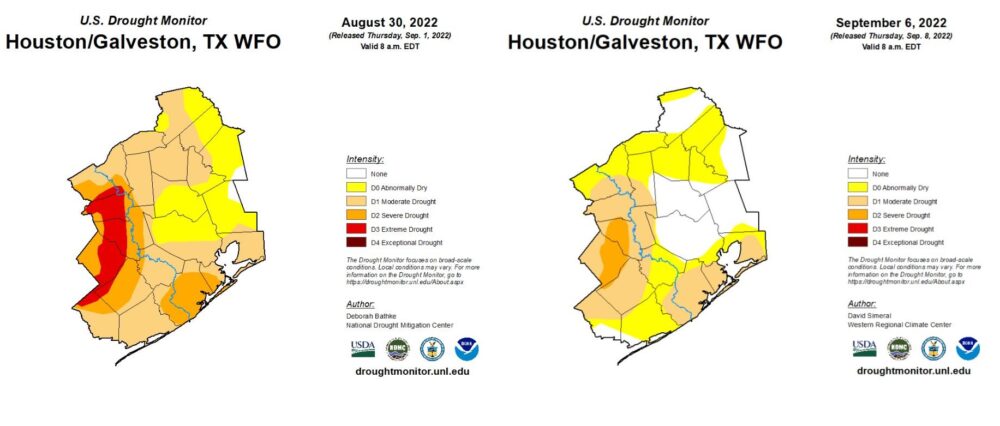 Drought conditions in the Houston region have largely subsided as record-setting heat early in the summer gave way to consistent rainfall during the last several weeks.
Fifty-seven percent of Greater Houston was experiencing some level of drought during the last week in August, according to the U.S. Drought Monitor. That number dropped to 5 percent a week later, on Sept. 6, at which point nearly 68 percent of the metro area was considered to no longer be in a drought. For the Galveston-Houston region, as defined by the National Weather Service, the percentage of the region experiencing drought dropped from about 74 percent to about 36 percent during the same period.
Eric Berger, a meteorologist for Space City Weather, said the Houston area was in a precarious position entering August, after prolonged dry weather contributed to the city's experiencing its hottest June and July on record. But then August was unseasonably cool and rainfall amounts across the region were between 125-400 percent of their normal levels, according to Berger.
"We were really fortunate to get those rains in August and early September," he said. "There was the potential to go into a really nasty drought. That saved us."
Drought conditions on a statewide level also made significant improvements during the same week. More than 76 percent of Texas was experiencing some level of drought on Aug. 30, compared to about 62 percent a week later. The part of the state experiencing no drought jumped from 9.5 percent in late August to 20.6 percent in early September.
The majority of Harris County, which includes Houston, as well as Montgomery County to the north were considered abnormally dry in late August, although not technically in drought. A week later, both counties had returned to normal levels in terms of moisture, according to the drought monitor.
Berger said Houston and Harris County are in "great shape" heading into the fall, although soil is still dry in other parts of the region. Large portions of counties to the west and southeast of Houston – Austin, Brazoria, Chambers, Colorado, Galveston, Waller, Washington and Wharton counties – remain in moderate drought. Significant chunks of Austin and Colorado counties continue to experience severe drought, which is the second level in the U.S. Drought Monitor's four-level system for measuring drought conditions.
Coastal counties such as Brazoria, Chambers and Galveston are especially in need of more rain, Berger said.
"It's not great for those areas, and it could get worse," Berger said.
Dry weather is forecasted for the next couple weeks, according to Berger. He also said a La Nina winter is expected, which typically means warmer-than-usual winter conditions and drier air.
The La Nina weather pattern is an oscillating wind pattern in the Pacific Ocean that in some years can cause drier-than-usual conditions in the southwestern part of the United States.
"One concern I have is we're expected to see a third straight La Nina winter in Texas," Berger said. "So if we go into fall pretty hot and dry and don't pick up meaningful rainfall, you could see that drought linger and even get a little worse this winter."