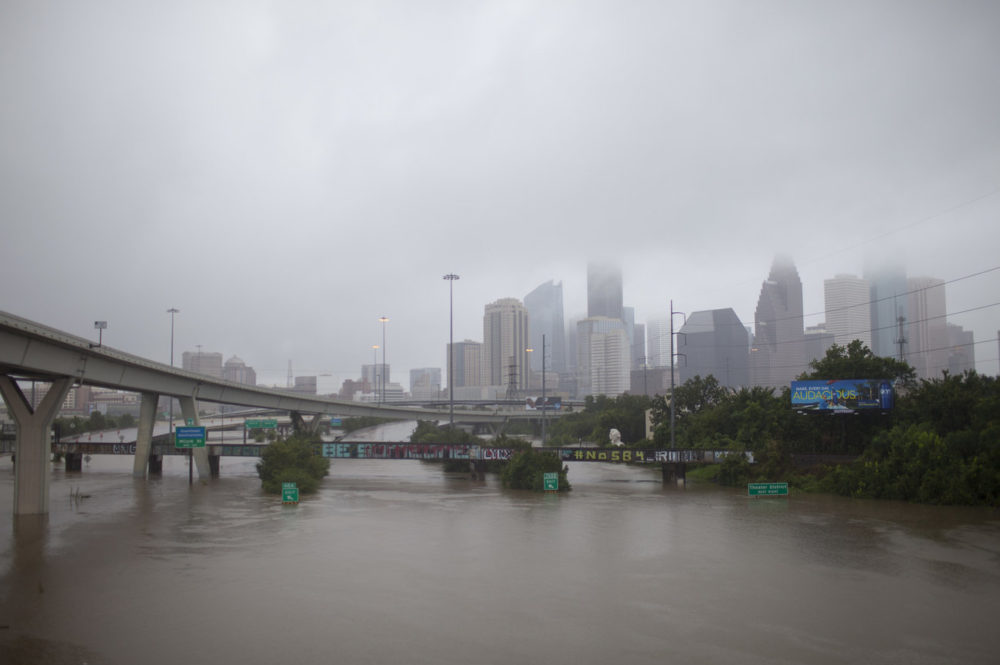 Tuesday marked the first day of the 2021 Atlantic hurricane season — meaning it's once again time for Houstonians to begin their emergency planning.
Forecasters predict another active season, preparing for as many as 21 named storms. The first, tropical storm Ana, formed northeast of Bermuda, before weakening to a tropical depression and dissipating in the Atlantic waters.
For Greater Houston, hurricane season is an especially stressful time. Since 2014, there have been seven flooding events in the region, including Hurricane Harvey, which sat atop the city for four days.
A 2020 Hurricane — Laura — barely missed the area before turning east to Louisiana. And Harris County is a part of Texas that's especially at risk, according to Harris County Emergency Management Coordinator Mark Sloan.
"Harris County is a quite large place, 1,770 square miles," Sloan said. "Some of us are closer to water than others, but we're all very susceptible and vulnerable to the effects of a hurricane."
Sloan made the comment during a Houston Public Media special on-air and livestream event, Storm Ready, in which the station partnered with the OEM to help prepare Houstonians for the effects of hurricane season and its aftermath.
The Atlantic hurricane season officially starts June 1, and lasts through Nov. 30, usually ramping up in August, and hitting a peak in mid-September.
But according to National Weather Service Meteorologist Lance Wood, this year could be especially harsh.
"It's a 60% chance, we think, of an above-normal season," Wood said. "Above-normal means named storms in a range of about 13 to 20, hurricanes six to 10, major hurricanes in that three-to-five range. There is a chance at a normal season, but it's quite a bit less there at 30%."
In the Houston area, residents have to prepare for all of the effects of a major storm, said Jeff Lindner, meteorologist and director of flood operations for the Harris County Flood Control District.
Within the last 20 years Houston has seen both sides of a hurricane — one being the wind of Hurricane Ike, and the other being the rainfall of Harvey.
"A lot of people, when you hear hurricane, you think of the wind, the trees, and the power lines, and the roofs and the windows blown out and stuff like that," Lindner said. "But a hurricane and a tropical storm (have) many hazards."
In the case of storm surges, some coastal areas will declare a mandatory or voluntary evacuation.
Evacuating an area is already a difficult task. But during a pandemic, it can prove to be extra challenging. Sloan recommended that those who live in areas that are normally evacuated should plan to pack extra personal protective equipment, like masks and gloves — especially those who are not yet fully vaccinated.
Another way for people to prepare for a hurricane is by purchasing flood insurance. Home insurance does not cover flood damages from rising water on the outside of a home, Lindner said. That means it may be time to find additional insurance if you haven't already.
"It takes 30 days for that policy to go into effect, so it's important to get that in place now before hurricane season begins," Lindner said. "It is renewable every year, so make sure you're renewing that."
Harris County residents can also prepare for the coming hurricane season by signing up for email and text notifications from the Harris County Flood Warning System, which monitors creeks, bayous and areas that normally see flooding with heavy rain.
"Now is the time to prepare," Lindner said. "I can't stress enough how important it is to make sure you have your kit, build your kit, and build your kit for you– specifically for you and your family, and monitor trusted weather sources."