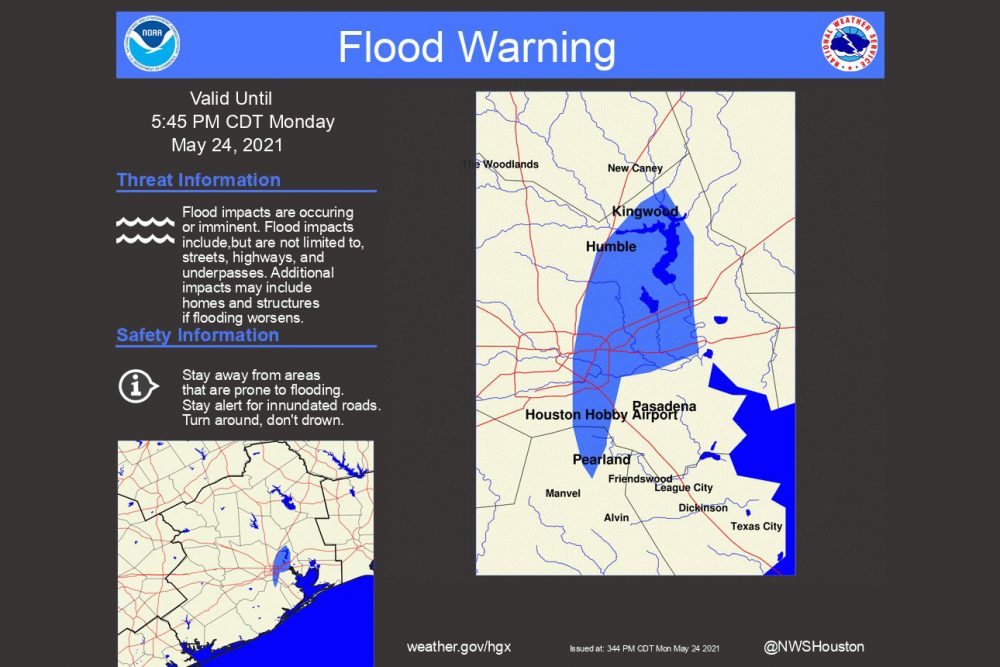 Houston's National Weather Service on Monday issued a flood warning for east Harris County until 5:45 p.m. CT.
Much of the region saw heavy rainfall throughout the day Monday, leading to a flash flood warning that ended shortly before 4 p.m. across much of Harris County. The Houston area saw 1-2 inches of rainfall per hour, according to Jeff Lindner of the Harris County Flood Control District. There was as much as 6 inches of rain over a six-hour period.
Bayou levels were elevated, but did not overflow their banks.
Parts of Interstate 45 near North Main Street and near Beltway 8 took on high water, as did the East Loop at Clinton Drive, according to Houston Transtar. City and county officials recommended staying off the roads.
Lindner said the Houston area can expect some scattered showers and thunderstorms again on Tuesday, but little risk of major flooding — though he did say there could be some street flooding.
"All the bayous and creeks are doing well and they're going to continue to drain their water tonight, and I think we're going to get a break tonight for most of the night," he said. "I don't expect it to be as widespread."