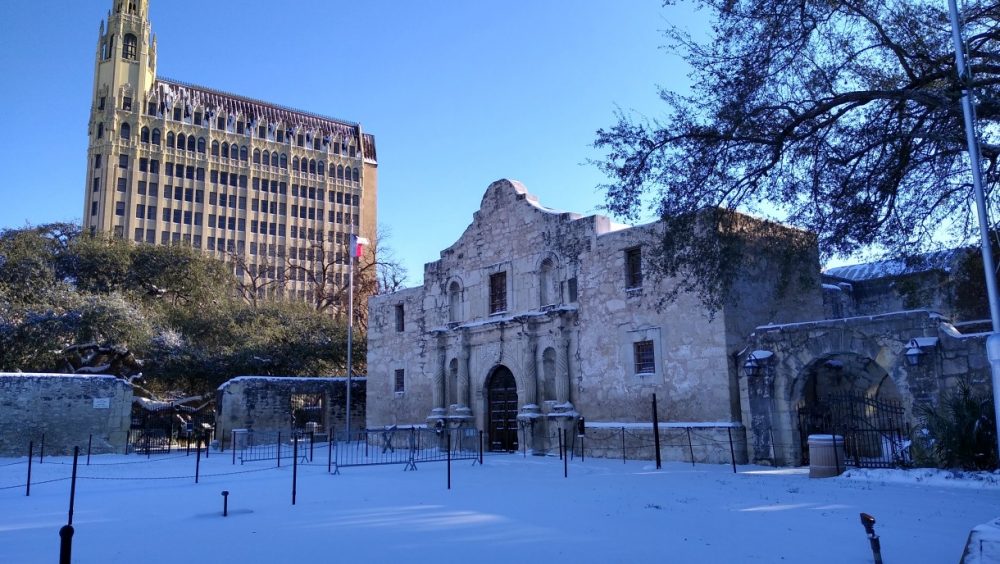 Much of the state is experiencing extreme cold temperatures, and many areas have multiple inches of snow on the ground. The winter storm is putting severe pressure on the state's power grid with many cities reporting rolling blackouts that have been extended from a few minutes to multiple hours in some parts of Texas, leaving millions without power.
Texas Standard spoke with reporters from public radio stations around the state to learn how Texans are coping with the extreme winter weather.
Bret Jaspers, a reporter for KERA in North Texas, says the Dallas-Fort Worth has seen from one to four inches of snow on the ground, but that icy conditions are making travel difficult.
Last week, more than 100 cars were involved on a highway pileup near Fort Worth, caused in part by cold and icy weather. Jaspers says drivers were simply not prepared.
"The videos were harrowing to watch," he said.
The impact of the accident has left drivers fearful of braving the roads, as the winter storm continues.
Joey Palacios, a reporter at Texas Public Radio in San Antonio, said power blackouts in the city began around the time snow stopped falling, at 2 a.m. Monday morning.
"At first they were really short," he said. "The first blackout was probably about 15 minutes. And then, a little while later, power went out again... but the third blackout lasted two-and-a-half hours."
Power companies were warned by ERCOT, the state agency that manages the power grid, that they should institute rolling blackouts as a way to slow demand for electricity, which is in short supply.
"Some of the state's power-generating capacity had gone offline because of some of these subzero temperatures around the state," Palacios said.
The amount of stress on the power grid around the state caused blackouts to be longer than energy providers had initially told customers they would be.
Palacios said that in San Antonio, traffic accidents increased as the weather got colder overnight.
"Our police chief on Sunday has said that more than 800 calls for service were made overnight," he said.
By 3 p.m Sunday, highways in the city, including I-10, I-35, Loop 410, US 281 and others were closed.
Kaysie Ellingson is a reporter at Texas Tech Public Media in Lubbock. She says temperatures in her area were at the zero mark on Monday, with a wind chill factor of -14.
Ellingson said Lubbock has had freezing temperatures since the middle of last week, when many motorists had accidents. She says drivers are now staying home in larger numbers, and accidents are down.
"There are some reports of scattered power outages across the South Plains," she said.
Lubbock expects more snowfall on Tuesday, with temperatures remaining below freezing throughout the week.
Many businesses and schools in the area have delayed opening Monday, or closed altogether. Ellingson said that includes three COVID-19 testing sites, which are closed. COVID vaccine appointments have been delayed, too.
If you found the reporting above valuable, please consider making a donation to support it here. Your gift helps pay for everything you find on texasstandard.org and KUT.org. Thanks for donating today.