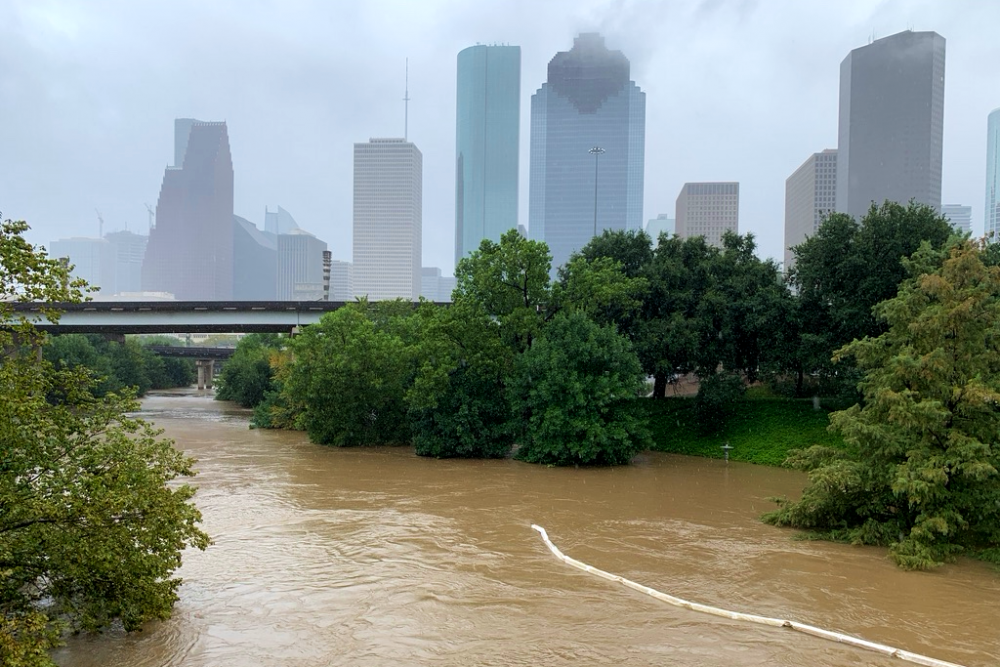 Updated 5:08 p.m. CT
Beta weakened to a tropical depression Tuesday as it parked itself over the Texas coast, raising concerns of extensive flooding in Houston and areas farther inland.
Heavy rainfall was set to come down north of I-10 in Houston Tuesday night, as early as 6 p.m., in areas that had as of yet missed the brunt of the storm. That was likely to include areas in North Harris County, west of U.S. Route 290, and into Liberty County and some of Montgomery County as well, according to Jeff Lindner of the Harris County Flood Control District.
"We're not 100% sure where this is going to develop," Lindner told Town Square host Ernie Manouse Tuesday afternoon. "Confidence is starting to increase, that it will be the northern portions that didn't see heavy rainfalls earlier. Those areas should be prepared for flooding."
A second round of rain is a major concern for areas that have already been hit, Lindner added.
"We still have flooding ongoing in the southern part of the area around Clear Creek," he said. "And that's gonna continue all night tonight even without additional rainfall. We still have high water in and around the downtown area on some of the freeways, the Buffalo Bayou."
The hope, Lindner said, was that the worst of the storm would pass by noon Wednesday.
Beta, which made landfall late Monday as a tropical storm just north of Port O'Connor, is the first storm named for a Greek letter to make landfall in the continental United States. Forecasters ran out of traditional storm names last week, forcing the use of the Greek alphabet for only the second time since the 1950s.
By Tuesday afternoon, Beta was 40 miles north of Port O'Connor, Texas, with maximum sustained winds of 30 mph, the U.S. National Hurricane Center said. The storm was moving east-northeast at 5 mph and was expected to crawl inland along the coast over Texas through Wednesday.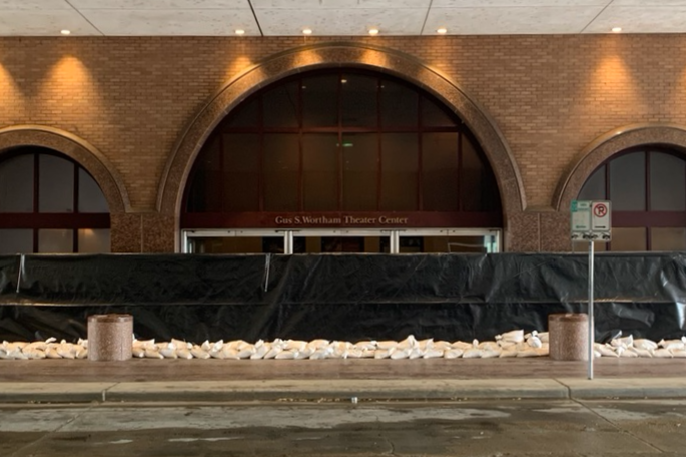 The National Hurricane Center said parts of the Houston area had seen up to 14 inches of rain by Tuesday afternoon. One area in Brazoria County got nearly 18 inches of rain in the last two days.
Street flooding was reported in parts of the Houston area. Fire Chief Samuel Peña said first responders had done nearly 100 water rescues on city roadways since Monday evening.
Most of those came from the south and southwest portions of the city, where rainfall totals had already reached more than a foot in some areas.
Harris County Judge Lina Hidalgo said there were preliminary reports of some home flooding along a creek south of Houston.
Both Hidalgo Turner urged residents to stay home and off the roads. About 70 barricades had been placed throughout the city in high water areas.
"Your sedan is not a submarine. Your minivan is not magical. So stay off the roads right now," Hidalgo said. "Your destination is not worth your life. It's not worth the life of the first responder that's going to have to come and rescue you if you drive into high water and are stuck there."
As of Tuesday afternoon, White Oak, Brays and Buffalo bayous were all nearing overflow.
Houston-area officials worried additional rainfall Tuesday evening and Wednesday on already saturated ground and waterways could result in more flooding.
"The next 24 hours will not be business as usual in Harris County," Hidalgo said. "The threat is not gone, until at least (Wednesday) around noon."
By 8 p.m. Tuesday METRO said it would temporarily suspend transit service due to severe weather. Some final rail services would depart at 7 p.m., and all METRO HOV and HOT lanes would not reopen in the afternoon, the agency said.
There was no set time for resuming service, and METRO officials said the return to full service may be gradual, based on the weather.
White Oak Bayou, left, and Brays Bayou, both near full Tuesday. Photos by (@pauldebenedetto and @krbuckle) https://t.co/ALCkUn9IMv pic.twitter.com/gI8bhFUyN1

— Houston Public Media (@HoustonPubMedia) September 22, 2020
Beta was the ninth named storm that made landfall in the continental U.S. this year. That tied a record set in 1916, according to Colorado State University hurricane researcher Phil Klotzbach.
Beta was expected to eventually move over Louisiana, Arkansas and Mississippi later in the week, bringing the risk of flash flooding.