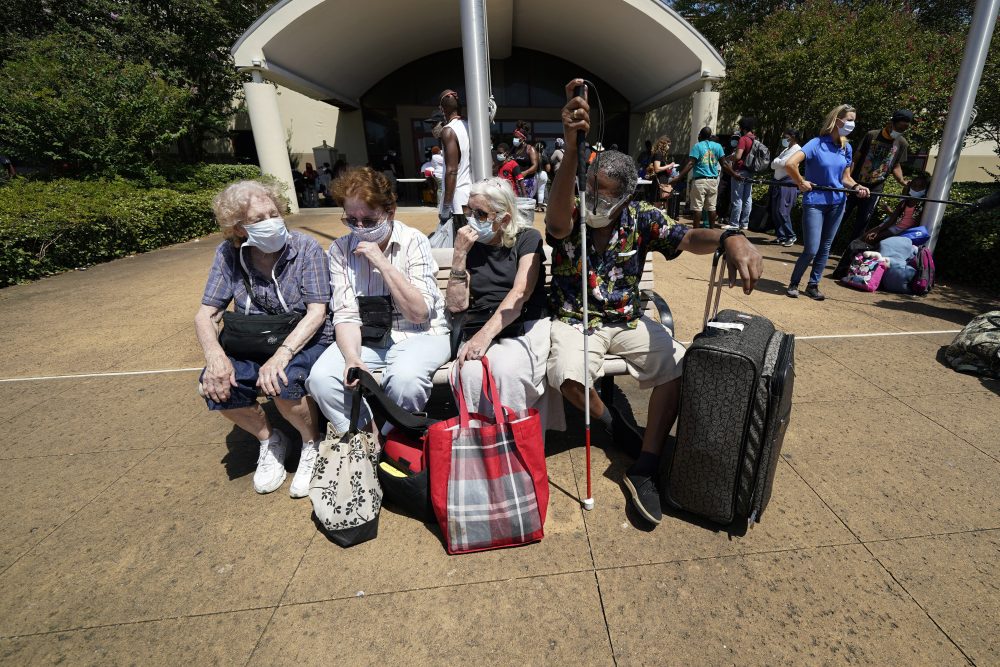 This is Houston Public Media's ongoing coverage of Hurricane Laura's impact on Greater Houston and Texas.
Updated 1:41 p.m. CT Friday
Three people died in Port Arthur Friday in what appeared to be carbon dioxide poisoning from using a power generator indoors, according to the Jefferson County Sheriff's Office. "Several more" people were also in critical condition, as electricity outages caused people to use their own emergency power during Hurricane Laura.
There had previously been no deaths reported in Texas as a result of Hurricane Laura, a fact Gov. Greg Abbot yesterday called a "miracle." But at least 6 people have died in Louisiana, one of whom also appears to have died from carbon monoxide poisoning while using a generator inside his home. Four others were attributed to trees falling on homes, and one person drowned while on a boat that sank during the storm.
https://www.facebook.com/jcso.beaumont/posts/3829313263750044
—
Updated 12:52 p.m. CT Friday
After evacuating to cities like San Antonio, Dallas and Austin, coastal residents are making their way back home in the aftermath of Hurricane Laura. Now there are worries that evacuations and storm damage could potentially impact COVID-19 numbers in Texas.
As of Friday, Houston's seen three straight days of fewer than 100 new COVID-19 hospitalizations, for the first time in two months. Daily new cases are on a rough downward trend. While the city isn't yet in the clear — the Texas Medical Center tracks three metrics to determine if the virus is under control, and not one of those benchmarks has been met — health officials say the spread of the virus is slowing down.
But ahead of the storm, counties in the Greater Houston area closed COVID-19 testing sites. And those interruptions could last longer depending on any storm damage, which would then slow down efforts to control the virus, according to Dr. Stacey Rose, an assistant professor of infectious diseases at Baylor College of Medicine.
And despite efforts by officials to enforce social distancing among evacuess — housing people in hotel rooms instead of large arenas, and filling buses at half capacity — moving large groups of people during evacuation could lead to a spread.
"We have seen a spike in coronavirus cases after large gatherings,," Rose said. "I think, unfortunately, sometimes that's part of those evacuation plans, people have to be in close contact."
—
Buses returning from Austin to Galveston with Hurricane Laura evacuees are scheduled to arrive Friday. A majority of the roughly 3,000 evacuees in Austin came from Galveston, which has lifted its mandatory evacuation order.
The evacuees were being asked to first register their entire group with a hotel staffer, a government official or the Red Cross before returning home.
Austin officials said that, for people who can't return right away, shelter is still available.
—
​In the aftermath of Laura, prices at the gas pump are expected to remain stable. Right now, in Houston, a gallon of regular is $1.85, according to AAA Texas.
After Hurricane Harvey in 2017, prices surged, as a quarter of the nation's refineries were closed for weeks due to the storm.
But in anticipation of Laura, many refineries shut down – and even if it takes longer than expected to restart those facilities, the oil glut caused by the coronavirus pandemic, most likely means prices will stay low.
—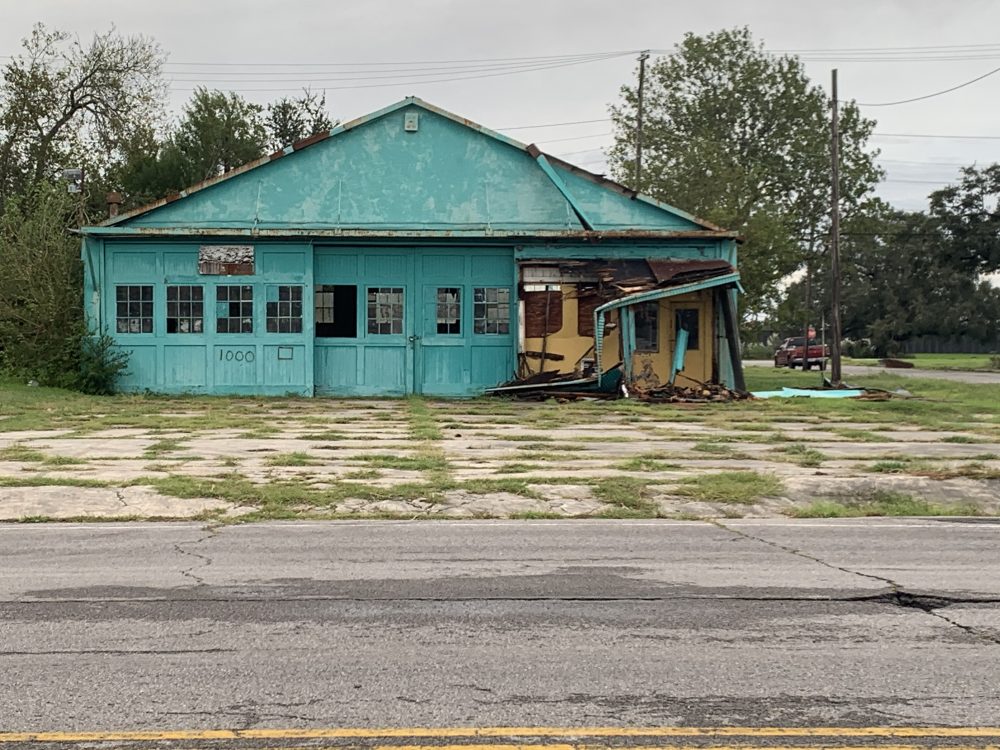 Updated 11:58 a.m. CT Friday
Periodic power outages for Entergy customers in Texas have been canceled, and the company is no longer asking people to reduce power usage. Both measures were put in place to help stabilize the grid during Hurricane Laura, the company said Friday.
Most customers in affected areas, like Montgomery County, have electricity again. But Entergy's transmission lines, which bring power in from Louisiana, were damaged in the storm and more than 100,000 customers in Orange and Jefferson counties are still without power.
—
Updated 12:49 p.m. CT Thursday
METRO buses and trains are back in operation, after being shut down Wednesday afternoon ahead of severe weather warnings. METRO CEO Tom Lambert on Thursday said the agency had to do things differently due to the COVID-19 pandemic, working remotely through Houston Transtar.
"This is the first emergency where we've had to operate our emergency operations center virtually," Lambert said. "We've learned some lessons. We will adapt our plan as we go forward."
—
Galveston County officials on Thursday said it's safe to return to the area, except for Bolivar Peninsula.
State Highways 87 and 124 are still being cleared of debris by the Texas Department of Transportation, but are expected to be opened later today. The agency's also assessing conditions to restart ferry service to the Peninsula.
The county sent law enforcement to unincorporated areas for extra protection as people return to their properties.
A county spokesperson said residents of incorporated areas should follow guidelines from those jurisdictions.
—
Updated 11:23 a.m. CT Thursday
People in Jefferson County, where Hurricane Laura was projected to cause serious damage, are breathing a sigh of relief Thursday after the storm moved into Louisiana and up north without leaving too much impact on the community. Now many of those Southeast Texas residents are working on cleaning up what little damage there is.
In an HEB grocery store parking lot Thursday morning in Port Arthur, representatives from Texas Search and Rescue were evaluating their next move. The cleanup there won't be nearly as difficult as once thought, though heavy winds did knock down trees overnight in the middle of many neighborhood streets.
Some power lines were down, and Jefferson County officials said the storm caused outages for just under 63,000 people at first count. Two-thirds of those are in Port Arthur.
Jesus Herrera, 35, stood on his block early Thursday surveying some of the damage, which included a downed power line that only avoided landing on a nearby house thanks to a tree blocking its path.
Herrera said he lost power about an hour into the storm, which began near him about 11 p.m. CT. And he said he's glad that's all he lost.
"It was kind of like a movie scenario, I guess you could say," Herrera said. "Sound effects, you've got like the wind blowing, and then the thunderstorms and all of a sudden you hear this big old loud, 'crack!'"
​Speaking to NPR's Morning Edition, Port Arthur Mayor Thurman Bartie said he was thankful for how the city fared.
"​There was minimal damage," he said. "We have teams out as I speak assessing the damage, some power outages, some tree limbs in roadways, but not as many as we've seen in other incidents."
Port Arthur was one of the first cities in Texas to order evacuations ahead of Hurricane Laura.
Those evacuations were complicated by the coronavirus pandemic, but Bartie said he still feels good about his decision.
"You know I'm still confident I did the right and correct thing, because that was to get all of the people who I'm responsible for out of harm's way," he said.
In an effort to keep evacuations socially distanced, emergency managers had evacuees fill hotel rooms across the state last night instead of large shelters.
Some residents on the Texas-Louisiana coast rode out the storm Wednesday night into Thursday — despite mandatory evacuations. In Nederland, just west of Port Neches, Chad Chappell said he stayed home as the storm blew in.
"It started raging," Chappell said. "Just trees slapping everywhere."
While Chappell said he didn't see flying debris, he still did not have electricity back at his home Thursday morning — though he added not all homes in the area lost power.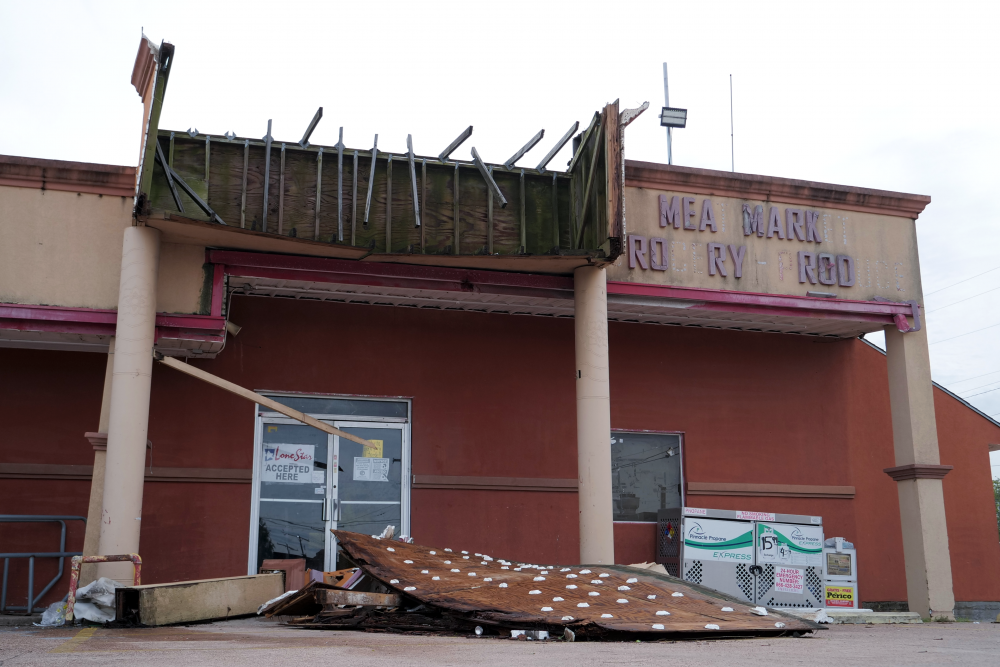 —
Updated 8:22 a.m. CT Thursday
Forecasters expect Hurricane Laura to weaken as it moves through Louisiana Thursday before reaching Arkansas early Friday morning.
Meanwhile, as Laura made landfall and winds tore apart buildings, downed trees, and left roadways littered with debris, hundreds of thousands of homes and buildings were left without power.
The majority of Louisiana is still seeing wind and rain.
—
Updated 7:38 a.m. CT
Tens of thousands of people in southeast Texas were without power Thursday morning, with nearly 50,000 customers without power in Beaumont, Port Arthur and Port Neches alone, according to energy provider Entergy.
Trees and power lines were knocked down, and gusts of up to 75 miles per hour still persisted throughout the morning in Beaumont, according to local reports.
Still, Beaumont Mayor Becky Ames Thursday said the city largely "dodged a bullet" compared to the impact on places like Lake Charles and other parts of Louisiana.
Speaking to KLVI-AM in Beaumont, Ames said 10,000 workers were set to try and restore power beginning 7:30 a.m. Thursday, and crews had begun clearing the roads.
But Ames said evacuees should avoid returning for the time being, to avoid fallen power lines.
Texas is no longer under a hurricane warning, as the situation at the Bolivar Peninsula up the coast into Louisiana has officially been downgraded to a tropical storm warning, according to the National Weather Service.
Inland portions of southeast Texas remain on the "fringe" of the storm as it continues to move north, with tropical-storm-force gusts across Eastern Polk, San Jacinto, and Liberty counties Thursday morning, NWS said. Scattered showers and storms are possible Thursday afternoon across the area.
That coastline is still under threat of "life-threatening" storm surge, the hurricane center said, and residents in those areas were advised to follow any evacuation orders
—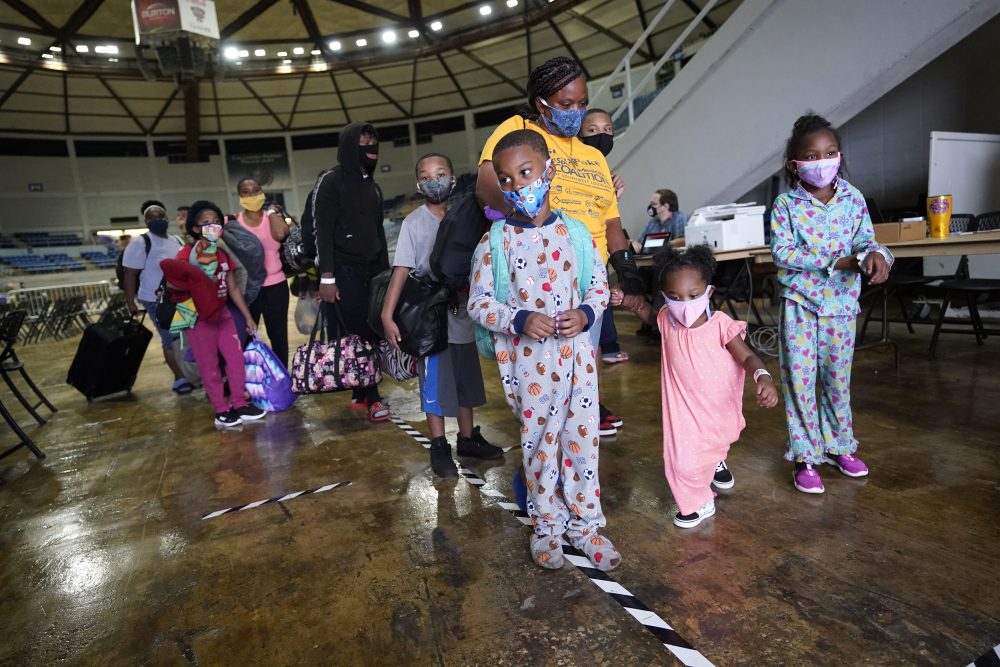 Updated 1:10 a.m. CT Thursday
Laura made landfall as a Category 4 hurricane near Cameron, Louisiana with maximum sustained winds reaching 150 mph, according to the National Hurricane Center.
Forecasters say catastrophic storm surge, winds and flash flooding are occurring in parts of Lousiana. Laura is expected to move inland across southwestern Louisiana this morning and then continue northward across the state through the afternoon.
Updated 10:05 p.m. CT Wednesday
Houston's National Weather Service says the city's metro area and most of Harris County will dodge the worst of Hurricane Laura.
Forecasters are projecting that winds could gust between 20-25 mph overnight inside the 610 loop, while the eastside of Houston could see winds gust as high as 50 mph. The Houston area will also see scattered rain showers as the storm approaches.
Galveston Island can expect winds of around 50 mph.
Winds blasting in between 120-150 mph are expected to move through Port Arthur and the Beaumont area. Forecasters are predicting a devastating scene in parts of southeast Texas and southwest Louisiana after Laura makes landfall.
Harris County Judge Lina Hidalgo told Houston Public Media the latest forecast for the coastal areas are not looking great.
"The kind of storm surge numbers that we're talking about are almost hard to imagine," she said.
​The coastal parts of Harris County, which are considered most vulnerable, were asked to evacuate yesterday.
Nearly 500 flights have been canceled at Houston's George Bush Intercontinental and Hobby airports, and Louisiana Gov. John Bel Edwards said the state is closing Interstate 10 from the Atchafalaya Bridge outside of Lafayette into parts of Texas.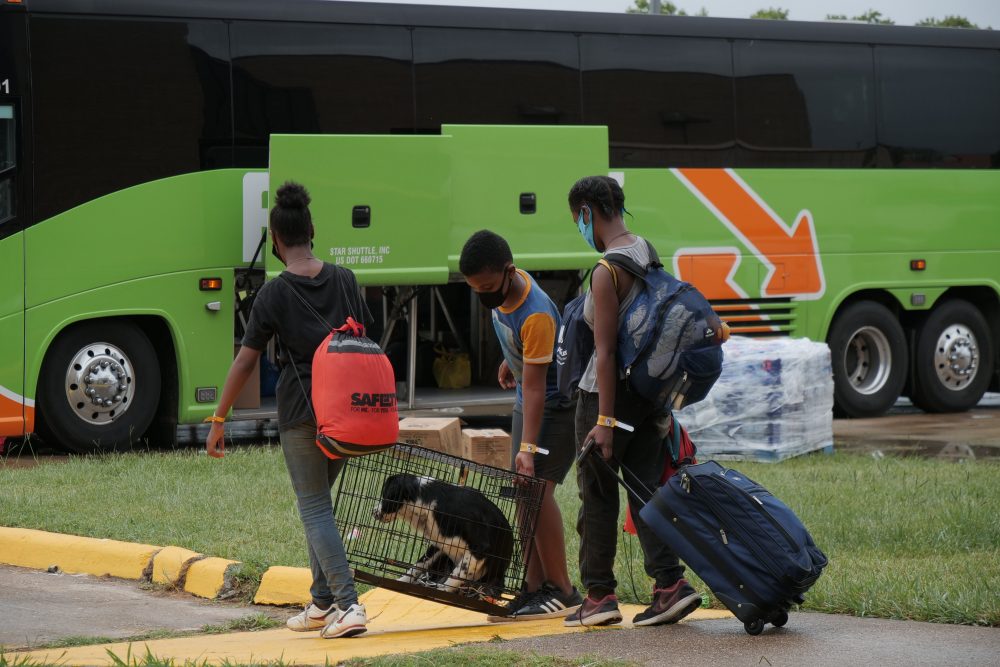 Updated 9:40 p.m. CT Wednesday
There are increasing signs that Hurricane Laura could strengthen even more and become a Category 5 storm.
"I think all evidence right now indicates that we're probably going to be looking at a Category 5 storm," meteorologist Donald Jones, of the National Weather Service said at a briefing.
But Jones said even if Laura reaches Category 5 in the next few hours, there's still debate about whether it would stay a Category 5 hurricane through landfall.
As of 9 p.m., Hurricane Laura was about 90 miles south of Lake Charles, Louisiana.
Updated 7:05 p.m. CT Wednesday
Thousands of residents along the Gulf Coast have evacuated to inland cities.
Texas Public Radio reports more than 1,500 people have already arrived in San Antonio and more are expected. A massive line of cars formed Wednesday afternoon as hundreds waited to enter the evacuation site.
Joe Arrington, a spokesman for the San Antonio Fire department, told TPR reporter Joey Palacios that many came in buses chartered by the state.
"It is a lot of folks that had no other means to get out of town; they had no vehicle, no private transportation, didn't have the ability to pay for gas to get here," he said. "So they offered them that shuttle service."
Those state buses are half full due to COVID-19 precautions – so twice as many buses are required. Evacuees undergo COVID-19 screenings when they arrive.
The city is housing families in hotel rooms to enforce social distancing, instead of large warehouses like they did during Hurricane Harvey.
Arrington said there has been one silver lining as the storm and pandemic converge.
"We are fortunate that San Antonio is a major tourist destination. Right now, which is normally a heavy tourist season, because of COVID we have a lot of hotel vacancy, so we're able to utilize those rooms. It's kind of a mixed blessing."
Personnel equipped with PPE are delivering food and medical support to evacuees in their rooms in order to prevent large crowds.
Austin is also expected to host up to 3,000 evacuees.
Still, some Beaumont residents told Houston Public Media they can't afford to leave.
"I can't afford to go anywhere," said Beaumont resident Deirdre Davenport. "A lot of places people are being turned around, and just the amount of time to spend in traffic trying to get somewhere. You know, I keep telling everybody, 'it's faith over fear.'"
—
Updated 6:00 p.m. CT Wednesday
Houston city and county leaders urged residents to make their final preparations and stay home Wednesday evening, as Hurricane Laura approaches landfall near the Texas-Lousiana border.
"My main message for the public is this — the window for preparing is closing and the time to stay home is here," said Harris County Judge Lina Hidalgo. "Now we just have to buckle down, keep our neighbors to our east in our thoughts."
Officials reminded residents to be off the streets by 8 p.m.
Houston Mayor Sylvester Turner said he's cautiously optimistic about the storm's impact for the city, but doesn't want anyone to let their guard down until the storm passes. He said police, fire and other first responders stand ready to respond tomorrow as they expect downed trees and some power outages.
He also said the city's forecasters are actively monitoring if Hurricane Laura will make any significant movements towards the city before making landfall.
—
Updated 5:37 p.m. CT Wednesday
Houston officials say the region won't be ready for a threat like Hurricane Laura until a storm protection barrier is built.
Plans to construct the coastal spine, or "Ike Dike" project, have been inching forward since Hurricane Ike struck 12 years ago, but so far nothing is in place.
Houston Recovery Czar Steve Costello said there's still a long way to go before the area is prepared for a storm surge event like Hurricane Laura.
"I'm glad it's not here, because we could really have some significant problems because we really haven't made very much progress on the coastal spine," he said, speaking at City Council Wednesday.
Costello said one big question is how to pay for the massive project, which has an estimated price tag of $32 billion.
"I think everything is still kind of in flux, so I think what everyone is trying to do over the next couple of months is to try to figure out where the funding sources are going to come from," he said.
Rice University's SSPEED Center has also proposed a storm protection plan, known as Galveston Bay Park, that could work in conjunction with the coastal spine project to provide additional protection.
—
Updated 4:03 p.m. CT Wednesday
Mark Flathouse, Fort Bend County's emergency management coordinator, called Fort Bend a "pass through county" and said it's important to keep the roads clear for those fleeing the storm.
"The Emergency Operations Center and the team that involves multiple county departments and jurisdictions throughout Fort Bend County are working together to make sure that we are maintaining our roads, our mobility and our evacuations, so that they can get to Central Texas and away from where the storm is," Flathouse said.
Fort Bend County Judge KP George on Tuesday declared his county in a state of disaster in advance of Hurricane Laura. In order to keep the roads clear for evacuees, George asked county residents to stay off the roads unless it's an emergency. The judge also signed an order Tuesday to waive tolls on Fort Bend Toll Road, Grand Parkway and parts of Westpark Tollway.
He said he was concerned about the potential for people fleeing the storm to be at increased risk of exposure to the coronavirus. "When you are running away, running for your life, maybe the last thing you're worried about [is] social distancing," George said. "It is very important [that] we continue to keep our guard [up]."
—
Updated 12:29 p.m. CT Wednesday
A major Houston-area electricity provider is warning people that as Hurricane Laura approaches, residents should be prepared to go without power for at least two weeks.
Olivia Ross with CenterPoint Energy said the storm could knock down power lines, causing outages.
"The length of those outages really does depend on the impact of the storm on our system," Ross said. "So we are asking folks to prepare for at least two weeks, if not longer, depending on the impacts that we experienced."
If there is an outage, customers no longer need to call it in. Ross said the company has installed smart meters to monitor their service areas.
"We've done a lot of grid hardening, which allows us to get information on our outages and isolate customers faster, so we really know where those outages are, what is the issue and how quickly we can fix them," Ross said.
Ross added that areas with a lot of foliage are especially vulnerable, as downed trees can pull power lines and lead to more outages.
CenterPoint maintains power lines across the region, and provides electricity to 2.5 million customers in the greater Houston area.
—
Updated 11:41 a.m. Wednesday
From Texas Newsroom station KUT in Austin: Austin is turning away Hurricane Laura evacuees who were planning on staying in the area, the city said Wednesday morning, after running out of available hotel rooms.
KUT's Andy Jechow reports that city spokesperson Bryce Bencivengo said evacuees are now being told to travel to the Knights of Columbus Hall in Ennis, Texas — about 30 miles south of Dallas. Bencivengo said the city is trying to identify additional hotels for evacuees to take shelter.
On Tuesday, the city said 15 hotels would house people escaping the Category 3 hurricane. The state had requested Austin host up to 3,000 evacuees, but the city did not have an estimate on how many it would be able to house.
Evacuees were first bused to the Circuit of the Americas in southern Travis County before being transferred to hotels. Officials said they're avoiding the use of large shelters due to the COVID-19 pandemic.
For updates, evacuees who were planning on traveling to Austin can call 211 or 512-978-1510.
Laura is currently projected to strike the Texas-Louisiana border overnight, causing widespread flash flooding and damage from hurricane-force winds.
Nadia Hamdan contributed to this report.
—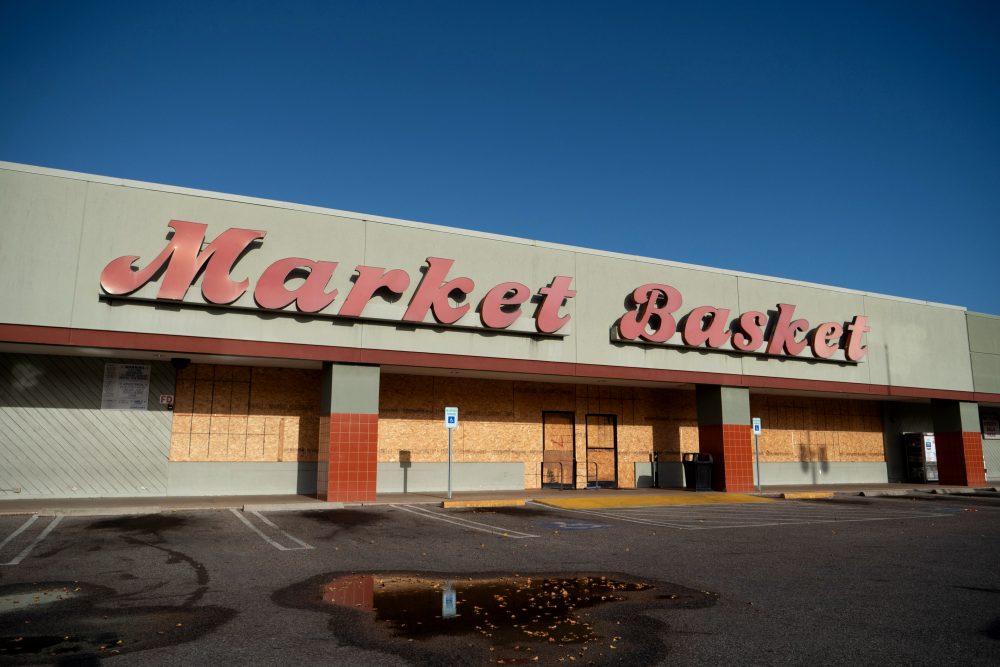 Updated 11:20 a.m. CT Wednesday
The streets of Beaumont were largely empty Wednesday morning, dotted with boarded-up businesses closed well ahead of Hurricane Laura's landfall.
Beaumont officials were loading people into buses at Westbrook High School amid a mandatory evacuation order, and those who planned to remain in the city were stocking up on last-minute groceries before hunkering down.
As Laura continued its approach to the Texas-Louisiana border and threatened to become a Category 4 hurricane, it became increasingly likely Wednesday that Greater Houston would not feel the brunt of the storm. But Beaumont, Port Arthur and the surrounding area closest to Louisiana still remained directly in the storm's path.
Hurricane Laura was set to make landfall late Wednesday night or Thursday morning, after gaining strength in the Gulf Coast and threatening to bring with it an "unsurvivable storm surge with large and destructuve waves," which could cause "catastrophic damage" from Sea Rim State Park up the coast into Louisiana, according to the National Weather Service. The surge could penetrate up to 30 miles inland, NWS said.
Hurricane force winds were also expected from San Luis Pass, Texas, up the coast to Morgan City, Louisiana, expected to cause widespread damage at the state border, according to the weather service.
But the storm had also begun to veer away from Greater Houston, allaying fears that it would drift further west and cause increased damage across the region.
Despite the storm's latest trajectory, Harris County Judge Lina Hidalgo signed a disaster declaration early Wednesday, and has asked some coastal areas in the county to voluntarily evacuate. The region is still likely to see inclement weather, including heavy winds and possible storm surge.
Hidalgo also activated the county's emergency management plan to prepare for the hurricane.
This afternoon, Harris County Judge Lina Hidalgo ordered voluntary evacuations of the following Harris County areas:
EVACUATION ZIP ZONES (*n=north; s=south)
• Zip Zone A: 77058s, 77586
• Zip Zone B: 77058n, 77059, 77062, 77507, 77520, 77523, 77546n, 77571, 77598 #Laura pic.twitter.com/H1rWSoyXTA

— American Red Cross TX Gulf Coast (@RedCrossTXGC) August 26, 2020
The Harris County Office of Homeland Security and Emergency Management recommended shelter-in-place and evacuation preparation be completed by 6 p.m. Wednesday, but added that anyone leaving could evacuate "tens of miles rather than hundreds" from coastal areas for the remainder of the storm.
Mayor Sylvester Turner has also said people should stay off the roads after 8 p.m. Wednesday.
Galveston remains under a mandatory evacuation order – as do Beaumont and Port Arthur, which will most likely be severely impacted when the storm makes landfall.
—
Updated 6:56 p.m. CT Tuesday
The Houston Zoo will be closed Wednesday and Thursday, with a decision on whether to reopen Friday based on the impact of Hurricane Laura. Some staff members will stay behind throughout the storm to take care of the animals, who live in secure and weather-resistant barns and night houses, the zoo said.
Guests who reserved tickets for those days can reschedule their visit online.
The YMCA of Greater Houston also announced closures. Starting Tuesday at 8 p.m., Edgar A. Smith Family YMCA, Perry Family YMCA, Vic Coppinger Family YMCA and Wendel D. Ley Family YMCA will be closed. The Y Learning Center, Day Camp and all youth programs will be closed Wednesday through Friday.
All other Greater Houston area YMCA locations will close noon Wednesday, Early Childhood Care will close noon Wednesday through Friday, and the YMCA After School Child Care program will follow school district closures.
All YMCA of Greater Houston facilities will be closed until at least Friday. Reopening announcements will be made Friday morning at ymcahouston.org.
—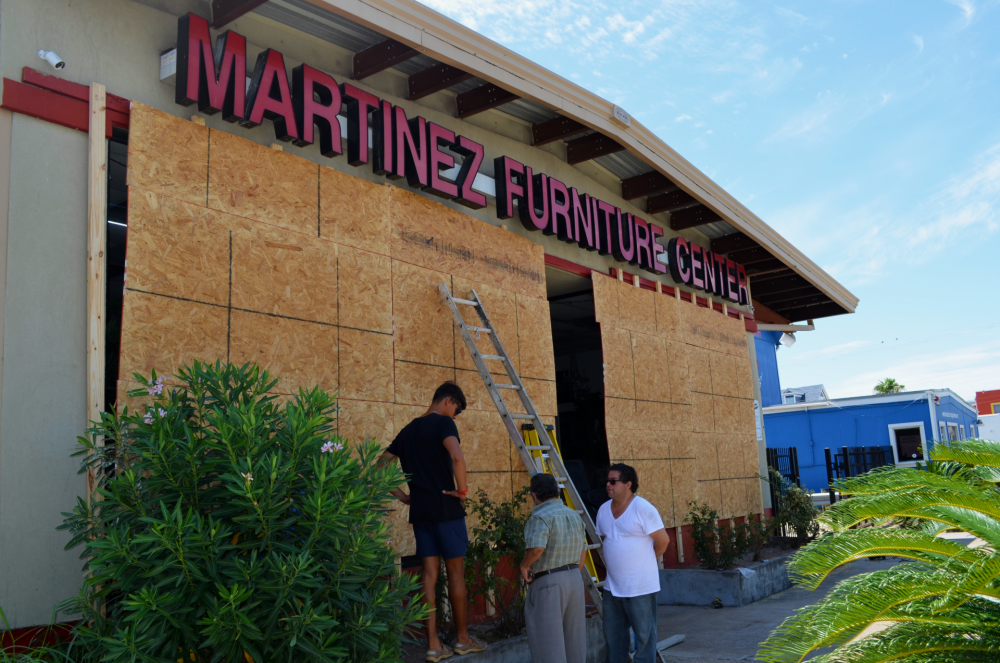 Updated 5:58 p.m. CT Tuesday
Hurricane Laura is expected to make landfall late Wednesday evening, and even as forecasters see the trajectory heading further up the Texas coast toward Louisiana, they're still projecting winds and potentially dangerous storm surge in the region.
Harris County Judge Lina Hidalgo said her fear was a storm surge from 3-5 feet — and potentially higher.
"We are looking at the potential surge above the ground on the east side of Harris County," Hidalgo said. "A worst case, but certainly possible scenario, would mean potentially devastating surge along our coastal area."
Both Harris County and Fort Bend County have waived toll fees to clear evacuation paths in those coastal areas.
Officials reminded residents have full gas tanks and disaster kits ready that include flashlights and extra batteries on hand in case power outages last longer than anticipated.
Meanwhile, METRO suspended all bus and train service starting at 4 p.m. Wednesday.
METRO said it's buses can't operate safely in sustained winds over 35 miles per hour. Transit officials say they also want to help keep the roads clear for people who have to evacuate.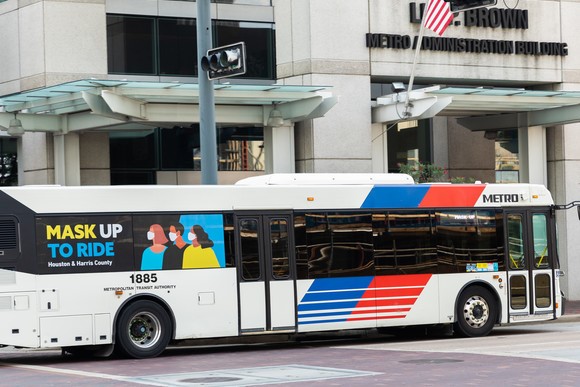 —
Houston Hospitals are preparing for possible evacuations as Hurricane Laura approaches. And Dr. David Callendar, CEO of the Memorial Hermann hospital system, told Houston Matters this year's plans are exceptionally challenging, given the pandemic.
"We need to make sure that we can socially distance, we can have enough masks and PPE on hand…that everyone's prepared to continue our COVID-19 precautions while we ride out the storm," Callendar said.
The first step in doing that is making sure COVID-19 patients are separate from people not infected with the virus. Health care workers will be divided into two teams during an evacuation, including a ride-out team that would care for patients as they are transferred away from the hospitals, Callendar said.
—
Updated 2:56 p.m. CT Tuesday
NEW ORLEANS (AP) — More than half a million people were ordered to evacuate the Gulf Coast on Tuesday as Laura strengthened into a hurricane that forecasters said could slam Texas and Louisiana with ferocious winds, heavy flooding and the power to push seawater miles inland.
More than 385,000 residents were told to flee the Texas cities of Beaumont, Galveston and Port Arthur, and another 200,000 were ordered to leave low-lying Calcasieu Parish in southwestern Louisiana, where forecasters said as much as 13 feet of storm surge topped by waves could submerge whole communities.
The National Hurricane Center projected that Laura would draw energy from warm Gulf waters and become a Category 3 hurricane before making landfall late Wednesday or early Thursday, with winds of around 115 mph.
Ocean water was expected to push onto land along more than 450 miles of coast from Texas to Mississippi. Hurricane warnings were issued from San Luis Pass, Texas, to Intracoastal City, Louisiana, and storm surge warnings from the Port Arthur, Texas, flood protection system to the mouth of the Mississippi River.
Officials urged people to stay with relatives or in hotel rooms to avoid spreading the virus that causes COVID-19.
—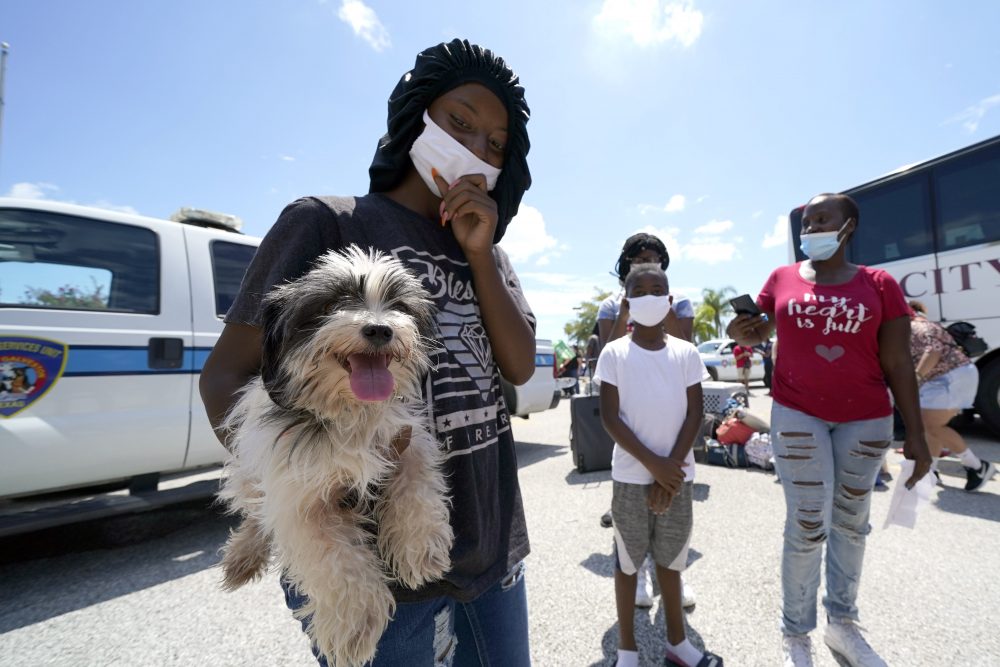 Updated 1:38 p.m. CT Tuesday
Gov. Greg Abbott on Tuesday issued a disaster declaration for 36 more Texas counties, including Fort Bend, Montgomery and Waller counties.
Evacuation centers for people in the most impacted areas will begin operation today in San Antonio, Austin and Dallas, with 200 buses already set to transport people, and another 200 ordered, Abbott said. The state has also prepared 152 high-water vehicles.
Abbott on Sunday had declared a state of disaster for 23 counties ahead of Laura's landfall, include Harris, Galveston and Chambers counties. FEMA head Peter T. Gaynor later granted a federal emergency declaration for those counties, Abbott said.
The governor has also activated more than 70 members of the Texas Army, Air National Guards, and Texas State Guard with the Texas Military Department.
—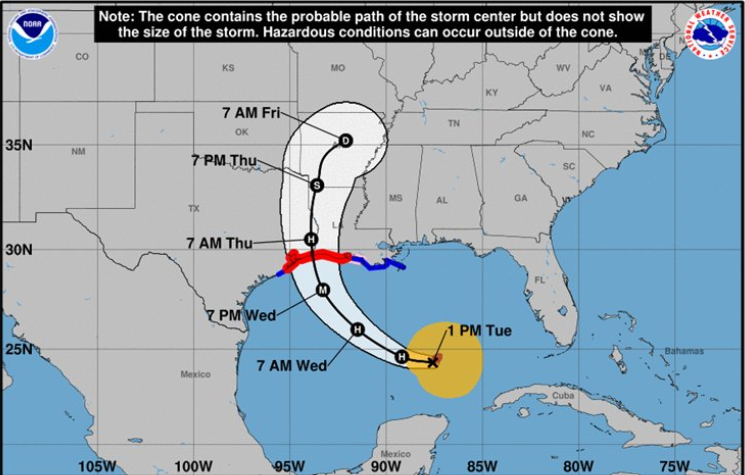 Updated 1:06 p.m. CT Tuesday
Harris County Judge Lina Hidalgo has issued a voluntary evacuation order for coastal areas bordering Galveston Bay, including Baytown, Nassau Bay, Friendswood, Deer Park, South Houston, and parts of Pasadena and Clear Lake.
The voluntary evacuation is set for zones A and B. To see your evacuation zone, click here.
Hidalgo said people in those area should be proactive, gather their essentials and move as quickly as they can.
"Do not wait, hoping the forecast will improve," Hidalgo said. "Take action now."
People outside those evacuation zones were asked to stay home, limit travel to essential purposes only, so others can leave. Hidalgo also asked people to be prepared to shelter in place for what is expected to most likely be a major wind event, rather than a rain event like Hurricane Harvey.
The county has waived fees on toll roads to support those evacuations, in advance of Hurricane Laura, which is expected to make landfall as a Category 3 hurricane on late Wednesday or early Thursday.
That order applies to Harris County Toll Road Authority roads only.
"Folks will watch from around the country, and when they do, let us show them that we helped each other," Hidalgo said.
Mayor Sylvester Turner recommended canceling any nonessential travel after 8 p.m. Wednesday, ahead of the storm's landfall, to avoid high winds from Laura. Turner also said to prepare for power outages, amid the threat of winds knocking out power.
He also said the city would not be putting down barricades to block roads, over fear of them turning into wind-blown projectiles, and recommended taking in any furniture, including umbrellas and patio furniture.
"You should be well under way in preparing for the storm," Turner said. "If you're not, you're already behind the curve."
—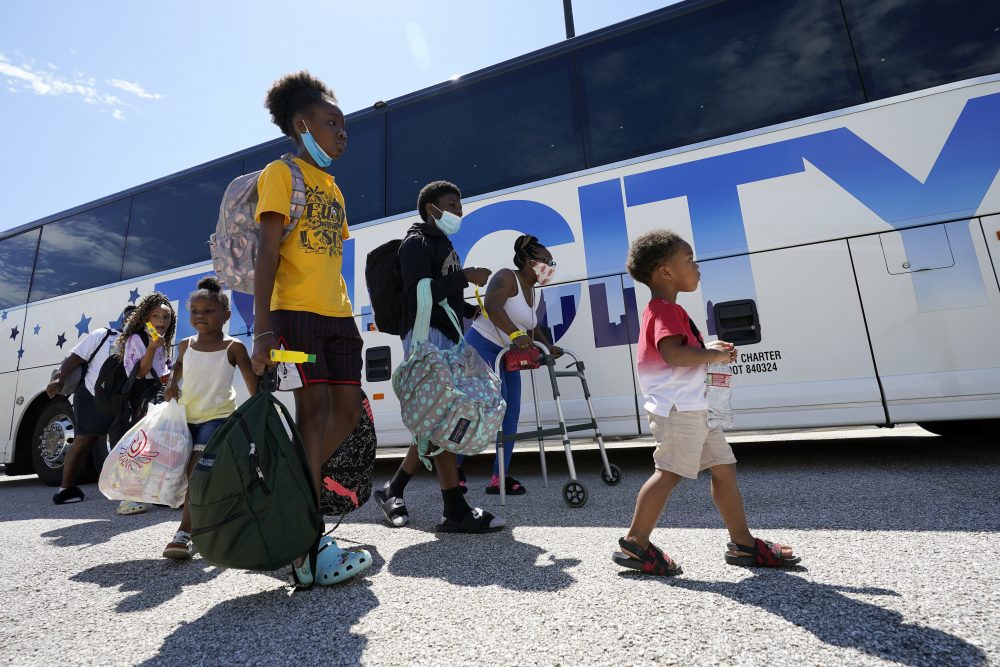 Updated 12:29 p.m. CT Tuesday
Galveston County officials have now ordered the evacuation of the Bolivar Peninsula, San Leon and Bacliff, and County Judge Mark Henry said voluntary evacuation orders were in place for other areas.
Bayou Vista, Hitchcock and Kema were asked to voluntarily evacuate, even after the cities of Galveston, Clear Lake Shores, Jamaica Beach, La Marque and Tiki Island all issued their own mandatory evacuations.
Henry said 50 buses were prepared to help evacuate parts of the county, and urged residents to leave before the storm begins in earnest.
"We do not have the resources to save you," Henry said at a press conference Tuesday.
—
Updated 8:55 a.m. CT Tuesday
Hurricane Laura has formed in the Gulf of Mexico, the National Hurricane Center reported Tuesday morning.
The news came just hours after the city of Galveston issued a mandatory evacuation order for noon today instructing all its residents to leave the island, after the National Weather Service shifted its hurricane warning further westward along the coast.
Galveston County Judge Mark Henry issued a voluntary evacuation for residents on the Bolivar Peninsula, which he said could become a mandatory evacuation later Tuesday morning depending on further weather updates. The voluntary evacuation order takes effect immediately, he said.
Laura is expected to hit the U.S. coastline late Wednesday or early Thursday as a Category 3 hurricane.
The hurricane is expected to have the most impact further up the Texas coastline, near Port Arthur, according to NWS projections. Jefferson and Orange county officials have ordered the evacuations of Beaumont, Port Arthur and the surrounding areas.
There's now a mandatory evacuation order for people in Jefferson and Orange Counties ahead of #Laura https://t.co/CTKVDXnVlL

— Gail Delaughter (@Gail_HPM) August 25, 2020
—
Updated 5:41 p.m. CT Monday
Tropical Storm Marco continued to weaken Monday afternoon, and forecasters predicted it would have minimal impact on the Houston region — but experts have still not ruled out a westward shift from what is likely to be Hurricane Laura, which would have a severe impact on Texas.
The storm is still expected to hit the upper Texas coast — near Beaumont, and as far south as thr Bolivar peninsula — or southwest Louisiana. A hurricane watch is in effect between Port Bolivar and Morgan City, Louisiana. But additional hurricane watches may be put into effect farther west as the storm develops, according to the National Weather Service.
Potentially up to four feet of flooding due to storm surge could impact Galveston Bay, with asmuch as six feet of flooding higher up the coast, the NWS said.
—
Updated 4:23 p.m. CT Monday
Houston-area leaders urged the region to prepare for severe winds and Galveston recommended some parts of the city evacuate Monday, as Tropical Storm Laura makes its way to the Gulf coastline.
Harris County Judge Lina Hidalgo said to "prepare for the worst," even as some models project the brunt of the storm — expected to become a hurricane Tuesday before making landfall — would hit further east in Texas and Louisiana before making its way north.
Greater Houston is still expected to see severe winds, and Hidalgo recommended all Harris County residents check their evacuation zone in the event of an emergency.
"Right now residents across Harris County and within our region should be making preparations for landfall of a hurricane," Hidalgo said. "We can't wait for another forecast hoping it will improve."
Houston and Harris County have both activated their respectives offices of emergency management, and were monitoring the air for pollution, in the wake of disasters like the fires that broke out Arkema's Crosby plant during Hurricane Harvey.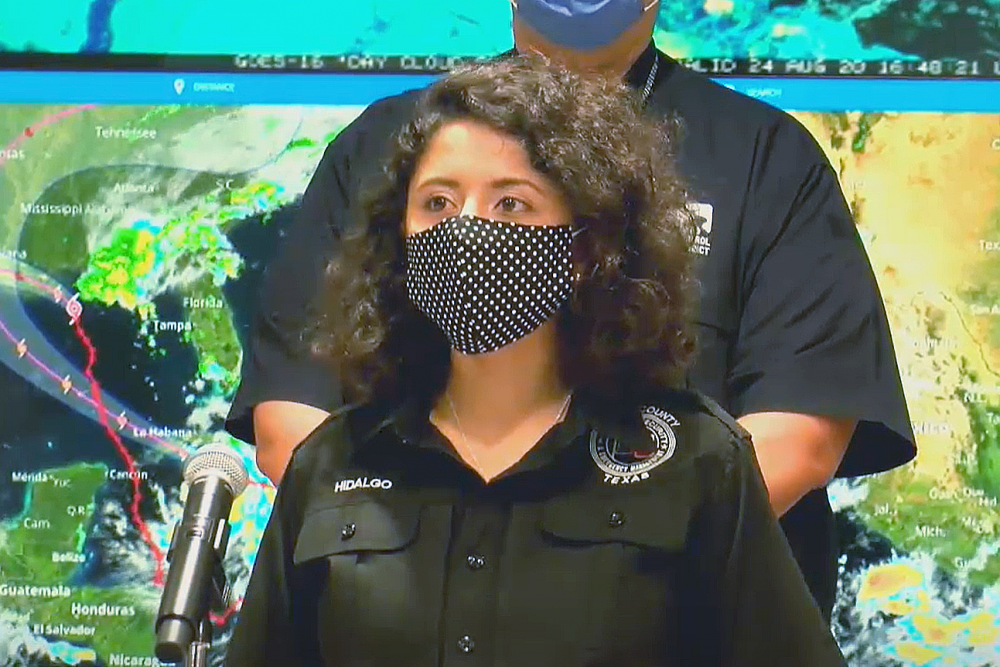 The storm hits even as the region continues to respond to COVID-19, which is still not under control throughout Greater Houston. Hidalgo said the Red Cross was ready to open its shelters if needed, while taking COVID-19 precautions. And, she said, the county would evaluate the risks of spreading the virus against whether to evacuate some areas.
"You're asking folks to leave, stay with friends and family — that is additional exposure," she said. "So we're thinking about all these things, weighing the risks."
Hidalgo and Houston Mayor Sylvester Turner stressed that there would likely be no clear forecast until Tuesday morning, and said all residents should be prepared to evacuate if needed.
"We find ourselves here again," said Turner, who called the combination of Laura and a weakening Tropical Storm Marco, "historic."
"But the good news is that we are battle tested, and so we are ready to deal with this situation as well," Turner said.
Galveston asks some areas to evacuate
City of Galveston Mayor Pro Tem Craig Brown, meanwhile, issued a voluntary evacuation for people in the city's low-lying areas, and west of the end of the Seawall, effective 1 p.m. Monday.
The city said there is still "a high degree of uncertainty" about the storm, and that people should be prepared to act quickly. Brown also said the city could issue a mandatory evacuation of the island as "early as tonight or tomorrow morning depending on developments in the storm."
"There is potential for the storm to track closer to Galveston, but there are still many uncertainties," the city wrote on its website. "However, it is increasingly apparent that Galveston is likely to feel the effects of the storm, including wind, rain and potential flooding."
The city said it is also working with local nursing homes, and has asked RV parks to have all guests vacate, and to close their premises.
Galveston County Judge Mark Henry said he anticipates his own voluntary evacuation order for the Bolivar Peninsula Tuesday, as he monitors weather patterns. Henry on Monday signed a disaster declaration for Galveston County, in preperation for Laura.
"Forecasts are showing the possibility of heavy rains, tropical force winds, and storm surge impacting our area," Henry wrote in a press release. "This storm potentially presents a serious threat to the life safety and property of our residents."
TDCJ to evacuate Beaumont facilities
The Texas Department of Criminal Justice will evacuate six of its facilities and part of a seventh in the Beaumont and Jasper areas in preparation for tropical storms Laura and Marco.
TDCJ spokesman Jeremy Desel said the Beaumont Residential Reentry Center, two transitional treatment centers, the Gist State Jail, the LeBlanc Unit prison, and portions of the Stiles Unit prison in Beaumont, as well as the Goodman Unit in Jasper began evacuations early Monday. About 3,600 incarcerated people and treatment facility clients were part of the move, expected to be completed later today, Desel said.
All are being transported by bus and accompanied by correctional staff.
TDCJ said it was taking COVID-19 precautions with the move, with both staff and incarcerated people wearing masks and personal protective equipment at all times.