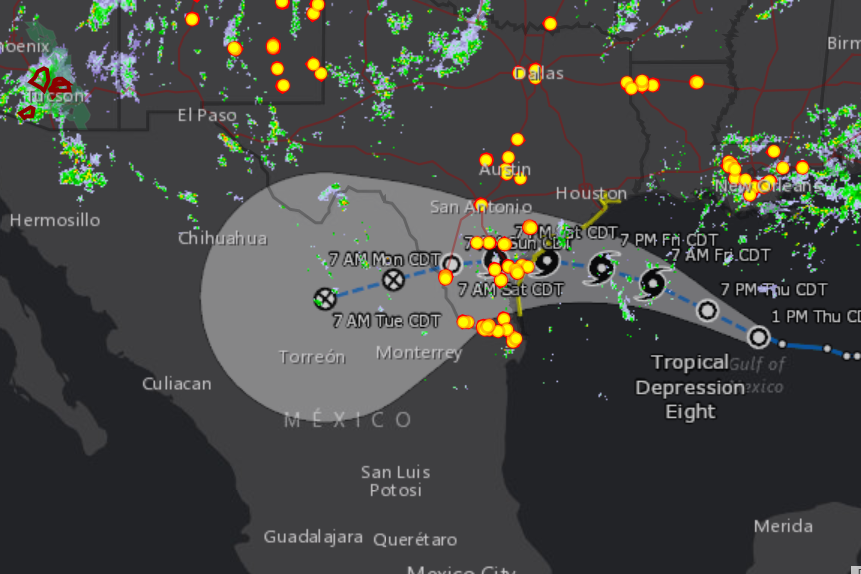 Updated 5:43 p.m. CT Friday
Houston may seem heavy rain over the weekend as Tropical Storm Hanna continues in from the Gulf of Mexico toward Southeast Texas.
Forecasters issued a hurricane warning for parts of the Texas coast as Hanna threatened to bring heavy rain, rough waters and strong winds, all while another tropical storm approached the Caribbean.
Hanna was centered about 195 miles east of Corpus Christi, the U.S. National Hurricane Center said in its 4 p.m. CDT advisory. The storm had maximum sustained winds around 50 mph and was moving west at 10 mph.
The storm was forecast to make landfall Saturday afternoon or early evening. A hurricane warning is in effect for Baffin Bay to Mesquite Bay, a span that includes Corpus Christi. A storm surge warning is in effect for Baffin Bay to Sargent. A tropical storm warning is in effect from the mouth of the Rio Grande River to Baffin Bay and from Mesquite Bay to San Luis Pass.
It's the first major storm to hit Texas during this hurricane season, and Harris County officials warned that the region could be hit with heavy rain as a result.
Harris County is working with the Red Cross to develop protocol on shelters if needed during the season, while remaining as safe as possible during COVID-19, County Judge Lina Hidalgo said Thursday, during an interview with Houston Matters Special Edition host Ernie Manouse.
"In some ways we are already more prepared than we would be otherwise because we are already activated" for an emergency, Hidalgo said.
But, she added, "the severe weather and the hurricane season is not going to stop just because we have COVID."
Lance Wood of the Houston-Galveston office of the NWS told Houston Matters morning host Craig Cohen on Thursday that he expects one to three inches of rain for the Houston area, with rainfall along the coast estimated at five to six inches.
Heavy winds in the Houston area are less likely.
"Right now, the Houston area may or may not see some weak tropical-storm-force winds," Wood said. "It would be more likely on the very southeast side, towards the bay, near the water."
Wood said the storm will most likely land on the mid-Texas coast, just south of Matagorda Bay. Heavy winds and elevated tides are a concern for the area.
The National Hurricane Center has issued a Tropical Storm Watch for coastal Harris County, and the county Office of Emergency Management on Thursday warned drivers to be cautious of high waters over the weekend.
The office said it's also watching Tropical Storm Gonzalo in the Atlantic Ocean, which is expected to become a hurricane Thursday. The storm will enter the eastern Caribbean early next week, the OEM said.