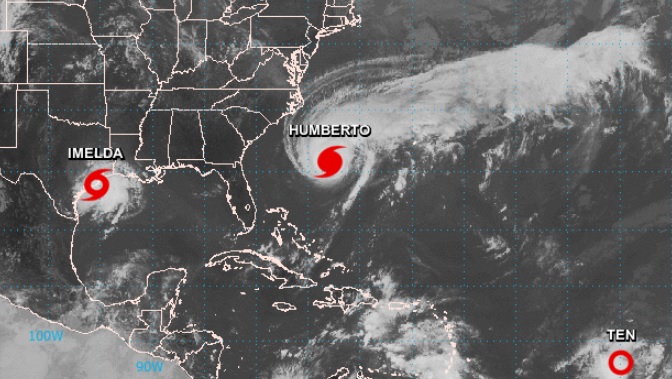 Updated on Tuesday, Sept. 17, at 4:15 p.m. (Central Time)
The National Hurricane Center said Tuesday Tropical Storm Imelda made landfall near Freeport around 1 p.m. Forecasters expect heavy rainfall and potential flash flooding as the storm moves inland through the Upper Texas Coast. Locally, the forecast from the National Weather Service shows most of the rainfall on Tuesday night will impact the U.S. 59-I 69 corridor from Victoria to Houston to Livingston.
The hurricane center in Miami said Imelda had maximum sustained winds of 40 mph (65 kph) and was moving north at 7 mph (11 kph).
Imelda is likely to produce heavy rainfall and flash flooding along portions of the Upper Texas coast, including the Houston and Galveston areas and Brazoria County.
At 12 p.m. Tuesday, the system was moving north at 7 mph and the National Hurricane Center expected that pattern to continue through early Wednesday. The forecast indicated the center of the storm would move farther inland on Tuesday night and Wednesday.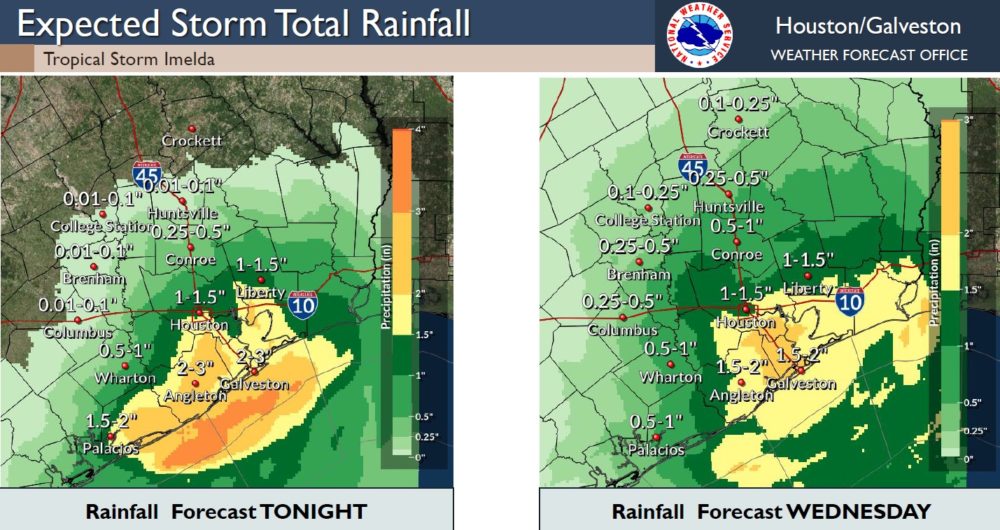 The system is expected to produce total rainfall accumulation of 5 to 10 inches with a maximum of 15 inches in isolated areas across the upper coastal region of Texas into far southwest Louisiana through Thursday. The National Hurricane Center said the rainfall may produce life-threatening flash floods.
The National Weather Service said the grounds could initially absorb the rainfall because there has been dry weather for the past several weeks. But ground saturation is a possibility and if the average precipitation is more than two or three inches per hour and water runoff increases rapidly, that would increase the likelihood of localized flooding. Radar estimates indicate the highest rainfall would mostly impact coastal areas.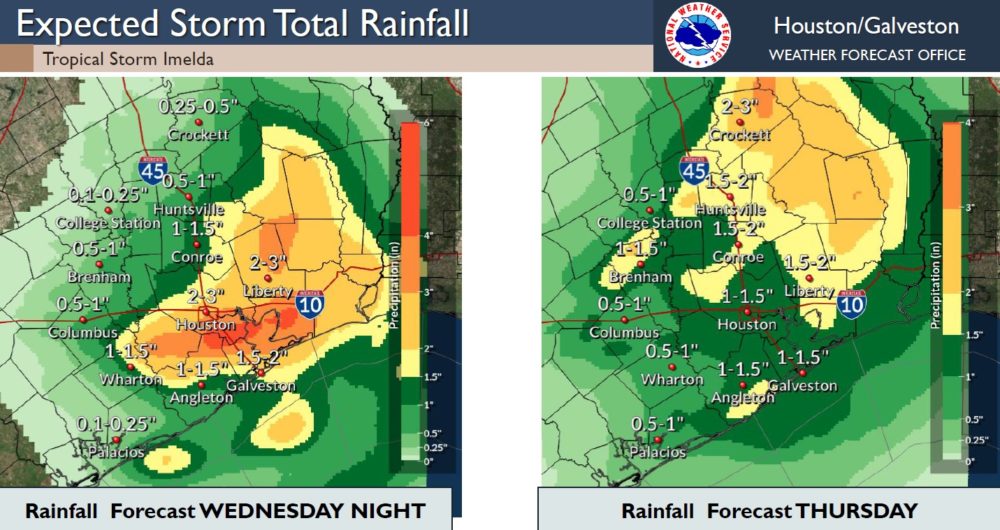 The Harris County Office of Homeland Security & Emergency Management is monitoring weather conditions. The Harris County Flood Control District said the heavy rainfall could result in bayou and creek level rises and street flooding Wednesday and Thursday.
Imelda shifting slowly inland with large feeder band producing heavy rainfall over southern Harris County. Gages showing rainfall rates of 1 inch in 15 minutes in this band west of Ellington Field #houwx #hounews pic.twitter.com/ft3cLiRQmK

— Jeff Lindner (@JeffLindner1) September 17, 2019
The weather forecast already impacted regional school districts on Tuesday around midday. Channelview was one of the school districts that canceled after-school activities scheduled for Tuesday, while the Galveston Independent School District announced it canceled classes on Wednesday.
After careful consideration of weather conditions concerning the eminent rain event in the Gulf of Mexico, Galveston ISD is announcing the decision to cancel classes for students Wednesday, September 18, 2019. Full report: https://t.co/NjfH2vfvAu pic.twitter.com/LwthQ7OaBd

— Galveston ISD (@galvestonisd) September 17, 2019
This is a developing story.