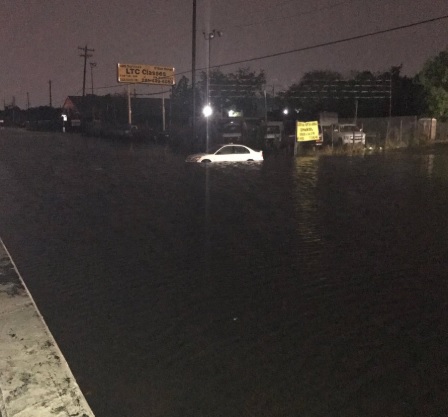 Updated on Friday, May 10, at 3:20 p.m.
The severe weather in southeast Texas has so far impacted about 130 homes in Harris County and approximately 150 homes in Fort Bend County, according to local officials.
Francisco Sanchez, Deputy Emergency Management Coordinator for Harris County, told News 88.7 on Friday that the number of flooded houses could go up as more reports are collected. The Kingwood, Spring Branch and Friendswood communities were most affected by the heavy rainfall and, according to Sanchez, drainage issues caused most of the flooding.
As of Friday morning, Harris County's Office of Emergency Management is at Level III Increased Readiness. Friday night could bring more high water spots or flooding because the ground is already saturated.
"Typically, we wouldn't be so concerned about one to three inches of rain over the next 24 hours," Sanchez said, "but if we get the higher end of the forecast between now and tomorrow those areas where it does fall are going to have some roadway flooding for sure and we are going to have to be watchful to see if there are any home impacts as well."
For the remainder of the week, the National Weather Service predicts between 1 to 3 inches of rainfall but some areas could receive more. Forecasters say the most likely scenario for thunderstorms on Friday night and Saturday.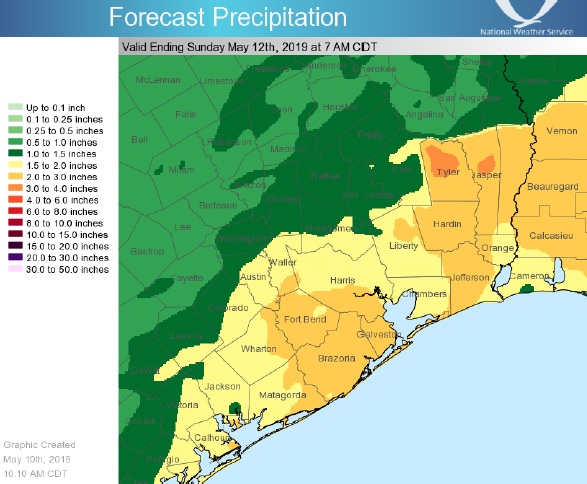 Water has exceeded the banks on parts of Clear Creek, as well as on Cypress and Spring creeks. The NWS warns some flooding could occur in parts of Friendswood that are near Clear Creek.
A Flash Flood Watch is in effect until Saturday at 7 p.m.
Houston residents can report damage to their homes by calling the City of Houston's 311 line or Harris County at 713-684-4000. Damage can also be reported online and the information will be used to make decisions about future drainage improvements.
In Fort Bend County, County Judge K.P. George said approximately 150 homes have been impacted in towns such as Needville and Rosenberg.
In Richmond and Rosharon, the Brazos River has risen about one foot in the last 24 hours and the forecast indicates it will remain elevated into next week. Besides the Brazos, Fort Bend County officials are also monitoring the San Bernard River and the Barker Reservoir.
Debris pickup in Fort Bend County is scheduled to begin on May 20.
Updated on Friday, May 10, at 9:25 a.m.
The Houston area braced for more serious flooding as heavy rain and hail pelted the nation's fourth largest city for the second time this week.
Brian Kyle with the National Weather Service said some areas overnight received as much as 6 inches of rain from downtown Houston to parts west of the metro area.
Kyle also said the steady rain happening early on Friday should not make ongoing flooding any worse, but it could delay the time it takes for streets to drain.
Forecasters are urging motorists to drive with caution on these slick roads. The heavy rainfall caused some stranded vehicles on local roadways, such as the northeast section of Highway 59.
The Barker Dam area in West Houston received nearly 6 inches of rain on Thursday night.
The storms also affected regional waterways, with Little Cypress Creek at Becker, the San Jacinto West Fork at U-S 59, and Spring Creek at Hegar going over their banks early on Friday.
Several bayous appear to have crested and are draining, for now. That includes Halls Bayou near I-45, Armand Bayou at Genoa Red Bluff, and Hunting Bayou at I-10.
The severe weather caused power outages. CenterPoint Energy reported that the outages peaked at more than 100,000 on Thursday night.
In addition, numerous school districts had to close on Friday, including Houston, Aldine, Alief, Clear Creek, Cleveland, Crosby, Cy-Fair, Dayton, Fort Bend, Galena Park, Huffman, Katy, Klein, Lamar, Montgomery, New Caney, Pasadena, Sheldon, Spring, Stafford and Waller.
The heavy rainfall also impacted universities and colleges, with the University of Houston closing its campuses, including UH at Sugar Land, and postponing commencement ceremonies, which will be rescheduled for next week. The University of St. Thomas, Texas Southern University, and South Texas College of Law Houston were also closed.
Additionally, Houston Community College said all final exams scheduled for Friday, Saturday and Sunday were postponed until Monday and Tuesday. Commencement ceremonies scheduled for Saturday at HCC are postponed due to the threat of severe weather and ceremonies have been rescheduled for May 17. San Jacinto College also postponed commencement ceremonies scheduled for Saturday and rescheduled them for May 17 at NRG Stadium. The University of Houston also postponed its commencement ceremonies.
A Flash Flood Watch remains in effect through Saturday night.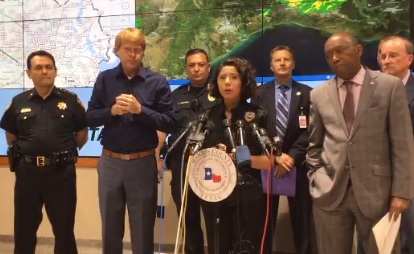 Updated on Thursday, May 9, at 4:15 p.m.
Harris County Judge Lina Hidalgo and Houston Mayor Sylvester Turner are urging residents to be cautious on Thursday and the rest of the week due to the severe weather that's forecast for the region.
Hidalgo and Turner held a joint news conference at Houston Transtar at 3:15 p.m. The mayor said this could be a "very serious" weather event and Hidalgo urged residents to get back to their homes as quickly as possible after finishing work.
Hidalgo warned about the risk of driving in the dark in case there are high water spots, when it can be very hard to tell whether a vehicle can safely pass through.
Both the county judge and the Houston mayor underscored that motorists shouldn't drive around barricades set up at underpasses or at flooded locations.
Turner said Houston has "more assets on the city level now than we had during Hurricane Harvey." Houston Police Chief Art Acevedo said the police department has about 15 boats deployed across the city and nine high water rescue vehicles, as well as other vehicles in reserve.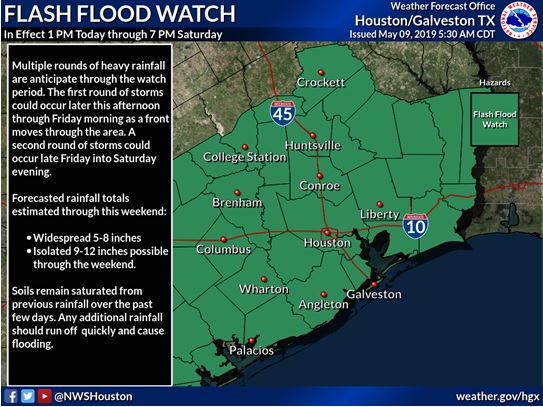 Turner also noted that Lake Houston's gates remain open to release water and recommended people think twice before going to the Astros game if they live far away from Minute Maid Park, saying the drive home after the game could be treacherous.
The Emergency Operations Centers for Harris County and the City of Houston are activated and monitoring developments throughout the night.
In Fort Bend County, officials gave an update at 2 p.m. County Judge KP George said the ground is saturated because of the heavy rainfall the area had at the beginning of the week, with some spots getting about 12 inches of rainfall.
The county is using helicopters and drones to monitor the situation, particularly along the Brazos River.
County officials estimate 150 homes were flooded earlier this week, most of them along the southern portion of Highway 59.
Updated on Thursday, May 9, at 1:26 p.m.
The National Weather Service has issued a Flash Flood Watch for all of southeast Texas starting at 1 p.m. on Thursday and continuing through Saturday at 7 p.m.
The NWS is forecasting multiple rounds of heavy rainfall during the watch period. The first round of storms could occur on Thursday afternoon through Friday morning. A second round of storms could happen late Friday into Saturday evening. "That could be problematic because because some of this occurs during the rush hour, some of it occurs when it's dark outside," Francisco Sanchez, Deputy Emergency Management Coordinator at the Harris County Office of Emergency Management, told News 88.7.
There could be widespread rainfall totals of 5 to 8 inches with isolated spots of 9 to 12 inches.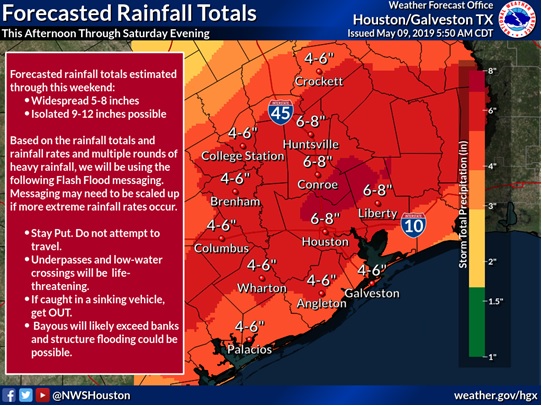 All of Harris County is under the risk of severe thunderstorms, but Sanchez said they are particularly concerned about the Kingwood area and the northeast part of the county because they already had a lot of rain at the beginning of the week.
The soil is still saturated from rainfall earlier this week, and the NWS says additional rainfall will likely run off quickly and cause flooding. "Even if we get the lesser of the forecast, just two inches of rain in an hour," noted Sanchez, "(the ground) is not going to be able to soak that water up and absorb it, it's simply going to pile up on top of the water that's already in the bayous and quickly rise on our streets."
Sanchez added that Harris County and City of Houston officials have a plan to possibly block with barricades underpasses with a history of flooding, such as the one at the intersection of I-10 and Washington Avenue and the one at the intersection of I-45 and the entrance to the University of Houston.
The Trinity River is experiencing flooding and there is moderate flooding along the Brazos, San Bernard and San Jacinto rivers.
Updated on Wednesday, May 8, at 5:43 p.m.
Greater Houston residents should brace for strong to severe storms the rest of the week, according to the latest forecast from the NWS. On Tuesday, heavy rain already impacted different areas in the region, including Kingwood and Humble on the north side and Sugar Land to the southwest.
On Wednesday afternoon, the NWS issued a tornado watch for 11 counties in southeast Texas, including Montgomery and Walker, which are north of Harris County. The tornado watch will be in effect until 11 p.m. and includes Conroe, Huntsville and The Woodlands.
The NWS predicts that a line of thunderstorms will move Wednesday into Houston, the north section of Harris County, as well as into Montgomery, Liberty and Waller counties. Widespread rainfall totals could be about 5 to 8 inches, while isolated areas could get between 9 and 12 inches.
RAINFALL RATES | Get live and accumulated rainfall rates for where you live or work using https://t.co/6jw3F2IJE6.
.
More rain ☔ and #severewx expected this week. Stay informed! pic.twitter.com/LeWdOX9xWv

— Office of Homeland Security & Emergency Management (@ReadyHarris) May 8, 2019
The ground is already saturated in areas that saw 4 inches or more of rainfall yesterday. That means there could be flooding and the NWS is warning about potential cresting on several regional rivers such as the Brazos, San Jacinto, San Bernard and Trinity. The bayous will also have to be monitored.
From Thursday until Friday morning, the NWS forecast says the heavy rain will persist and flash flood watches across much of Southeast Texas will be necessary.
The Harris County Office of Emergency Management is at Level III and the county has activated its Emergency Operations Center. Updated information is posted on ReadyHarris.org.
The Harris County Flood Control District is also monitoring the weather in coordination with the National Weather Service, the San Jacinto River Authority, and the West Gulf River Forecast Center, along with other local agencies and partners. The agency posts information on the website of the Harris County Flood Warning System.
In Fort Bend County, Judge KP George has issued a Disaster Declaration and officials have also activated their Emergency Operations Center. Updated information is posted on fbcoem.org.
I have issued a Diaster Declaration for Fort Bend County. Our residents need to understand that this is a serious threat. This flash flooding tonight is contributing to the Brazos River levels, which still pose a threat later this week. We are not out of the woods yet. pic.twitter.com/tb5qPaNXgU

— County Judge KP George (@JudgeKPGeorge) May 8, 2019
On Tuesday, the heavy rains made most of the roads in Sugar Land impassable, and also caused an overflow of the sewer system in Baytown, but the drinking water system wasn't affected. Emergency responders also had to perform some water rescues in southwest Harris County and in Kingwood.
Several school districts were closed on Wednesday because of the severe weather, including Cleveland, Huffman, New Caney and Splendora. The majority of Fort Bend Independent School District schools started classes late.
On Wednesday afternoon, the New Caney Independent School District announced on its website all its schools will be closed on Thursday and Friday due to weather conditions.