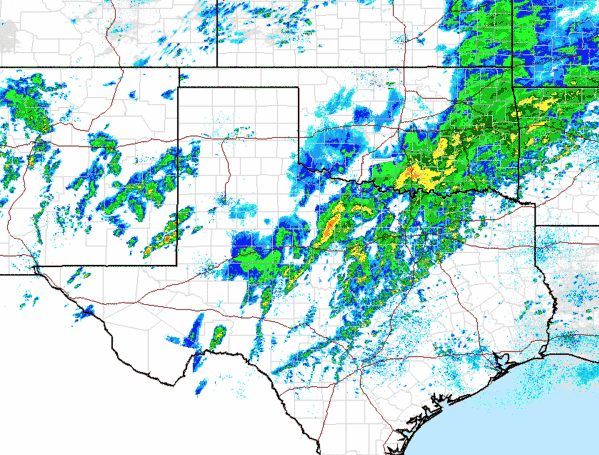 The National Weather Service in Houston/Galveston has issued a Flash Flood Watch for a portion of southeast Texas, including the following counties, Brazoria, Chambers, Fort Bend, Galveston, Harris, and Liberty.
The warning extends from Wednesday morning through Thursday morning
A band of showers and thunderstorms will slowly expand southeastward into the watch area Wednesday morning. In addition the band may slow as it moves into the watch area with individual storms moving northeast through the band. Rainfall of 1 to 3 inches should be common with isolated bands of 4 to 5 inches. The most intense rainfall should occur Wednesday after noon through midnight.
With the heavy rainfall expect area small creeks and bayous to rise and anyone living near these creeks and bayous is advised to monitor the weather closely Wednesday.
The City of Houston Office of Emergency Management (OEM) is monitoring the potential for severe weather and give Houstonians the following recommendations.
Turn Around, Don't Drown: Do not drive through flooded areas. If you come upon a flooded roadway, do not enter it. turn around. If you find yourself in a dangerous situation where your vehicle is taking on water, get out, get to a higher place and call 911.
Monitor official sources for current conditions, such as:
Monitor stream, bayou, and creek conditions: Rain may move repeatedly across the same area, causing a rise on creeks and bayous.
Avoid traveling during periods of heavy rain: Rain can keep you from seeing the road ahead of you, and can result in dangerous accidents.
Wednesday will be stormy across the region. Heavy rainfall and severe threat.#bcswx #houwx #glswx pic.twitter.com/lDpBgNC5va

— NWS Houston (@NWSHouston) March 27, 2018
Approaching storm system will bring increasing risk of locally heavy rain and strong/severe storms across Southeast Texas mainly tonight through Thursday morning. Keep up with forecast for updates. #txwx #houwx #bcswx #glswx pic.twitter.com/RTIogfpW53

— NWS Houston (@NWSHouston) March 27, 2018
Due to the possibility of severe weather, we are cancelling tomorrow's @UrbanHarvest farmers market. Please follow @AlertHouston and prepare for flash flooding. pic.twitter.com/3xc49qH5GU

— Sylvester Turner (@SylvesterTurner) March 27, 2018
.@HoustonOEM is monitoring the potential for severe weather, including possible street flooding beginning late Tuesday and through Wednesday. Pay attention to changing conditions. https://t.co/sHEQVOGOj5 #houwx #txwx #hounews pic.twitter.com/d9Eu02ZpyE

— AlertHouston (@AlertHouston) March 27, 2018