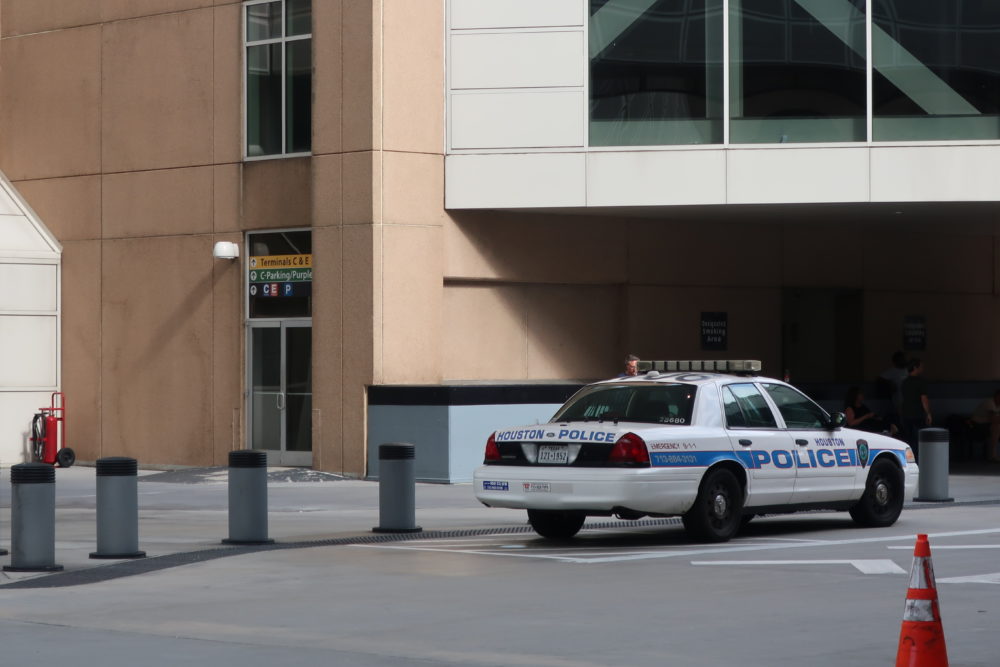 At least six people are wanted by police for their alleged roles in a Houston auto theft ring that has targeted parking garages at the city's two major airports.
Arrest warrants were issued earlier this month for Jason DeLeon, 23; Enrique Lopez, 19; Pedro Nunez, 23; and Gabriel Reyes, 25, who have been charged with felony theft or aggregate theft, according to documents filed in Harris County court. Joe Aguirre and Marco Castillo, both 22, were charged with first-degree aggregate theft in June.
Detectives with the Houston Police Department have linked the men, all of whom live in the Northside area, to at least a dozen auto thefts this year from Bush Intercontinental Airport and Hobby Airport, according to court records, which show the thefts continued after Aguirre and Castillo were charged June 22. The vehicles stolen from the airports were Chevrolet Silverado and Dodge Ram TRX pickup trucks, Chevy Camaro ZL1 sports cars, Cadillac CTS luxury cars and GMC Sierra Denali sport-utility vehicles.
"They believe this ring is responsible for multiple auto thefts (across the Houston area)," HPD spokesperson Jodi Silva said of the detectives investigating the thefts. "They said there were some that were even out of Pearland and Webster."
At Bush Airport alone, a total of 170 vehicles were stolen during a recent 12-month period, according to Silva.
All six men who have been charged are considered fugitives, according to HPD. Crime Stoppers of Houston is offering rewards of up to $5,000 for information that leads to their arrests.
Defense attorneys for the men were not listed in their online case records as of Monday.
Another person allegedly involved in the auto theft ring, 17-year-old Yulian Hernandez, was arrested last month and charged with felony theft of a firearm in addition to failing to stop and give information after colliding with an unattended vehicle. Hernandez allegedly was found with a pistol that belonged to a man whose Camaro was stolen from Bush Airport on April 24, with detectives later determining that Hernandez allegedly appeared in surveillance footage of the car theft, court documents show.
Hernandez was released from jail on bond last month and is next scheduled to appear in court in August, according to court records. His defense attorney did not immediately respond to an email Monday seeking comment.
Charging documents filed in court, which cite surveillance footage from airport parking garages, describe a longstanding scheme in which at least two people enter a garage in the same vehicle and they split up while in the garage, with one exiting in the same vehicle and others driving out in stolen cars or trucks. The drivers of both vehicles pay parking fees in cash upon exiting, court documents show.
The vehicles used to gain access to the garages have included a Dodge Caravan, a black Cadillac CTS, a silver Chevy Malibu, a tan Malibu and a black Nissan Altima with a star-like ornament hanging from the rearview mirror, according to court records.
"This is the MO of Joe Aguirre and the several people that he steals vehicles with," an HPD officer wrote in one of the charging documents.
Aguirre was arrested in May 2022 and again this February for alleging stealing vehicles, having been released from jail on bond both times, court records show.
Reyes pleaded guilty to third-degree felony theft last year for stealing three vehicles, according to court documents, which show he also is facing charges stemming from December for unauthorized use of a vehicle and evading arrest with a vehicle. Lopez faces a 2021 charge of unauthorized use of a vehicle and a 2022 charge of aggregate theft, with him accused of stealing three vehicles last year, court records show.
Nunez pleaded guilty to felony theft in 2022 and pleaded guilty to burglary of a motor vehicle, a misdemeanor, in 2021, according to court documents.