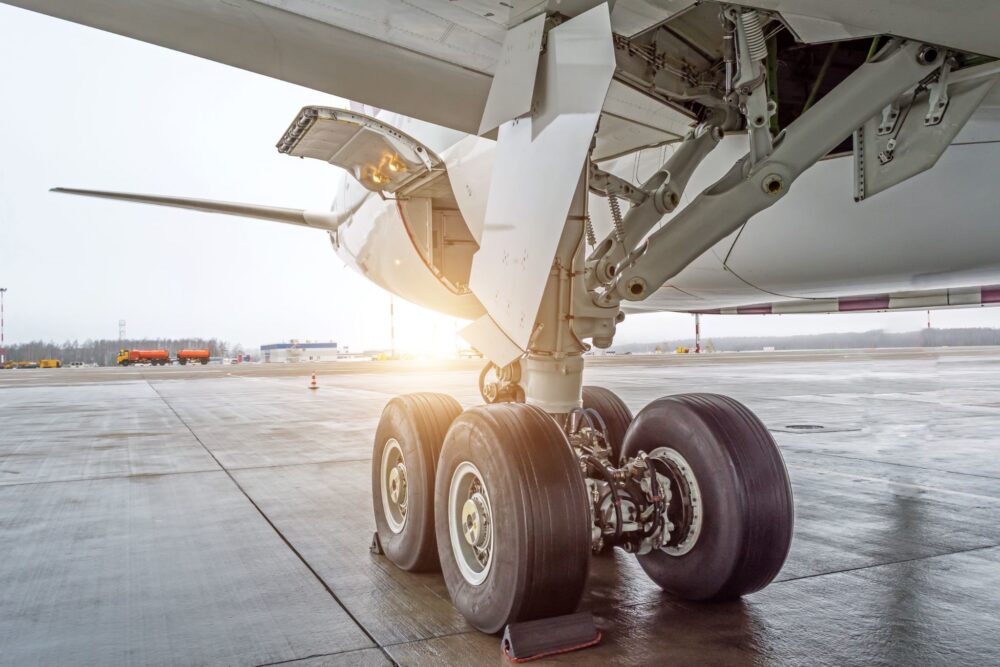 A Guatemalan man who allegedly came to the United States by hiding amongst the landing gear of an airplane is in jail on bonds exceeding $1 million after being accused of attempting the same stunt last weekend at an airport in Houston, according to documents filed in Harris County court.
Jehffrey Gutirres, 26, who Harris County prosecutors describe as a "repeat trespasser" in court filings, has been charged with one felony crime and two misdemeanors after allegedly entering a restricted area at Bush Intercontinental Airport last Saturday and then trying to stow himself inside the landing gear compartment of an American Airlines plane bound for Chicago. Passengers had to get off the plane and the flight was delayed for 44 minutes as a result, according to court documents.
Gutirres had been out of jail on bond for two previous criminal trespassing charges, including one at the same airport, and had been ordered by a judge to wear an electronic monitoring device and stay at least 200 feet away from Bush Intercontinental. He is alleged to have removed the device before returning to the airport last Saturday.
"The defendant then engaged in conduct that not only violated the conditions set for his release on bond, but he placed 166 passengers on American Airlines flight 1551 in grave danger by stowing away in a compartment within the aircraft containing critical steering cables and hydraulic components," prosecutors alleged in a court filing. "... The defendant's conduct is also an extreme act for the purpose of escaping from this jurisdiction to avoid prosecution, as he would now be in Chicago, Illinois rather than Harris County if he had succeeded."
Two court-appointed defense attorneys for Gutirres did not immediately respond to messages Friday seeking comment. Gutirres is homeless and suspected of having a mental illness or intellectual disability, court records show.
A spokesperson for American Airlines deferred to local law enforcement when asked for comment and additional details.
Gutirres is being held in the Harris County Jail on a $1 million bond for the felony charge of impairing or interrupting the operation of a critical infrastructure facility, along with $10,000 bonds for the misdemeanor charges of deadly conduct and criminal trespassing, according to court documents. If he posts bail, he must have a GPS monitor installed before he is released from jail and is ordered to stay at least 1,000 feet away from any airport.
Prosecutors allege in court filings that Gutirres traveled from Guatemala City to Miami last November by hiding in the landing gear compartment of another American Airlines flight. Then, in January of this year, he was arrested in the Houston area and charged with trespassing at Cypress Falls High School, according to court documents, which show Gutirres was subsequently released from jail on a personal bond.
He was released on another personal bond following a late-April arrest in which he was charged with criminal trespassing at Bush Intercontinental Airport, at which point Gutirres was ordered to stay at least 200 feet from the airport. But he was detained there again on May 17, court records show.
Gutirres was initially charged with criminal trespassing and deadly conduct when was arrested last Saturday at the airport, with the aforementioned felony charge being filed three days later.
Citing a statement given to a Houston Police Department officer by an investigator from American Airlines' security staff, prosecutors wrote in a court filing that there was a negative financial impact of $10,000 related to Saturday's delayed flight.
"More significantly, (the investigator) noted that the American Airlines Technical Operations Division indicated that the area in which the subject was located on the 737-800 series aircraft could have been catastrophic," prosecutors wrote. "He noted that there are many components critical to flight safety of the aircraft."