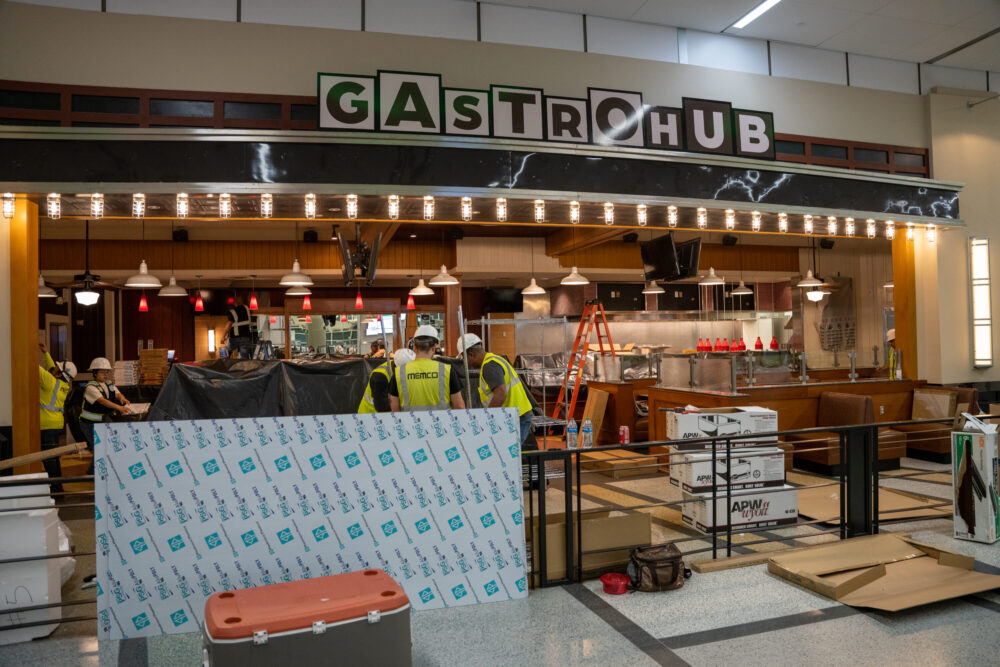 Hobby Airport has a new flavor – a group of new flavors, rather – after an overnight transformation to its food-and-drink offerings.
A concessions group led by Pappas Restaurants moved out Thursday after a 20-year run at the South Houston airport and a months-long dispute with the City of Houston over a lucrative, 10-year contract awarded to a competing concessionaire. Seven new concepts opened Friday morning and more are to come during the next year-and-a-half as operations of some of the airport's dining options transitions to a joint venture group led by Areas HOU JV, a U.S. subsidiary of Spain-based Areas.
Among the concepts to debut Friday are Houston-based Hubcap Bar & Grill, LaTrelle's Mexican Kitchen and Pink's Pizza, along with chain restaurants Gastrohub Bistro & Bar and Pick Up Stix, among others. Gone from the airport are staples of Houston-based Pappas Restaurants, such as Pappas BBQ, Pappasito's Cantina and Pappadeaux Seafood Kitchen.
"The new selection of distinct and fun culinary options will celebrate Houston's mouth-watering and signature flavors," Houston Airports, which operates the city's two major airports on behalf of the municipal government, said in a news release about the transition. "The eclectic mix of local favorites and trusted national brands will strengthen a sense of place within the airport."
OUTSTANDING OVERNIGHT WORK 💪 8 new restaurants will open soon at HOU!

These temporary concepts will serve hot food and cold drinks as we revolutionize our airport dining experience to feature a variety of #HTown faves. pic.twitter.com/fYn1gcw4FR

— Hobby Airport (@HobbyAirport) May 12, 2023
All the new dining options except for Pink's Pizza are temporary and join five existing concepts that remain open – Buffalo Wild Wings near Gate 23, Chick-fil-A at Gate 1, Peet's Coffee & Tea at Gate 40, Starbucks at Gate 45 and Wendy's at Gate 41. Chick-fil-A, Starbucks and Wendy's will continue to operate at Hobby once the concessions transition is complete, likely by the end of 2024, according to Houston Airports.
By the end of next year, Hobby will have a total of 20 food-and-drink options operated either by Areas or Houston-based LaTrelle's Management, which in January was awarded a separate, 10-year contract by the city, which expects the two contracts to generate as much as $178 million in revenue for Houston Airports.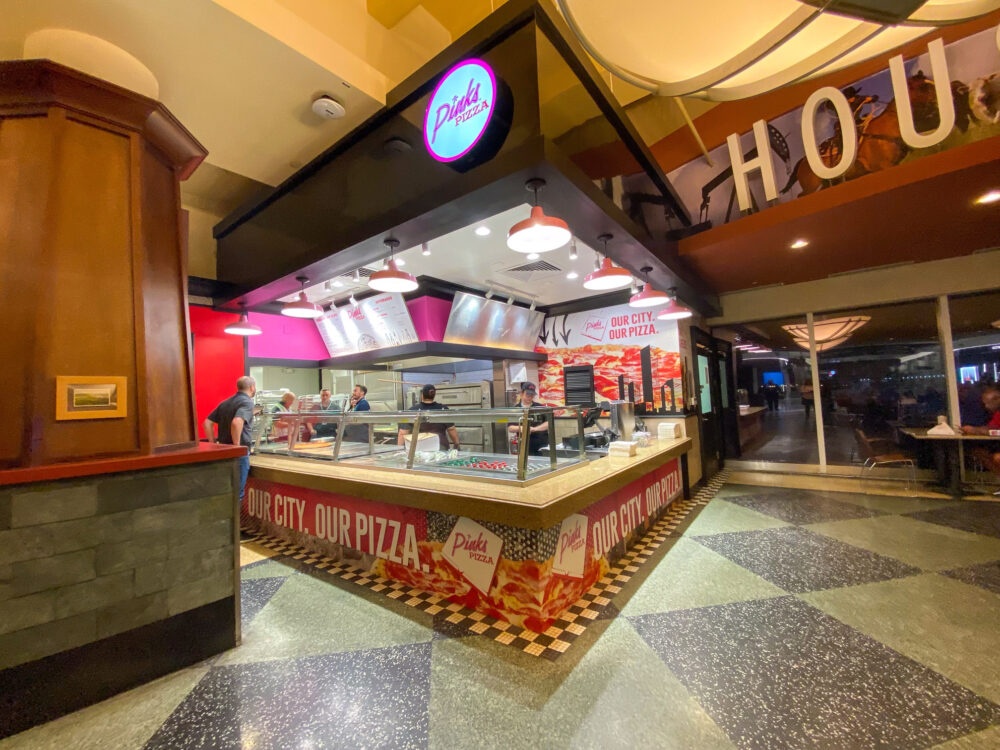 Below is a list of those 20 concepts, along with their anticipated opening date. Concepts based in the Houston area are denoted with an asterisk.
Fat Cat Creamery* – fall 2023
Dunkin' Donuts – fall 2023
The Spot* – fall 2023
The Spot Bar* – fall 2023
Velvet Taco* – fall 2023
The Rustic* – spring/summer 2024
Jersey Mike's – spring/summer 2024
Pei Wei – spring/summer 2024
Chick-fil-A (new location) – spring/summer 2024
Starbucks 1 (new location) – spring/summer 2024
Starbucks 2 (new location) – spring summer 2024
Throughgood Bistro* – spring/summer 2024
Common Bond Café* – fall/winter 2024
Yard House – fall/winter 2024
Killen's Barbeque* – fall/winter 2024
SpindleTap Brewery* – fall/winter 2024
Dish Society* – winter 2024
LongHorn Steakhouse – winter 2024
Pink's Pizza* (new location) – winter 2024
Wendy's (updated concept) – winter 2024
"Houston Airports is working with its concessions operators to renovate and open the new permanent dining and retail concepts in a phased approach so passengers always have food and retail options," the organization said.
While dining options at Hobby Airport are overhauled, a legal battle between the city and Pappas-led concessions group continues to play out. Pappas sued the city last month, claiming its three-year procurement process was illegal and unfair and asking for the city's contract with the Areas-led group to be voided. A judge twice denied Pappas' requests for a temporary restraining order that would have allowed it to continue operating at Hobby Airport beyond Thursday. The next court hearing in the case is scheduled for June 6, when a judge will consider motions by the city and Areas to dismiss the case.