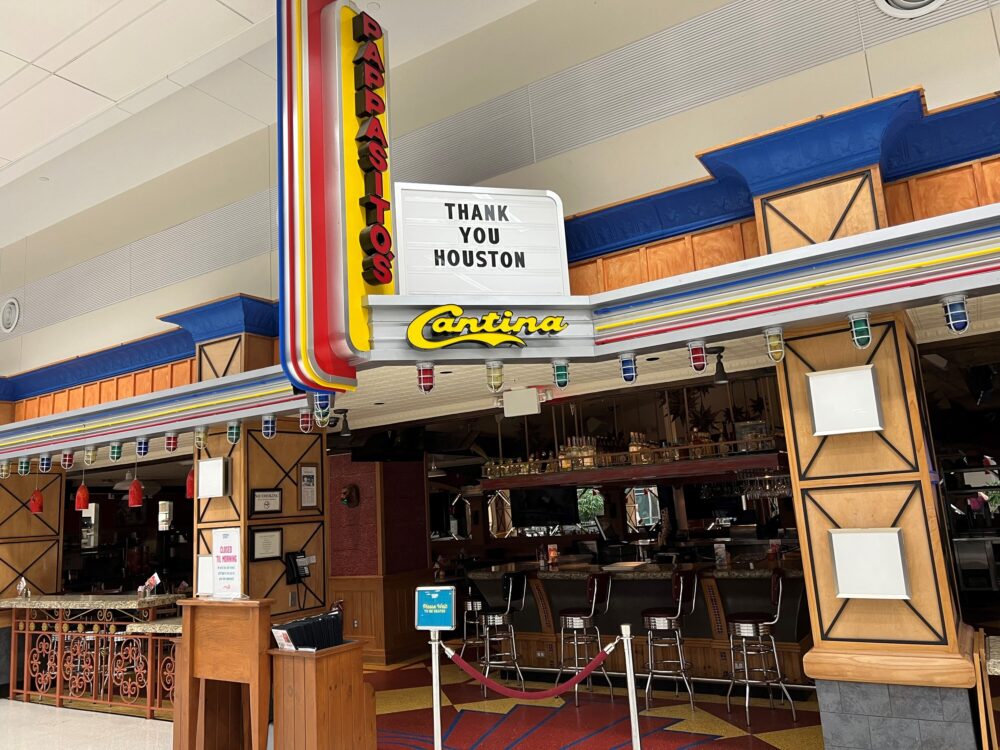 Pappas Restaurants' latest attempt to remain at Hobby Airport was thwarted Friday, when a judge again denied a request for a temporary retraining order against the City of Houston and a competing concessionaire.
Houston-based Pappas and the concessionaire group it leads, 4 Families of Hobby, have been fighting to continue operating at the South Houston airport since March, when the city awarded a $10-year, $470 million contract to a joint venture group led by a U.S. subsidiary of Spain-based Areas. The city has asked the Pappas-led group, which began operating concessions at Hobby in 2003, to vacate by May 11.
After the latest ruling by Harris County Judge Tamika Craft-Demming, who last month denied a similar request for a temporary restraining order, Pappas marketing director Christina Pappas said the company plans to abide by the city's move-out request as their legal battle plays out. The restaurant group has accused the city of illegal and improper dealings during a drawn-out procurement process and is asking Craft-Demming to ultimately void the contract between the city and Areas.
"The (temporary restraining order) was unfortunately denied," Pappas CEO Chris Pappas said in a statement Friday. "Our legal team is focused on our next legal steps. Our team at Hobby is working extremely hard to close our restaurants properly."
A spokesperson for Areas did not immediately respond to a message seeking comment Friday.
City Attorney Arturo Michel, in a statement provided by a spokesperson for Houston Mayor Sylvester Turner, described Pappas' legal challenge as an "attempt to obstruct Hobby Airport's newest vendor from timely beginning operations." Michael also continued to defend the city's procurement process, which in this case lasted about three years and was twice stopped and restarted, initially in response to the onset of the COVID-19 pandemic.
"Mayor Turner has reiterated his position since the beginning of this dispute that the procurement process was fair and equitable and maximized benefits to the residents of Houston and its visitors," Michel said.
In court filings, attorneys for both the city and Areas have asked Craft-Demming to dismiss the lawsuit and deny requests by Pappas to obtain sworn statements from several current and former city employees and representatives, including Turner and Houston Airport System executive director Mario Diaz, along with well-known Houston chef and restaurateur Chris Shepherd. A court hearing regarding Pappas' deposition requests is scheduled for May 9, with a hearing on the motions to throw out the lawsuit scheduled for June 6.
After the Houston City Council approved a concessions contract with the Areas-led group in March, with the Pappas-led group finishing a close second in the bidding process, Pappas' protested the procurement in a filing with the city. When that protest was denied, Pappas sued the city and Areas on April 11.
Pappas' first request for a temporary restraining order was denied shortly thereafter. And when Craft-Demming denied a request to delay a temporary injunction hearing scheduled for April 26, with lawyers for Pappas saying they needed more time to gather evidence and speak to witnesses, Pappas temporarily withdrew its lawsuit.
A new petition was filed Thursday and included fresh allegations by Pappas, which claims the city on Tuesday served a written notice of default and claim on 4 Families' letter of credit with Bank of America, which could negatively impact the company's credit score and hurt its reputation with banks, according to Christina Pappas. The Pappas-led group claims in the lawsuit that the default notice was an "act of retaliation" by the city and stems from a dispute about kitchen equipment and fixtures and whether they should remain the property of the Pappas-led group or be left at the airport for use by the Areas-led group.
"In addition to the City of Houston's egregiously flawed procurement process, the city continues to work directly on behalf of Areas Group," Chris Pappas said in his statement. "The city, on behalf of Areas, is disputing kitchen equipment items that are commonly known in the industry to be easily removable. They are attempting to force us to leave those items for Areas' use without any compensation."
Michel, the city attorney, said in his statement that "Pappas' newest allegations do not undercut the legitimacy of the city's procurement process." He also said Craft-Demming denied Pappas' request to compel the city to rescind the default notice and alleged that the Pappas-led group has removed permanent fixtures and caused damage to concessions facilities at Hobby while moving out.
"(The court) denied Pappas' request to prevent the city from issuing additional notices of default and bond claims if such removals and damages continue," Michel said.