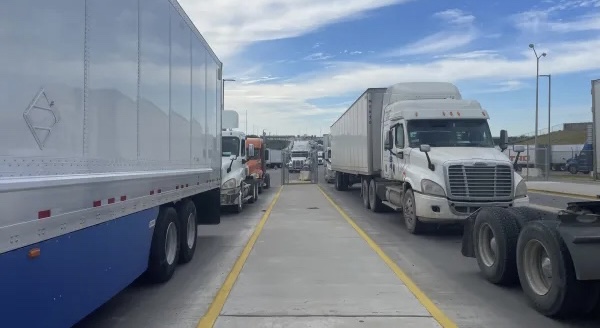 At the World Trade Bridge in Laredo, Texas, semitrucks coming from Mexico line up bumper to bumper across eight lanes as far as the eye can see, stretching over the Rio Grande. It stinks of diesel as hundreds of trucks rumble slowly through the lanes. Drivers wait for their turn to be processed before they can deliver their loads to the many trucking terminals just a few miles down the road.
The World Trade Bridge connects "los dos Laredos," the neighboring border cities of Laredo-Nuevo Laredo, a community that sits at the heart of North American trade and pumps goods like avocados, car parts and John Deere tractors through interstate highways to every state in the continental United States.
Some 10,000 northbound trucks pass through the Port of Laredo each day, a number expected to grow as trade between the U.S. and Mexico increases.
Laredo is now responsible for more trade than any other port in the country, according to U.S. Census data analyzed by US TradeNumbers. As of September, imports through Laredo this year were up 8% year on year, valued at $148 billion, while exports totaled $93 billion, representing a 7% increase.
Whether roads, bridges, processing booths or railways, improving and expanding infrastructure is a constant topic of discussion in Laredo, where trade, transportation and utilities make up nearly a third of local jobs, according to city of Laredo data.
"Infrastructure always plays a role on how well or how bad you're going to move cargo," said Alberto Flores, director of the Port of Laredo for U.S. Customs and Border Protection.
Upcoming infrastructure projects at the port include building eight additional lanes at the World Trade Bridge and a new international rail bridge financed by Kansas City Southern.
Improving infrastructure adds not only speed, but also security to the imports and exports process, as cartels in Mexico continue to smuggle drugs northbound and guns southbound, taking advantage of the massive amount of cargo and personal vehicles flowing through Laredo.
"There's commercial vehicles and there's privately owned vehicles that are loaded with narcotics," said Alejandro Amaro, an agent with Homeland Security Investigations in Laredo. "We do see smuggling in both arenas, including the railroad, including some air cargo."
But the supply chain must go on, which is where the roles of both infrastructure and technology at the Port of Laredo come into play.
Life in the FAST lanes at Laredo's World Trade Bridge
Earlier this year, four special lanes for "free and secure trade for commercial vehicles," or FAST, opened at the World Trade Bridge to alleviate congestion. The lanes, which cost $10.3 million, were funded by private donations through the city of Laredo and are only for commercial carriers that go through security screenings beforehand.
"It takes on average between 30 to 45 seconds per truck to get processed," said Flores with the CBP. "They're moving a lot faster because they don't have to queue into the rest of the cargo."
FAST lane booths for northbound trucks are also built larger to fit customs officers from both the U.S. and Mexico, allowing for a more streamlined exports and imports process from both governments.
Once trucks make their way into Laredo, out of the port, they rely on local roads and highways to make their way to distribution centers nearby and across the country.
"You always need upgrades to roads, traffic lights, rail infrastructure," said industrial park land developer AJ Kraus with Pinnacle Industry Center.
The Texas Department of Transportation, or TxDOT, is investing $2.3 billion in road and highway improvement projects over the next 10 years in the Laredo area, partially funded through the Bipartisan Infrastructure Law. TxDOT funding is more than five times what it was a decade ago, though the population has seen modest growth in that same time period and is currently estimated at about 260,000 people.
"When going after federal funding, a lot of it has to do with the population and the size of our city," according to Miriam Castillo, Laredo's director of economic development, who said trucking traffic needs to be part of that calculation. "The 18-wheelers really have a daily presence in our city."
Local infrastructure projects include widening part of the major trucking artery of the United States: Interstate Highway 35. Mile 1 starts in Laredo. Upgrades to U.S. Route 59, which runs northeast and connects Laredo to Houston, are also planned.
And even the smallest infrastructure improvements can have a big impact on the daily experiences of truck drivers and other logistics industry workers.
On Mines Road, which cuts through open ranch land and massive industrial parks, the street often gets congested with dozens of tractor-trailers going from the bridge to trucking terminals, like the one managed by Jerry Maldonado of Warren Transport.
"They added one lane [to Mines Road]. How much difference could it make? It probably cut the time by more than 50% of crossing that intersection," Maldonado said.
No longer the "Bridge to Nowhere": Laredo–Colombia Solidarity International Bridge
Though bets on Laredo infrastructure haven't always immediately panned out.
On the far north side of town is the less-used commercial bridge, Laredo-Colombia Solidarity International Bridge, which was once a subject of a research paper called "Understanding How to Avoid Building Bridges to Nowhere." For years it was underused, in part due to poor planning with Mexico. But decades after its construction, the bridge's capacity is ramping up.
"We are already pushing between 2,600 and 2,800 trucks at Colombia and with those numbers. I can honestly say we're at about 65% to 70% capacity at Colombia," said Flores with the CBP.
He expects that when a new Mexican highway expansion project, called "La Gloria," opens in the next few months, it will more directly connect the Colombia bridge with the Mexican industrial city of Monterrey.
"Once that roadway opens, I believe that Colombia is going to explode," Flores said.
A number of industrial sectors could benefit, including electric vehicles.
"You got Monterrey, where they're building a multibillion-dollar manufacturing plant for Tesla, it's a straight shot. You got Monterrey, Colombia, you have [State Highway] 255, which takes you directly to I-35, and then you're off to Austin."
Whether headed to a 10-million-square-foot manufacturing floor in Austin or a distribution facility in Atlanta, it's roads, bridges and other infrastructure projects that have paved the way for Laredo's growth as a North American trade hub.
Copyright 2023 Texas Public Radio. To see more, visit
Texas Public Radio
.