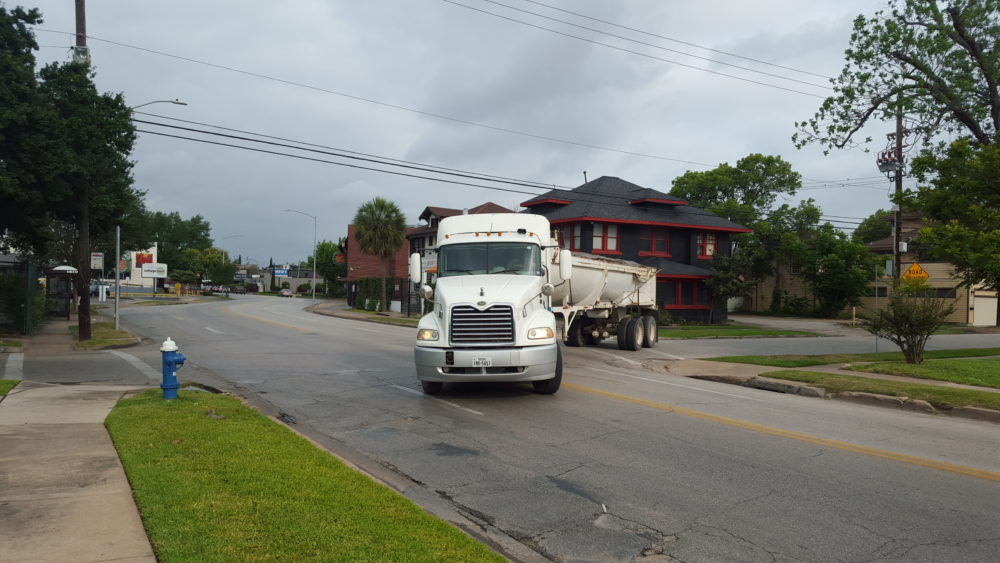 Houston could soon be getting a citywide truck route plan to better manage freight movement. The city's Planning & Development Department is proposing designating certain roadways as truck routes, to allow trucks to easily transport goods throughout the city.
According to the department, Houston is one of the busiest port cities in the United States. The Houston-Galveston Area Council (HGAC) estimated freight tonnage to increase by 60% between 2015-2040 in the Houston Metropolitan Area.
"The goal of the city wide channel plan is to adjust the free movement on our city roadways, improve multimodal safety, maintain the infrastructure in state of good repairs, improve our quality of life and promote economic vitality," said Muxian Fang, the department's planning manager.
The plan is part of the city's Vision Zero Plan to eliminate fatalities and serious injuries on Houston roadways. Houston is facing many challenges with large trucks, including traffic, truck-related crashes, and the effects that trucks impose on quality of life. A crash analysis revealed from 2018 to 2022, there were about 4,778 truck-related accidents along non-interstate roadways.
The plan would only apply to heavy trucks with three or more axles or trucks weighing more than 26,000 pounds. The proposed truck routes would be designated into three categories:
Through truck routes – Primary routes for through truck traffic

Local truck routes – Major thoroughfares that provide connection between the through truck routes to local destinations and access to the no through streets.

No through truck streets – Streets that are narrower and not built for heavy trucks. Fang said the streets would still be available to use if a delivery is being performed.
The city said if drivers do not adhere to the routes, citations will be given. The department will conduct a pilot test in the Settegast neighborhood in Spring 2024 before the truck plan is finalized.
"We selected Settegast because based on what we heard from the neighborhood, the community has experienced a series of truck traffic," said Fang. "We think this is an ideal location for testing the approach."
At-large Council Member Sallie Alcorn said more regulations are needed for big trucks. The city passed a number of parking regulations this summer including large vehicles parked in neighborhoods.
"This is great when we were doing the work on illegally parked trucks, we were mainly talking a lot about trucks cutting through neighborhoods being a big issue," she said.
Fang said many drivers the department has spoken with said the GPS takes them through the neighborhoods – not because they want to. The department said it will coordinate with Google Maps to incorporate the routes within their system.
Houston City Council is expected to vote this month on whether to create the plan that would be adopted in Summer 2024.