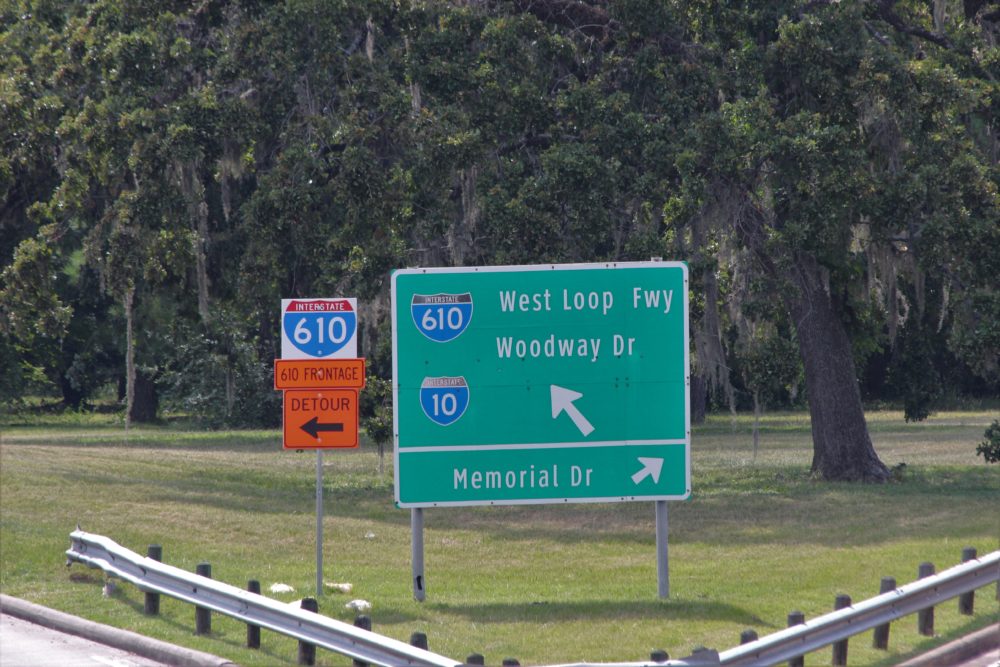 Houston's biggest park is situated near one of its biggest and most bustling retail centers, and the two are separated by a big freeway often crowded with cars and trucks.
That makes it tricky and treacherous to walk or ride a bicycle from the Galleria area, which is immediately west of West Loop 610, to Memorial Park on the other side.
But a plan is in place to change that as the Uptown Houston District recently was awarded an $18.5 million grant by the Texas Transportation Commission to construct a dedicated pathway for cyclists and pedestrians that will start along Post Oak Boulevard and cross over Buffalo Bayou on a suspension bridge before meandering alongside the waterway and underneath the freeway and eventually connecting with Memorial Park a little to the northeast.
"It cannot be overstated what a significant barrier the West Loop is to the ease and safety of people west of the West Loop in accessing Memorial Park," said John Breeding, the president of Uptown Houston, a local taxing entity that focuses in part on infrastructure improvements, public safety and economic development in the area. "This is a thing where I can go ride (a bike), and I'm daring enough to perhaps try to go through an intersection, but if my grandkids or my wife's with me, it's scary. By building this facility, we'll be able to provide access to the near west side (of Houston) to the park in a safe and convenient and I think beautiful manner."
The forthcoming trail will cost a total of about $23 million to construct, according to Breeding, who said he hopes the project can be designed and bid out for construction by the end of 2024 and primarily built during 2025. The planned work brings into focus one of the visions outlined in the Memorial Park Conservancy's 10-year master plan, which calls for increased pedestrian and cyclist access from all sides of a central urban park that is currently difficult to get to without an automobile.
The federal grant money awarded to Uptown Houston was part of an overall $345 million allocation by the Texas Transportation Commission, which announced last week it is doling out funding to 12 initiatives in the Houston area and 83 across the state that add sidewalks, bike paths and other infrastructure with the goal of improving street safety and expanding multimodal access and mobility. Last year 830 pedestrians and 92 cyclists died on Texas roads, an increase of nearly 30 percent compared to five years earlier, according to the Texas Department of Transportation.
The second- and third-largest grant awards in the Houston area were more than $8.8 million for a multimodal path in Katy's Asia Town and nearly $7.5 million for a 5-mile hike-and-bike trail in The Woodlands.
"This is a big step forward," said executive director Joe Cutrufo of BikeHouston, a cycling advocacy nonprofit. "There is no shortage of places in Houston and in the broader Houston region that could use major investment in safer streets. This entire region has been built around the needs of drivers, and despite a great deal of progress in recent years, those of us who bike and walk are still just out here trying to survive in a system that doesn't really accommodate us at all. So to see this level of investment is encouraging."
Uptown Houston's plan for a bridge across Buffalo Bayou and underpass to avoid vehicle traffic on Loop 610 is especially encouraging to Memorial Park Conservancy president and CEO Shellye Arnold, who described the park as an island surrounded by the city's growing trail network. Another freeway, Interstate 10, borders Memorial Park to the north, and to the east is a densely populated residential and commercial area.
RELATED: Memorial Park land bridge opening prompts call for better bike access
Arnold said the park's 10-year master plan, which spans through 2028 and already has added amenities such as land bridges, a wetlands area with trails, pavilions and picnic areas and a running complex set to open Saturday, called for improving pedestrian access on the north, south, east and west sides of the park. A project to connect Memorial Park with Buffalo Bayou Park to the east was announced earlier this year, and the work being led by Uptown Houston will make the park accessible for walkers, runners and cyclists coming from the west.
Initiatives to improve access from the north and south also are in the works but are not as far along, according to Arnold.
"This is a big piece of that puzzle," she said.
Breeding said the shared-use pathway, to be built exclusively for cyclists and pedestrians, figures to be aesthetically pleasing in addition to being functional and fulfilling a need. The plan is to construct a lighted trail that can be used both at nighttime and during the day as well as in the summer and winter months, he said.
"In order to clear the floodway and meet all the flood standards for drainage, we will be building a suspension bridge that will span the entire width of Buffalo Bayou," Breeding said. "It's a place you might want to go across and take a good look at see the city in different ways than we do on a typical day."