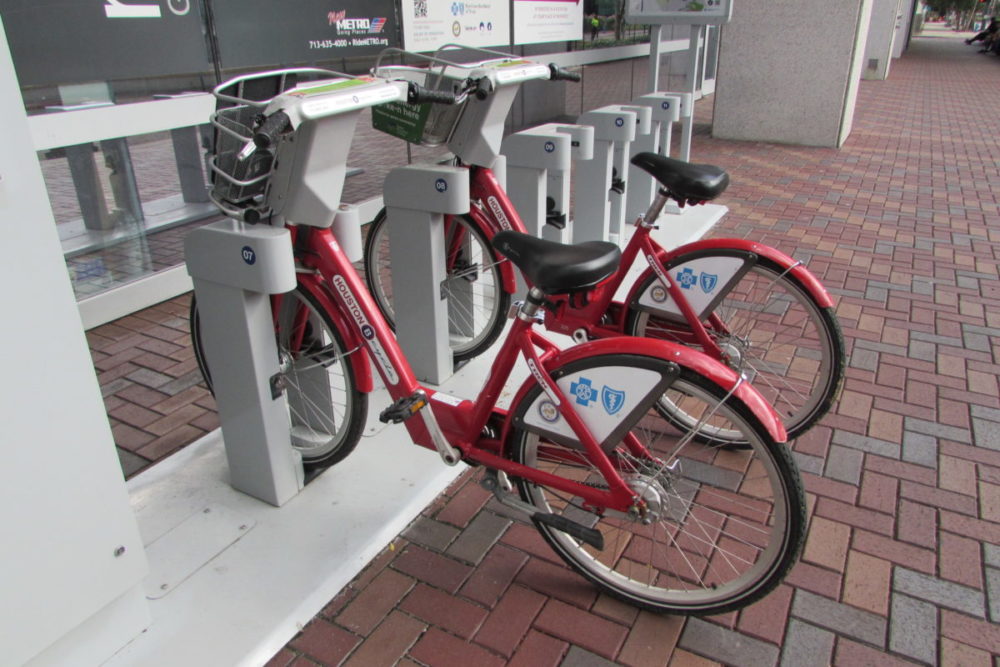 Houston's elected officials extended a half-million-dollar lifeline Wednesday to the city's sputtering bike-sharing program, with the idea of keeping it rolling until a new system comes online next summer.
The Houston City Council voted to approve more than $540,000 in funding to Houston BCycle, which was created by the city in 2012 and has since fallen flat. The nonprofit's leadership announced recently that it planned to shutter within two months because of ongoing financial struggles.
The decision by city officials comes as METRO, the Houston region's public transit provider, plans to vote Thursday on a five-year, $10.5 million contract with a Quebec-based bike share system. Mayor Sylvester Turner said during Wednesday's council meeting that the funding for BCycle will allow it to remain operational until METRO can implement its own program, which is expected to debut next July.
Four council members voted against providing the stopgap funding, while others expressed reservations about investing in a failing operation that has downsized from 153 stations to 60 within the last year.
"While it's not ideal that the city is having to put some of this money forward, the point is residents need access to the bikes," said city council member Abbie Kamin, who voted to support the measure.
The city is allocating $500,000 from its general fund to help support BCycle, with the stipulation that Planning & Development Department director Margaret Wallace Brown negotiates and coordinates with the nonprofit bike share system on how best to utilize the funding and keep the existing 60 stations operational until the middle of next year. A total of $40,430 also is being provided from Kamin's District C office and Robert Gallegos' District I office to reimburse BCycle for stations that were constructed in their districts.
At-large council member Sallie Alcorn said the idea of securing a corporate sponsor for BCycle, which has happened in other cities with bike share systems, also should remain in play. The nonprofit has attempted to obtain sponsorships and, along with downsizing, increased its usage prices in recent months as a way to boost revenue.
"If there's members in the private sector who want to join in, sponsor, come up with good ideas, a better business model, the more, the better," Turner said.
RELATED: With Houston BCycle sputtering, expert says long-term funding needed to keep bike share program on track
The council members who voted against the lifeline for BCycle were Mary Nan Huffman, Mike Knox, Michael Kubosh and Amy Peck. Since the idea behind the funding is to keep the bike-sharing service operational for the benefit of users, Peck said residents should be able to ride the bikes at no charge since their taxpayer dollars are being spent to support the system.
"We're investing in a failing corporation," Knox said.
If the city does not intervene, District E council member Dave Martin said, the bikes and stations that remain in place would run the risk of being abandoned and pilfered by community members, who might use the bikes and then leave them laying around the city.
Some of the shuttered stations already are an eyesore, because some of the BCycle equipment has been wrapped in black plastic. Turner said part of his charge to Wallace Brown is to alleviate that and decommission those locations.
The plan proposed at METRO is to enlist PBSC Urban Solutions, which operates in cities such as Chicago, New York and Washington D.C., to operate a total of 140 electric bikes at 20 stations around the Houston region, which would be positioned to tie into METRO's existing bus and light rail services. Its vision is to expand the bike share system after the first year.
"There are a lot of people who use the (BCycle) service, and we don't want them to lose the benefit of the service," Turner said. "So we are standing up and providing transitionary funding for those 60 sites that are currently operating. That will take them into the first part of next year to allow METRO the additional time to stand up its own operation."