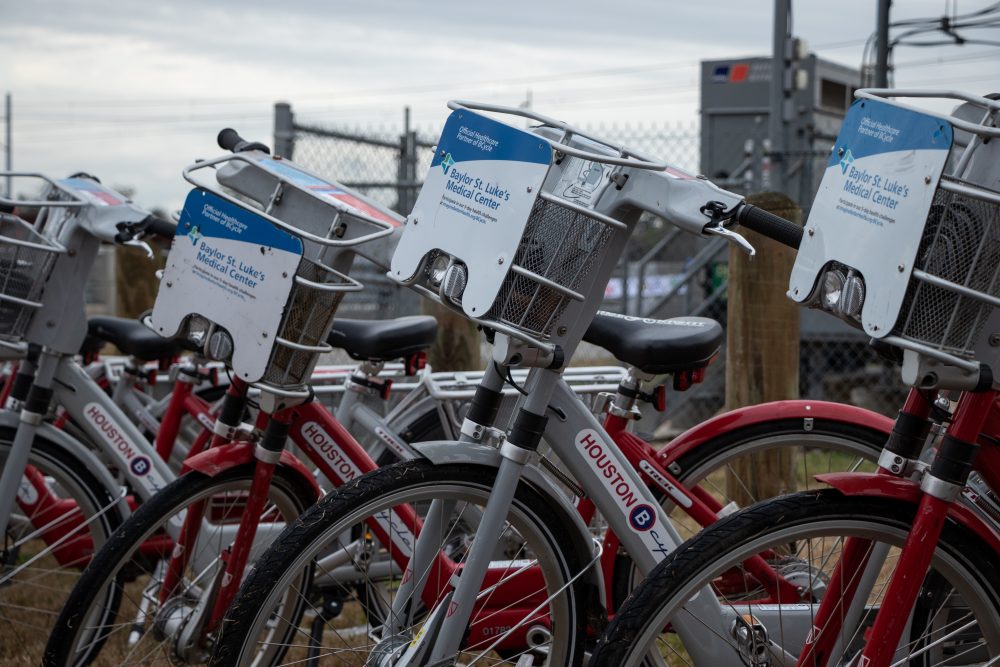 A Metropolitan Transit Authority committee Thursday introduced a $10.5 million plan for a bike share system, just days after BCycle announced it would shut down operations because of high operational costs.
The Metro board of directors will vote next week on authorizing the Metro president and CEO to sign a five-year contract with PBSC Urban Solutions to launch and operate a bike share system, which could bring around 140 e-bikes for rent to the Houston area.
The potential system could also include 140 e-bikes, 20 grid-connected charging stations and 200 charging dock points, George Fotinos, Metro chief financial officer said during a presentation Thursday.
The presentation comes after Houston Mayor Sylvester Turner recommended the city provide $500,000 to keep the city's current bike lending program, BCycle, afloat just days after the Houston Bike Share board announced it will likely end its operations.
A glimmer of hope shined upon the nonprofit earlier this year when Metro approved a $500,000 agreement to enter into a short-term partnership with the local non-profit, but Houston Bike Share never received those funds, and the Metro board decided to seek out options to create its own bike share system.
Fotinos said introducing another bike share system into the city does not pose any concerns, and BCycle did not align with Metro's visions.
"Both operating in a space is no sin," he said.
Sept. 16, Neeraj Tandon and James Llamas, members of the Houston Bike Share board, announced the potential shutdown in an op-ed in the Houston Chronicle. The shutdown comes amid financial struggles for the nonprofit, and increasing operating costs.
"Despite our best efforts to identify a source of long-term funding to support Houston Bike Share, we have been unsuccessful," Tandon and Llamas said in the op-ed. "Over the past year we have approached government, corporations and philanthropies. Most have not responded to our requests."
According to the organization, the bike stations are still operating and the equipment will not be removed in the meantime, per the city's request. And with proper funding, those stations can continue staying in operation.
"We reached the end of our cash reserves and as drivers of the nonprofit, we need to responsibly wind it down, before we get to the point where we can no longer pay our bills and our staff," Llamas told Houston Public Media Monday.
"We are the fourth largest city in the country," Councilmember Sallie Alcorn said at the meeting Wednesday after Turner made the $500,000 vow to the nonprofit. "It is kind of embarrassing there's black tape around them."
Near the end of last year, Houston BCycle rolled out temporary station suspensions as a cost-saving measure, despite stations seeing a massive growth in the Houston-area in the past ten years, from three stations to 153. But despite that increase, revenue had not maintained a similar pace with increased operational costs and a growing customer base, according to the nonprofit.
"I think it would be a loss for the end user, for others, if the service were to completely stop," Turner said Wednesday.