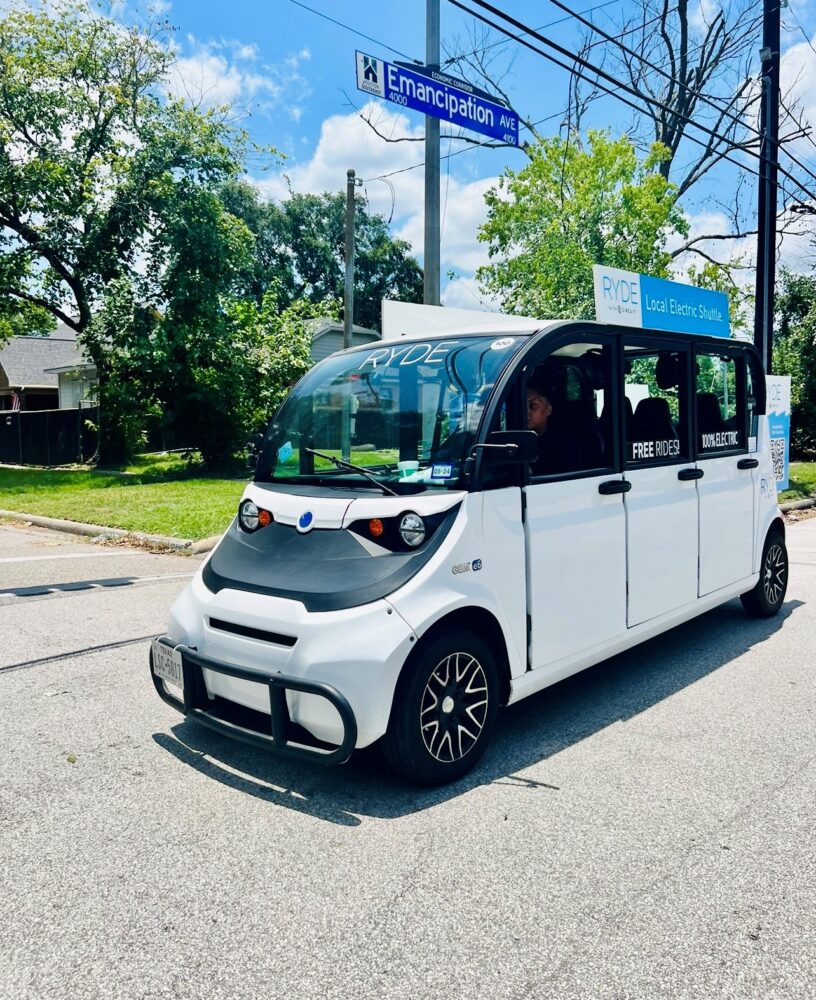 Jesse Landry is the co-founder of Ryde, a Texas-based, on-demand shuttle service, and he regularly drives one of the electric vehicles in the company's fleet. He manned one Thursday morning in Houston's Third Ward neighborhood, where he provided lifts to a woman who recently learned about the service and has utilized it regularly during the last few days.
The mother of two had to get rid of her car because she could no longer afford it, Landry said, and on Thursday her family needed groceries. So she requested a free ride from her home to the nearby H-E-B, and later back home, where Landry said he helped carry the groceries from the vehicle to her front porch.
"She was thankful for the service and very kind," Landry said. "That made my morning."
Ryde hopes to make a lot of people's days during the next few months in the Third Ward, where it is operating a pilot program with financial support from local nonprofit Evolve Houston and the office of Houston City Council member Carolyn Evans-Shabazz, who serves the low-income, predominantly Black community as part of District D. The free service started June 19 and is scheduled to continue through Oct. 6, during which time people who live, work or attend school in the neighborhood can use it to get to places such as stores, pharmacies and doctor's appointments or to connect with public transit options in the area.
Up to five passengers can ride in one of Ryde's GEM electric vehicles, which travel up to 25 mph and feature seats with personal fans and cargo space in the back. The service operates from 8 a.m.-4 p.m. Monday through Friday in a geographic area that is roughly between Interstate 45 to the north, State Highway 288 to the west, Brays Bayou to the south and Cullen Boulevard to the east.
Rides must be requested through the Ryde Circuit app, which allows passengers to rate their experience after their trip.
"People are very excited about it, and it's very much needed," Evans-Shabazz said. "There are people who may be close to a venue, but because of their own disabilities or challenges, they can't get there. We're trying to provide that opportunity for them."
Ryde, which started in Austin in 2013 as an on-demand service for downtown visitors, also operates in Dallas and began giving free rides in downtown Houston in 2017, with financial support from businesses that brand the vehicles for advertising purposes. Landry said that service is suspended during the pilot program in the Third Ward, which was initially made possible by a grant from Evolve Houston. The nonprofit aims to increase the use of electric vehicles in the city and counts Mayor Sylvester Turner, CenterPoint Energy, NRG Energy, Shell and the University of Houston as founding members.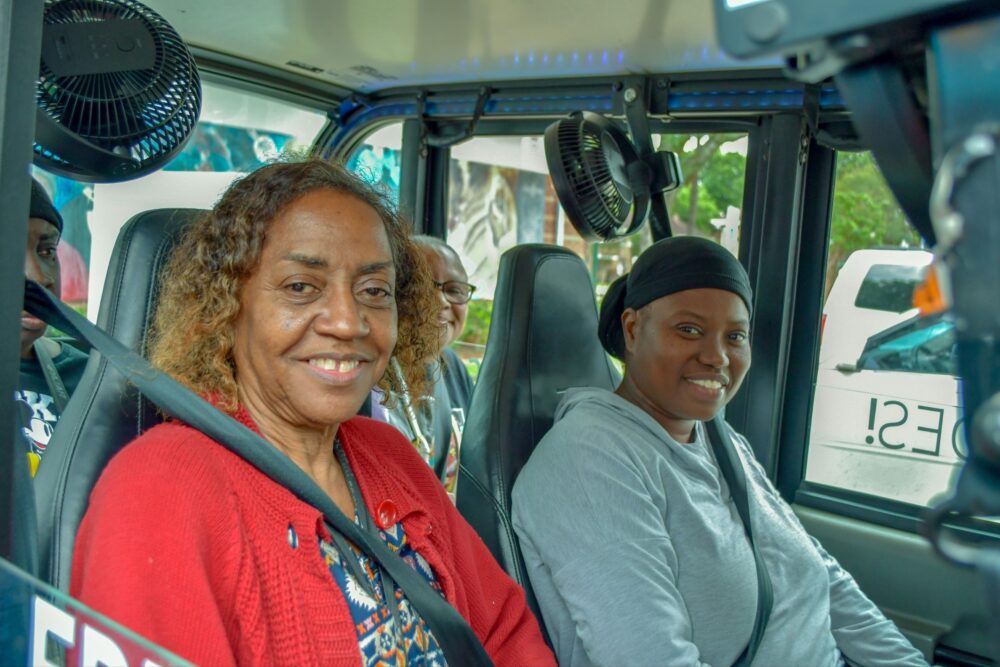 The grant, the amount of which Landry declined to disclose, was awarded to establish an on-demand shuttle service in an underserved community in Houston. Input from Third Ward residents and advocates led to Ryde zeroing in on that community, where about 30 percent of households to not have automobiles, according to data compiled by the city.
The granted funded two vehicles for a period of four weeks, Landry said, and Evans-Shabazz subsequently kicked in $50,000 from her council district service fund to extend the pilot program for an additional 12 weeks. Both Evans-Shabazz and Landry said they hope the program will be successful and can be expanded to other parts of District D and the city at large, which would require additional financial support.
Both said they would like to explore a partnership with METRO, the region's public transit provider, although those conversations have not yet taken place.
"We want to show proof of concept, want to show ridership, before we bring this to the table," Landry said. "We want to show this could be an asset to them."
Landry said he does not yet have ridership numbers for the pilot program, because they are calculated monthly and the service hasn't quite operated that long. But after an admittedly slow start in the Third Ward, he said more community members are finding out about Ryde and usage has steadily increased to the point where drivers typically have fewer than 2 hours of downtime during a given day.
During a phone interview with Houston Public Media late Thursday morning, when Landry was out in the neighborhood with one of the electric vehicles, he was approached three times by curious community members.
"The main goal with a service like this is to increase ridership week over week, which is what we're seeing," Landry said. "Right now we're extremely happy. We'll soon get to the point where we're almost too busy. We absolutely will not be able to keep up with demand with two cars."
Landry said there have been instances in which community members have requested rides just for fun or out of curiosity, and not to meet a legitimate transportation need, and trying to curb that trend will be an ongoing process throughout the pilot program. Landry said implementing a small fare afterward, like the company does in Austin, could help curb that practice, but he said he wants to keep the service free in the Houston area even as it expands.
The feedback from passengers has so far been encouraging, according to Landry, who also the pilot program has gone smoothly from an operational standpoint. There have been no traffic collisions and no troubles, Landry said.
"We don't have issues," he said. "People are very respectful. They're happy to have the service here. I've met some extremely nice people over the last few days."