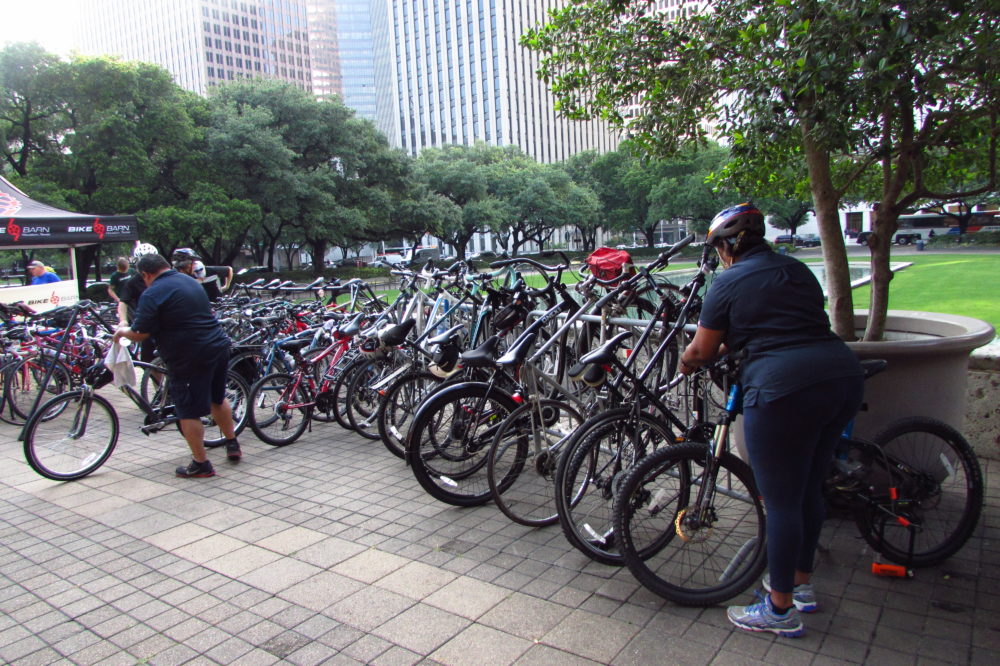 Houston has become a more bike-friendly city since Sylvester Turner was first elected as mayor in 2015. More than 400 miles of bicycle lanes have since been constructed in the city, which factors in the needs of cyclists, pedestrians and mass transit users with every transportation infrastructure project it undertakes.
In recognition of that progress, Turner is being honored next week during the annual Houston Bike Summit, which will include a film screening on Monday, a discussion about bike-related laws on Tuesday and a fundraising social event on Wednesday. BikeHouston, the cycling advocacy nonprofit that hosts the summit, also is inviting all the people vying to succeed Turner when his second and final term comes to a close at the end of this year.
BikeHouston executive director Joe Cutrufo said some of the candidates in November's mayoral election – a group that includes current and former city council members, a state senator and a member of Congress – already have committed to attend or send a representative.
"We want to make sure they understand the importance of this work and want to make sure the next administration doesn't – wait for the pun – backpedal on everything that Mayor Turner has accomplished," Cutrufo said.
Turner will be honored at the Bike Summit Soiree, scheduled for 6 p.m. Wednesday at Saint Arnold Brewing Company, 2000 Lyons Ave. The social event will include a live auction for the first time and serves as the biggest annual fundraiser for BikeHouston, with tickets available online for $150.
The other two summit events are free and open to the public, although attendees must register in advance at the Houston Bike Summit website.
The summit kicks off at 8 p.m. Monday at Axelrad Beer Garden, 1517 Alabama St., with a screening of a new documentary film about the citizen-led push for safer streets in U.S. cities. After the showing of "The Street Project," which spans 50 minutes, there will be a panel discussion about the film, which is making its Texas premiere.
The film screening is a new feature of the Houston Bike Summit and will be held in lieu of a group bike ride, which was part of last year's event. Cutrufo said planning a multi-stop ride with a large group of cyclists during a sometimes-hot part of the year can be difficult logistically, and BikeHouston also wanted to do a fresh event that could appeal to both cyclists and Houston residents in general.
"This year we're taking a different approach," Cutrufo said. "While we do a handful of bike rides throughout the year, we understand that we need to produce a more diverse array of events that can bring people into the fold."
The second summit event is "Bike Summit on Trial: A Conversation with Bike Law's Charlie Thomas," scheduled for 3 p.m. Tuesday at Midtown Arts & Theater Center Houston (MATCH), 3400 Main St. Thomas is a New Orleans-based attorney who specializes in bike-related laws and represents the six cyclists who were struck by the teenage driver of a pickup truck in 2021 in Waller County, according to Cutrufo.
Thomas will discuss bike laws and what cyclists should do if they're involved in a crash. Cutrufo said the upcoming talk has been certified by the American Planning Association, which means urban planners such as those who work for the city can receive certification maintenance credits by attending.
"It's not just for people that ride bikes," Cutrufo said, "but also tailored toward people who are doing actual street design and roadway maintenance and those sorts of things."
Cutrufo said the purpose of the annual summit is to call attention to bike-related issues and street safety in general. Houston has adopted the "Vision Zero" initiative under Turner, which aims to eliminate all traffic-related deaths and serious injuries by 2030.
Already this year, though, at least 10 people have died in Houston while riding bikes or e-bikes, with most of those instances involving collisions with motor vehicles, according to Cutrufo.
"It's a movement builder. We're always trying to bring more people into the movement," he said of the goal of the Houston Bike Summit. "It's a movement for safer streets and better bikeways. What we're trying to do is transform Houston into a city where anyone can ride a bike."