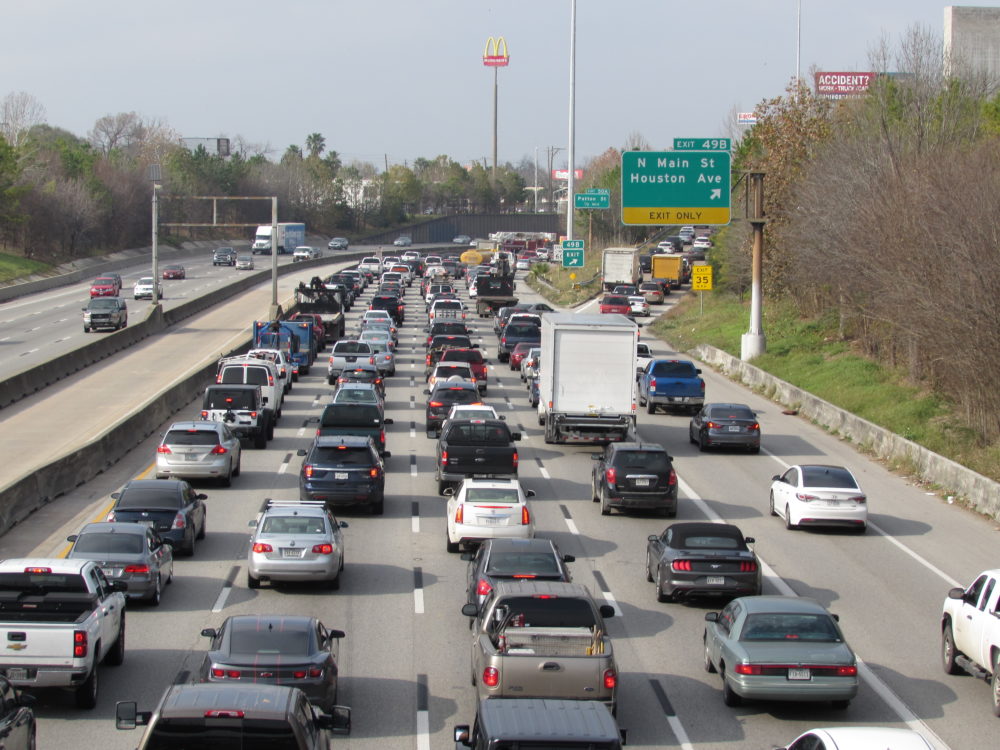 Interstate 45 is being widened and rerouted near and north of Downtown Houston, partly in an attempt to reduce traffic congestion on one of the city's most heavily traveled highways.
But before the controversial infrastructure project is complete, downtown visitors can expect decades of construction that could potentially make current traffic conditions even worse.
The Texas Department of Transportation (TxDOT), in a presentation last week to the Houston-Galveston Area Council's Transportation Policy Council, said construction is expected to start next year and last until 2042 for its North Houston Highway Improvement Project. The $9.7 billion plan calls for reconstructing and rerouting I-45 from the west side of downtown to the east, aligning it with Interstates 10 and 69, while also widening the freeway between downtown and Beltway 8 to the north.
TxDOT began planning for the project more than a decade ago but was asked to pause the work in 2021 by the Federal Highway Administration, which spent two years investigating environmental and civil rights complaints about the project as it calls for the displacement of hundreds of homes and businesses in low-income communities of color. Harris County also filed a federal lawsuit against TxDOT in 2021, asking a judge to compel the state agency to respond to local concerns about those issues and how the project might exacerbate flooding risks, air pollution and traffic congestion.
Officials with TxDOT, Harris County and the City of Houston reached an agreement about the project late last year, with the county dropping its lawsuit, and the federal highway agency lifted the pause earlier this year. That allowed TxDOT to move forward with the project while pledging to improve its public engagement, allocate $30 million to help those who are displaced and incorporate green space, sidewalks and bicycle paths into the project design, among other concessions.
According to TxDOT's recent presentation to the Houston-Galveston Area Council, the I-45 expansion includes three overarching segments and is slated to be executed through a series of smaller projects that ultimately will connect. Construction on the downtown-area segment is expected to begin as early as next year, starting with drainage work and new connections to the east of downtown. Work on the other five sub-projects in the downtown segment is expected to start in 2025, 2026, 2027, 2029 and 2031, with all of them slated to be completed by 2038.
Construction on the segment between the north side of downtown and North Loop 610 is scheduled to start in 2033 and be completed by 2039. Work on the northernmost segment, between 610 and Beltway 8 to the north, is expected to start in 2030 and last until 2042.
The overall project calls for 11 detention ponds near flood-prone Independence Heights, a historic, predominantly Black neighborhood north of downtown, along with high-comfort bike lanes in some places. The stretch of I-45 from downtown to the beltway will include five regular vehicle lanes in each direction along with two high-occupancy vehicle lanes in each direction and bike and pedestrian facilities along the frontage roads.
The downtown-area segment calls for three structural caps over depressed segments of I-45 and I-69 – between Cottage and Main streets north of downtown, between Main and Caroline streets south of downtown and between Lamar and Commerce streets next to the George R. Brown Convention Center – that TxDOT says could be developed by other entities. The plan also is to eliminate the Pierce Elevated, which runs along the southwest edge of downtown, in lieu of a downtown connector.