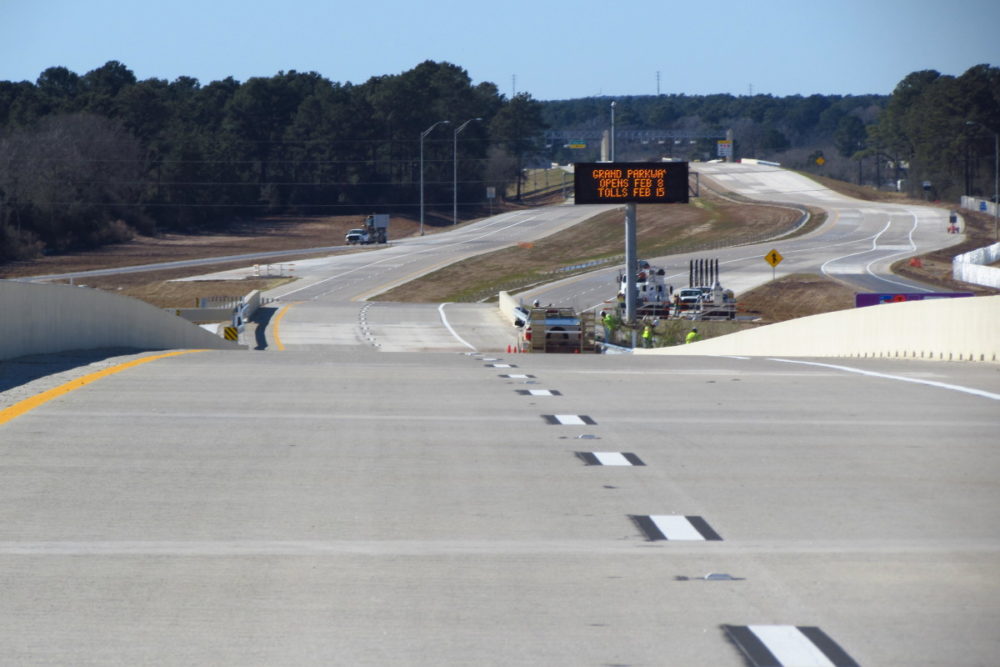 Houston-area residents have a chance to chime in on a proposed plan to widen a 10-mile stretch of the Grand Parkway, where traffic volumes have steadily increased since the tollway opened in 2016.
The Texas Department of Transportation (TxDOT) on Tuesday unveiled its plans for a $111 million project on the northern portion of Grand Parkway, also known as State Highway 99, between State Highway 249 and Holzwarth Road in the Tomball and Spring areas. The state agency wants to widen the tollway from two lanes in each direction to three in each direction, while also expanding stormwater drainage capacity, in an attempt to reduce traffic congestion and account for regional population growth.
The ability for motorists to maneuver and make lane changes is currently restricted on that part of the Grand Parkway, according to TxDOT, which says a widening to six lanes is required by current traffic levels based on a 2009 interlocal agreement between the state and the seven counties through which the tollway passes.
A public comment period for the project began Tuesday, when TxDOT held a virtual public engagement meeting, and ends May 5. TxDOT is holding an in-person meeting about the project from 5-7:30 p.m. Thursday at Spring Chateau, 4010 FM 2920 in Spring.
Community members can submit comments about the plan at Thursday's meeting or by email or traditional mail, using a comment card that is available online and will be distributed at the meeting. Feedback can be emailed to hou-piowebmail@txdot.gov or mailed to TxDOT Houston District, Attn: Director of Project Development, P.O. Box 1386, Houston, Texas 77251-1386.
No residences or businesses would be displaced by the widening project, according to TxDOT, which said the work would be within existing TxDOT right-of-way and funded by toll revenues.
Construction is slated to start on the first phase of the project, the 5.8-mile stretch between 249 and Kuykendahl Road, in early 2024. The 3.8-mile second phase, between Kuykendahl and Holzwarth, is anticipated to start in early 2025. Each widening phase would take approximately three years to complete, according to TxDOT.
As part of the plan to add one eastbound lane and one westbound lane to that stretch of the Grand Parkway, the two sections of concrete housing those lanes would be merged together, thereby eliminating the cable barriers and grassy median that currently separate them. Instead there would be a concrete barrier between the eastbound and westbound lanes, with the inside shoulders expanding from 4 feet to 10 feet. Each of the six vehicle lanes would be 12-foot wide, matching the width of each existing lane.