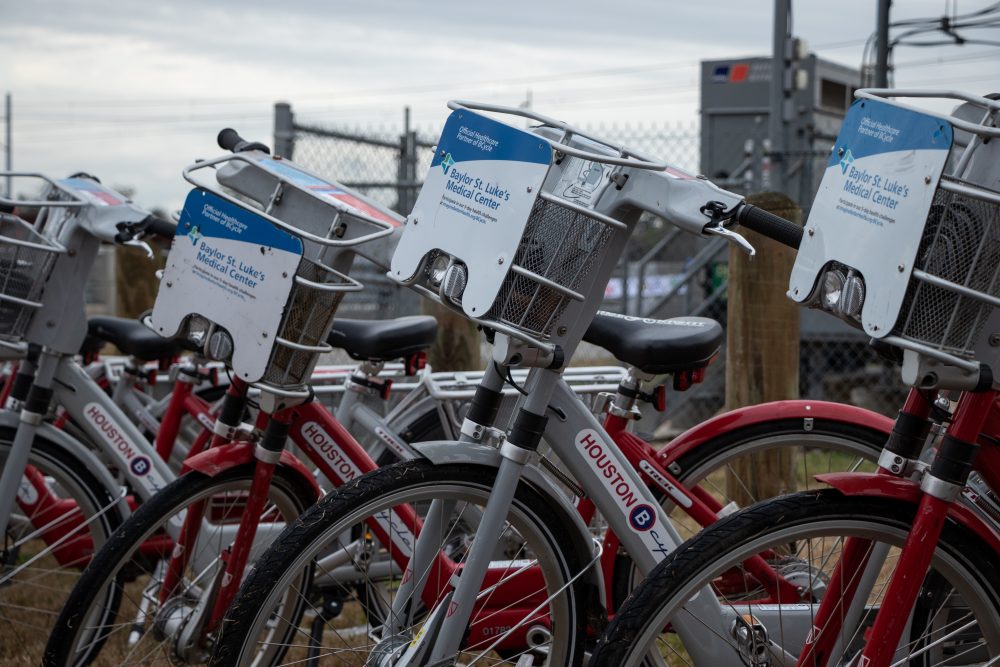 The mass transit provider in the Houston region continues to explore the possibility of adding bike-sharing to its slate of services, either by expanding and updating the city's existing network, creating a new one or utilizing a combination of those options.
The sputtering Houston BCycle system remains hopeful that it will be part of a long-term, bike-sharing solution being devised by the Metropolitan Transit Authority of Harris County (METRO), which earlier this year entered into an exploratory period to consider taking over the BCycle program and incorporating it into METRO services. METRO board chair Sanjay Ramabhadran said Monday that process remains ongoing and has an indefinite timeline, with board members voting in January to spend 6-9 months evaluating a potential partnership while investing up to $500,000 in the BCycle system.
There has so far been no funding infusion into Houston BCycle, which in the meantime is increasing its prices and further reducing its number of bike-sharing stations in order to stay afloat. Starting May 1, the price for 30-minute rides will increase by $2 and the cost of a monthly BCycle membership will increase from $13 to $25, and the number of stations could be reduced by about half, according to interim executive director Maya Ford.
"We are committed to ensuring that the region still has bike share until METRO knows what it's going to do," Ford said. "So we have to suspend more stations, increase prices and work with that we've had."
Ford said she was told by METRO in late March that the transit provider, which operates buses, light rail lines and high-occupancy vehicle lanes, among other services, did not intend to enter into a long-term partnership with Houston BCycle and would be putting out a bid request to potential providers of bike-sharing networks. METRO disputed that, with Ramabhadran saying METRO is working on a request for proposals for bike-sharing but also has not closed the door on working with Houston BCycle, a nonprofit that was created by the City of Houston in 2012.
Ramabhadran said the arrangement authorized by METRO board members in January was not akin to cutting Houston BCycle a check for $500,000, but for the transit provider to potentially spend that money while exploring how Houston BCycle or another bike-sharing platform could tie into its services.
"We are committed to having a sustainable, equitable, affordable bike share in the region with first- and last-mile connectivity to the transit system, of which conversations with (Houston BCycle) is a part of that," Ramabhadran said. "We want it to be more robust than it is today. We certainly want it to be more equitable and affordable than it is today."
While METRO continues to weigh its options, Houston BCycle is shifting gears in an attempt to extend its operational runway and be more self-sustaining. Ford said BCycle board members had originally identified March 31 as a shutdown date before the potential partnership with METRO materialized, and Ford said the nonprofit now has a plan in place that aims to sustain its operations through the end of this year.
That strategy includes increasing single-use prices by $2 per 30-minute ride – to $5 for traditional bikes and $7 for electric bikes – while eliminating annual memberships and increasing the cost of monthly memberships from $13 to $25. Those changes go into effect May 1.
Ford said Houston BCycle also plans to reduce its number of stations to as few as 40, with a focus on downtown, Midtown, popular parks and areas where local management districts are willing and able to pay to keep stations operational. Depending on how many management districts take on that task, Ford said the total number of stations that remain open could be higher.
After growing the network to as many as 153 stations, Houston BCycle closed roughly half of them late last year in response to its financial woes, which included budget shortfalls of about $200,000 each of the last two years. It now operates 83 stations, according to Ford, who said a smaller network with mostly recreational uses seems to be a financial sweet spot for the nonprofit.
"There's a distinctive difference between a recreational network and a network that's being used to solve transportation problems," Ford said. "We got big enough to solve transportation problems, but at that scale, you have to have investment. What we're doing (now) is paring back to what was profitable and where we could handle it, but it's recreational."
Transforming Houston's bike-sharing network into a viable option for commuters, visitors and residents who want to use it to go shopping or run errands is where a well-resourced transit provider like METRO comes in, according to Ford, who said the leadership at Houston BCycle still views METRO as the ideal partner to expand on its network. The question is whether METRO ultimately wants to take on a bike-sharing system, either by incorporating Houston BCycle or creating its own system.
Either way, Ford and Ramabhadran agreed that METRO officials can benefit from Houston BCycle's decade of bike-sharing experience in the region and learning from both its successes and shortcomings.
As for benefitting the BCycle system itself, Ramabhadran said he realizes there is a pressing financial need for the bike-sharing nonprofit, but added that METRO must be thorough and diligent in its decision-making and responsible with its resources.
In the meantime, Houston BCycle is adjusting so it can keep pedaling without the need for training wheels.
"We are keeping Houston rolling. That's our commitment," Ford said. "We've been doing it for 10 years We're not going out like that."