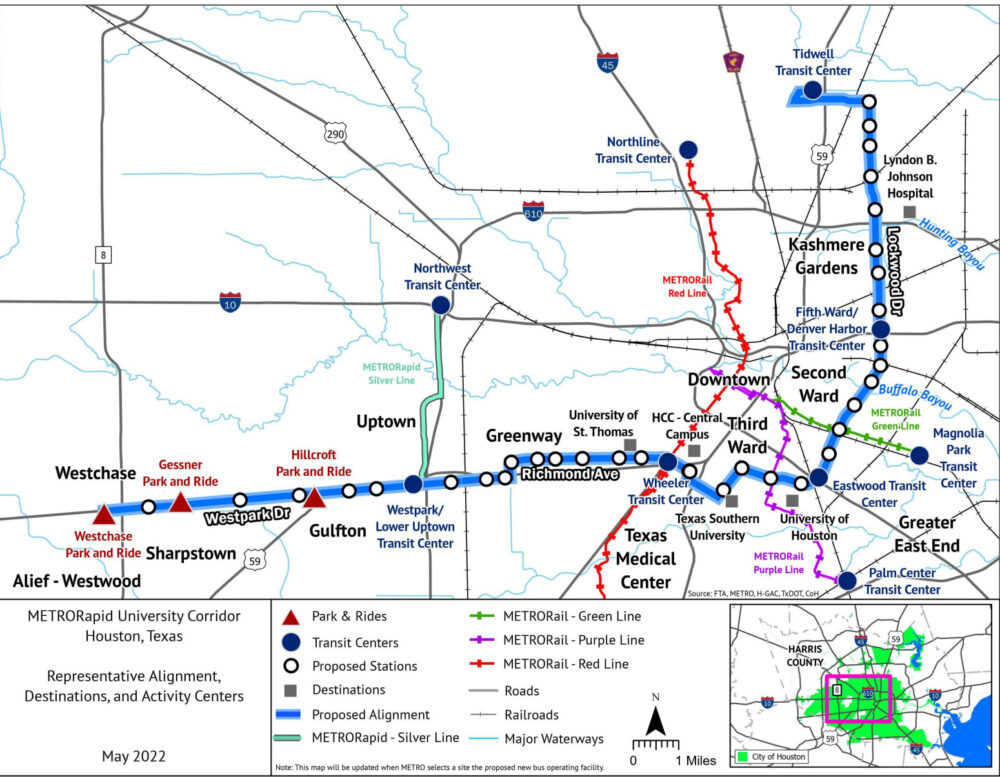 After weighing input and criticisms from a collection of elected officials and community members from Houston's East End, a divided board for the region's public transit provider voted Wednesday to approve a route for a $1.56 billion bus rapid transit project that aims to transform transportation in multiple parts of the city.
The 5-3 vote by board members for the Metropolitan Transit Authority of Harris County (METRO) clears the way for the agency to do more detailed design work for its 25.3-mile University Corridor line, which proposes to have more than 40 stops with stations situated near the University of Houston, Texas Southern University, the University of St. Thomas and Houston Community College. The vote also paved the way for METRO to continue seeking needed approvals from the Federal Transit Administration, which has recommended $150 million in funding for the project as part of President Joe Biden's proposed budget for fiscal year 2024, which must be approved by Congress.
The METRO board had delayed the vote for two weeks, during which time two townhall meetings were held with East End residents and stakeholders who expressed concerns about the project's potential impacts on the historic, predominantly Latino community. METRO officials addressed one of the primary concerns by pledging to abandon a plan for an overpass on Lockwood Drive and instead use an underpass with multimodal amenities, but were asked Wednesday to still consider other options and more effectively engage affected residents and business.
"While this less intrusive option is welcomed by many, I encourage METRO to continue engaging and working with the community as this project progresses," Houston City Council member Robert Gallegos, who represents the East End area, said at Wednesday's board meeting, which was called specifically to address the University Corridor line. "I think we all want to ensure this project meets and exceeds intended transit goals while minimizing impacts and disruptions in neighboring communities."
METRO's most extensive bus rapid transit project, which entails the use of electric-powered buses in dedicated, bus-only lanes, was a key selling point when Harris County voters approved $3.5 billion in bond funding for the agency in 2019. Its route would stretch from the Tidwell Transit Center on the northeast side of Houston to the Westchase Park & Ride on the west side, crossing through communities situated in the eastern and southern parts of the city – including Denver Harbor, Greenway/Upper Kirby, Gulfton, Kashmere Gardens, Midtown, Montrose, Sharpstown and the Second, Third and Fifth wards.
Construction work on the project could begin as early as next year, according to METRO, which plans to unveil the bus rapid transit line by 2028.
Gallegos' sentiment was echoed by many other speakers Wednesday, including Harris County Precinct 2 Commissioner Adrian Garcia and U.S. Rep. Sylvia Garcia. The congresswoman asked the METRO board to further delay a vote on the proposed route, also referred to as a locally preferred alternative, so it could continue seeking community feedback, gather more of a consensus and explore options beside Lockwood Drive, a major neighborhood artery that includes a tree-lined esplanade. She added that residents at a Monday townhall she had organized did not feel like their perspectives were being considered, because METRO had already called Wednesday's special board meeting.
The Greater Eastwood Civic Association expressed a neutral stance about the proposed route, with president Danielle Laperriere saying residents appreciated the concession regarding the planned overpass but remained divided overall. METRO board member Terry Morales, who voted against approving the route along with Don Elder and Troi Taylor, said she generally supports the University Corridor line but did not feel comfortable approving a route without the widespread backing of the community.
"This is the most historic Latino, Spanish-speaking neighborhood in the city, and it's about to be split in two," said Stephen Quezada, a lifelong East End resident, METRO customer and board chair for the East End Management District. "I truly believe there is an opportunity to get this right and come up with a better plan with effective community engagement that reaches out to the Spanish-speaking community that has been left out of this process. We can make this more sustainable in the long term."
METRO board chair Sanjay Ramabhadran, along with president and CEO Tom Lambert, expressed appreciation for all the feedback they have received about the University Corridor line and said they would continue to solicit community input while improving their outreach. Ramabhadran described abandoning the overpass plan in favor of an underpass as a beneficial change, partly because it could be used for emergency vehicle traffic in the event of stalled trains in the area, which has been an ongoing issue.
Board member Diann Lewter said METRO will engage stakeholders impacted by the project on a section-by-section basis, since the now-approved route will touch multiple neighborhoods in different parts of Houston.
"This a transformational project for the region," Ramabhadran said. "The more concerns we hear, the better the project gets."