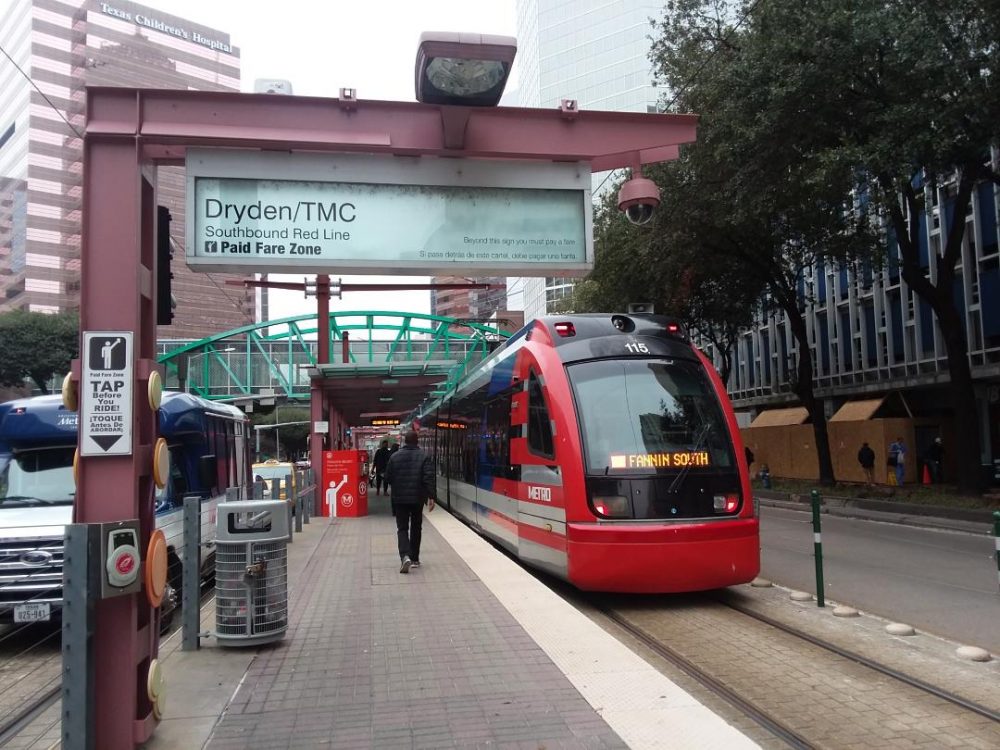 Rides on Houston's three light-rail lines will be free during the upcoming NCAA Final Four, both for college basketball fans who are headed to games and related events and also for the general public.
The Metropolitan Transit Authority of Harris County (METRO) is offering free rides on its Green, Purple and Red METRORail lines – the latter of which ends at Final Four host site NRG Stadium – from March 31 through April 3. All three lines converge in Downtown Houston, where Final Four-related events will be held throughout the weekend.
The national semifinal men's basketball games are scheduled for April 1, with the championship game April 3. Tailgate events will be held at NRG Park, which surrounds the stadium, on those days and also March 31 and April 2.
Final Four Fan Fest events will be held each of the four days at the George R. Brown Convention Center, which is downtown, with the March Madness Music Festival set to be held across the street at Discovery Green on March 31-April 2. There also are Final Four events scheduled for Hermann Square at Houston City Hall on April 1 and 2.
Each of those venues can be accessed by METRORail, along with other destinations downtown as well as in EaDo and the Second and Third Wards, among other locales. The Houston Astros open their MLB regular season that weekend with a home series against the Chicago White Sox at Minute Maid Park, while the Houston Rockets host NBA games at Toyota Center on March 31 and April 2.
"It's free all four days for everybody, regardless of whether you're going to NCAA activities or an Astros game or Rockets game or Discovery Green or the George R. Brown," METRO spokesperson Tracy Jackson said.
METRO, which charges a regular fare of $1.25 per ride for light rail and other transit services, will continue to charge for its other services during Final Four weekend, such as bus and paratransit rides. Some light-rail users during Final Four weekend may have a need for other METRO services, depending on which part of the city they are coming from.
The Red line, which provides a 30-minute ride from downtown to NRG Park, runs every 6 minutes or so Monday through Friday and about every 12 minutes on weekends. The Green and Purple lines run every 12 minutes during the week and every 18 minutes on weekends.
Another option for those traveling to NRG Stadium for the semifinals or championship game is to drive and park at the Fannin South Transit Center, 1604 West Bellfort Ave., for a cost of $15. From there, they can take a free, 3-minute ride on the Red line to and from the stadium.
Visit METRO's NCAA Final Four webpage for more information about its services that weekend, along with suggested routes and a schedule of Final Four events.