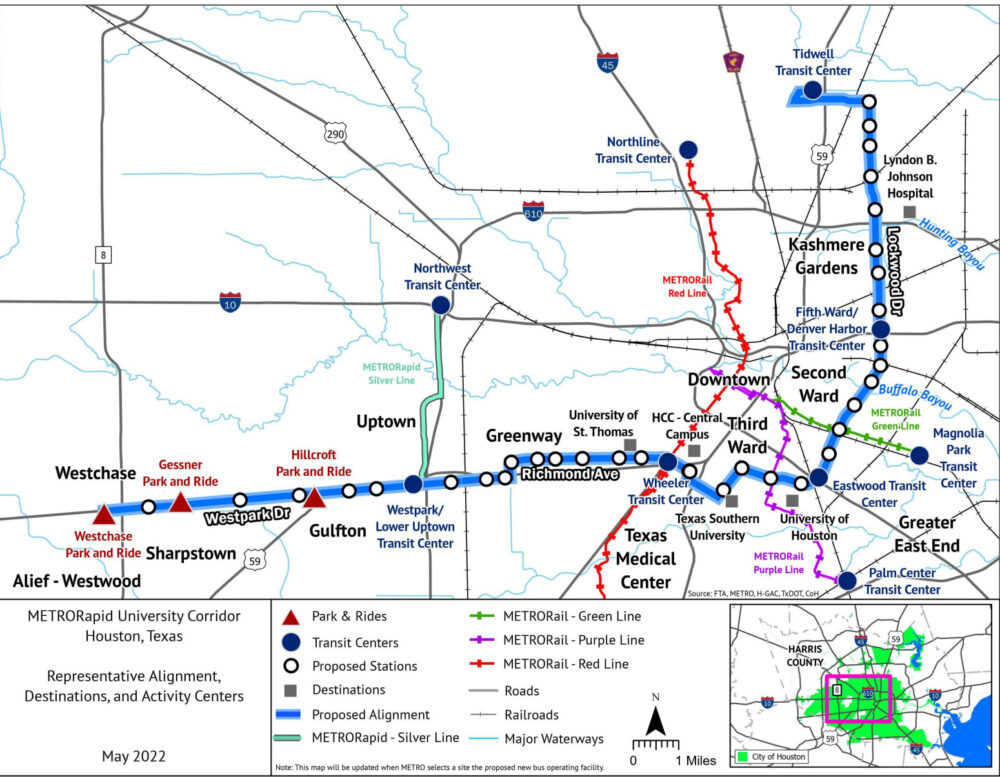 The most extensive bus rapid transit project planned for Houston has the support of federal transportation officials, who have pledged to provide an initial $150 million in funding for a service that will help residents get to and from several of the city's colleges and universities.
The Federal Transit Administration (FTA) announced last week it was recommending federal funding for 18 large-scale rail and bus rapid transit projects in 11 states. The only such initiative in Texas is a 25.3-mile, 41-station bus rapid transit line planned by the Metropolitan Transit Authority of Harris County (METRO), which aims to offer increased connectivity and access to residential, business and education centers in underserved parts of Houston while helping to reduce traffic congestion and air pollution caused by individual vehicles and traditional gas-powered buses.
As part of President Joe Biden's proposed budget for fiscal year 2024, which must be approved by Congress, METRO's University Corridor project is slated to receive $150 million, which is contingent on a grant agreement being reached and METRO meeting required benchmarks. The overall project cost is estimated to be $1.565 billion, with the FTA pledging to cover 60 percent of that cost through its Capital Investment Grants program. METRO would cover the other 40 percent, an estimated $626 million, through bond funding.
"This is great news from the Biden Administration," METRO president and CEO Tom Lambert said in a statement to Houston Public Media. "I want to thank the FTA Administrator, FTA Regional Six Administrator and their staff for helping METRO reach this stage in the process for the METRORapid University Corridor project. I am also grateful for the board, staff and other partners for positioning METRO properly to be considered for this funding."
The University Corridor line, with the University of Houston, Texas Southern University, the University of St. Thomas and Houston Community College as stops along the planned route, was a key selling point for METRO when Harris County voters approved $3.5 billion in bond funding for the regional transit provider in 2019. The route would stretch from the Tidwell Transit Center on the northeast side of town to the Westchase Park & Ride on the west side, crossing through communities situated in the eastern and southern parts of the city – including Denver Harbor, Greenway/Upper Kirby, Gulfton, Kashmere Gardens, Midtown, Montrose, Sharpstown and the Second, Third and Fifth wards.
METRO began work on the project in 2021 and says on its website that construction for the University Corridor line could begin by the end of 2024, with service potentially starting by 2028. METRO held a series of public engagement meetings related to the project during the last month, with another session scheduled for 5-7 p.m. March 21 at the Houston Community College-North Forest Campus, 6010 Little York Rd.
Bus rapid transit utilizes dedicated, bus-only lanes along with level boarding and off-board fare collection, and METRO's service would use 47 electric buses that each are 60 feet in length. The University Corridor line would operate seven days per week for 20 hours per day, with buses running 6 minutes apart during peak hours and 12 minutes apart during non-peak weekday hours and weekends, according to the FTA's project summary.
Among the nine transit projects across the country to be selected to receive federal funding for the first time, the University Corridor initiative is one of seven focused on bus rapid transit. In total, U.S. Transportation Secretary Pete Buttigieg recommended a combined $4.45 billion for 18 different projects for the 2024 fiscal year.
"Transit connects people to jobs, schools, loved ones and more," Buttigieg said. "We're proud to deliver this funding to expand transit across the country, which will create good-paying construction jobs and provide better options for people to get where they need to go."