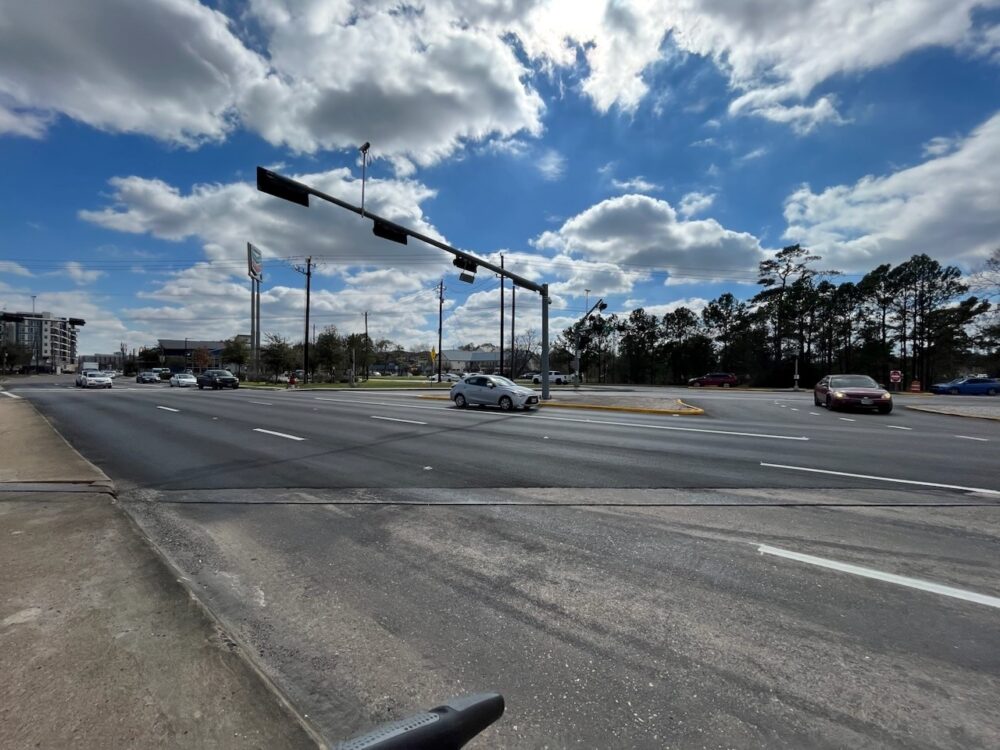 Thousands of Houstonians visited Memorial Park last Saturday for the grand opening of 100 acres of prairie as well as two land bridges that cross over Memorial Drive. The new amenities, which took about two years and $70 million to construct, provide enhanced mobility and safety for pedestrians and cyclists within the city's largest urban green space.
So the unveiling was especially appealing to cycling enthusiasts. More than 300 people took advantage of a bicycle valet service offered by BikeHouston, a local cycling advocacy nonprofit.
And according to BikeHouston executive director Joe Cutrufo, the hottest conversation topic among that group of visitors was how dangerous and difficult it was to ride to the park – which is bordered by freeways on the west and north, a bustling residential and commercial area to the east and a bayou without an adjoining trail to the south.
"Unless you're a really brave, intrepid, competent cyclist, you've got very few safe, comfortable ways to get into Memorial Park on a bike," Cutrufo said. "I don't think you should need to be brave to ride a bike to the park."
As such, Cutrufo and BikeHouston started an online petition last weekend calling on a number of local stakeholders to provide cyclists with better access to Memorial Park – specifically by providing trail connections from Buffalo Bayou, which borders the park to the south, as well as Brays Bayou further to the south and White Oak Bayou to the northeast. As of Friday afternoon, the petition had garnered more than 750 signatures.
Memorial Park Conservancy executive vice president Randy Odinet, whose organization led the land bridge project, said it supports the vision for expanded external connections for cyclists and pedestrians and has been working toward that end. Doing so was identified as a "challenge" when putting together the ongoing 10-year master plan for Memorial Park, he said, and the conservancy has partnered with the Uptown Tax Increment Reinvestment Zone (TIRZ) to try to secure grant funding for such initiatives in recent years.
Odinet said that effort will continue.
"They're not easy projects. They're doable," he said. "I think we're happy to see some attention and advocacy for these things."
Cutrufo said he realizes there's an ongoing effort to improve multimodal access to Memorial Park, which features mountain biking trails but has historically been easiest to get to by car or truck. There also are some infrastructure projects already in the works that figure to help.
The Uptown TIRZ has plans to improve trail access to Memorial Park from the west, the Texas Department of Transportation is upgrading the Cohn Street Bridge – which crosses Interstate 10 a little to the northeast of the park – and Houston City Council member Abbie Kamin announced earlier this week that her District C office will fund multimodal safety improvements at the intersection of Blossom and Westcott streets just east of the park. Cutrufo said Blossom, which runs east and west, is currently the best way for cyclists to access Memorial Park.
The idea behind the petition, Cutrufo said, is to keep the issue top of mind, accelerate the progress and take advantage of the momentum created by the land bridges. The western mound is open to cyclists, according to Odinet.
"The land bridge is a magnificent project," Cutrufo said. "It's worthy of all the attention and the bike traffic it's attracted the last week. Now let's give more people the ability to get to and from Memorial Park without having to drive."
David Fields, the chief transportation planner for the City of Houston, said through a spokesperson that it does not have current plans in the works to improve cycling access to Memorial Park but is "always open to work with our regional partners on safe bike connections."
Other potential stakeholders, in addition to the Uptown TIRZ, Memorial Park Conservancy and TxDOT, are Harris County, CenterPoint Energy and the Houston Parks Board, which has expanded trails in recent years along the city's network or bayous. Cutrufo said an existing CenterPoint easement that runs toward the park from Brays Bayou to the south could be a possible access point.
Odinet said improving cycling and pedestrian access to Memorial Park, at a time when those modes of transportation are getting greater consideration than ever in Houston, will require collaboration as well as funding. Cutrufo said a sense of urgency also is needed.
"We know that this matters to the many stakeholders involved, but we don't know how urgent it is," Cutrufo said. "We know it's urgent to people who ride bikes, but we don't know how urgent it is for the different stakeholders who would have to build this. The point of why we're doing this petition is to show that there is an incredible amount of demand."