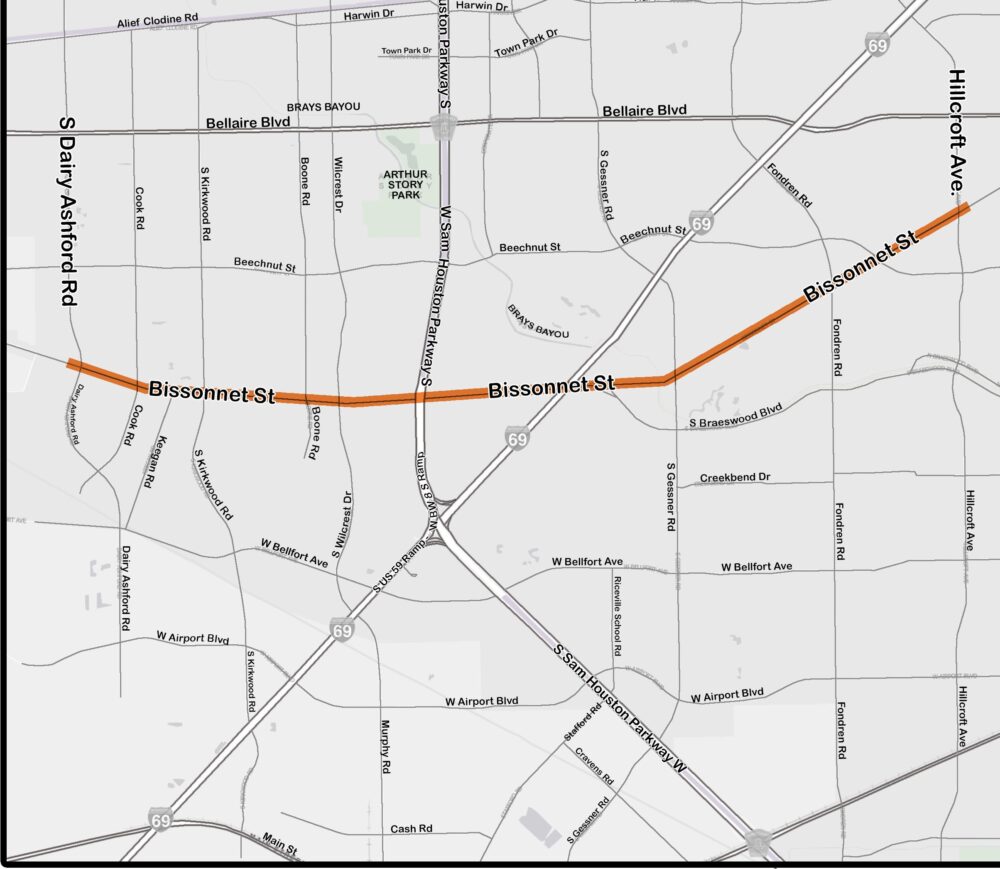 Houston has been selected to receive a $28.79 million federal grant to overhaul a 7-mile stretch of Bissonnet Street that has been identified as one of the most dangerous in the city for motorists and pedestrians.
The grant, which will be used to add sidewalks, protected bicycle lanes and vehicular turn lanes while improving crosswalks and intersections on the busy road in Southwest Houston, is being awarded by the U.S. Department of Transportation (USDOT) as part of its Safe Streets and Roads for All program. It is funded through the infrastructure law passed by Congress in 2021.
Because that part of Bissonnet passes through historically underserved communities such as Alief, Braeburn, Gulfton and Westwood, Houston Mayor Sylvester Turner said its unsafe road conditions have disproportionately impacted low-income residents of color.
"Redesigning Bissonnet Street will do more than fix one street," Turner wrote in the city's grant application. "It will eliminate one of the biggest contributors to fatalities and serious injuries in Houston, helping address historic inequities, safety, access, economics, and the environment."
A total of 510 projects across the United States are tabbed to receive a total of $800 million, according to a news release by USDOT, which said $72.7 million is being awarded to 28 transportation safety initiatives in Texas. Among the other Houston-area entities to receive awards are the East End District ($603,646), Houston-Galveston Area Council ($4 million), the City of Galveston ($320,000) and the Port of Galveston ($340,000).
U.S. Transportation Secretary Pete Buttigieg said the overarching goal of the grant program is to reduce traffic fatalities. Nationally, there were an estimated 42,915 deaths caused by motor vehicle crashes in 2021, a 16-year high, he said.
"Every year, crashes cost tens of thousands of American lives and hundreds of billions of dollars to our economy," Buttigieg said. "We face a national emergency on our roadways, and it demands urgent action."
The City of Houston aims to improve safety conditions on Bissonnet between South Dairy Ashford Road to the west and Hillcroft Avenue to the east. The city estimated in its grant application that the work would cost a total of nearly $36 million and could be completed as soon as 2028.
That stretch of Bissonnet accounts for the highest number of fatal crashes, and the second-highest number of crashes causing serious injuries, across all city-owned streets, according to the city. Five miles of that 7-mile span also are part of the city's "High Injury Network," in which 60 percent of all crashes occur on 6 percent of the city's streets.
The overall corridor saw 19 fatalities and 149 serious injuries between 2014-21, with 11 of those fatalities and 35 of the serious injuries involving pedestrians, according to the city's grant application.
Like many other recent, ongoing or planned infrastructure projects undertaken by the city, the vision for Bissonnet includes the addition and expansion of bike lanes and sidewalks, increased compatibility with public transit facilities and a reduction in lanes for cars and trucks. The city identified the stretch of Bissonnet between Beltway 8 and the Southwest Freeway as an especially good candidate for the latter treatment, illustrating in its grant application that the road could be converted from three vehicle lanes in each direction to two, with expanded sidewalks and landscape buffering on the outsides of the street.
Other potential features of a Bissonnet redesign, according to the city, could include roundabouts, more dedicated turn lanes, pedestrian hybrid beacons along with other signals and lights, pedestrian refuge islands at intersections and enhanced crosswalks.
The city said in its grant application that it would solidify specific treatments for specific locations, while soliciting feedback from community members, after receiving the grant.