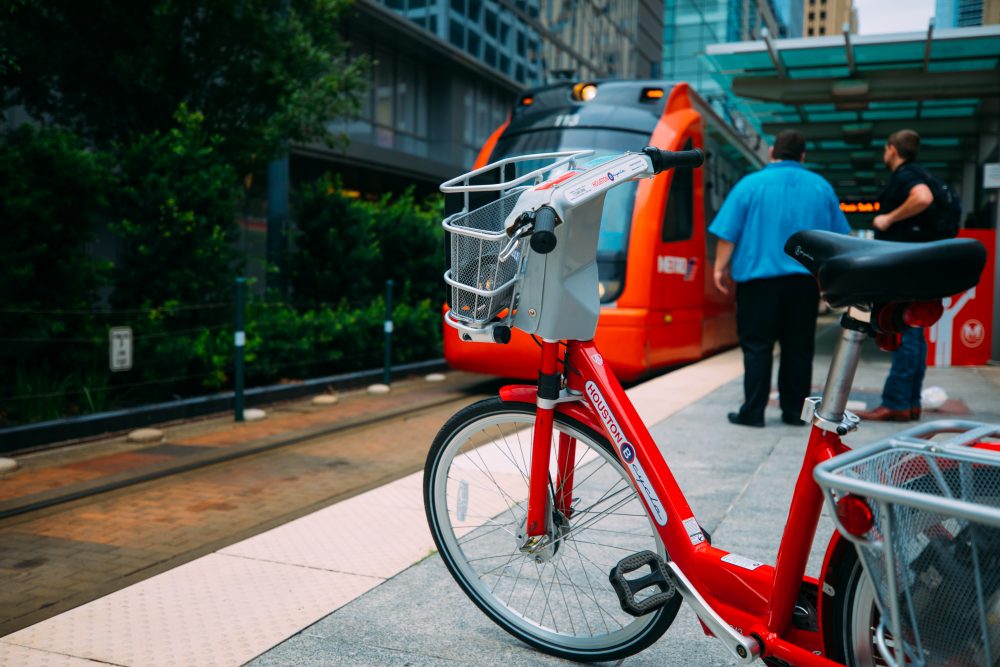 Houston's decade-old bike-sharing program is broken down and in need of a lift.
The region's mass transit provider is considering whether to swoop in and rescue the nonprofit – with the possibility it could take over the bike-sharing operation and make it more of a viable commuting option instead of a largely recreational service.
The board for the Metropolitan Transit Authority of Harris County (METRO) is set to vote next Thursday on whether to enter into a partnership with Houston BCycle, which has run into financial troubles after growing to 153 stations and more than 1 million annual users since its creation by the City of Houston in 2012. METRO CEO Tom Lambert said the bus service and light rail provider, with board approval, will invest up to $500,000 into the bike-sharing program during of a period of 6-9 months while exploring how their transportation offerings could complement each other and be tied together.
"They're coming to help us fix our flat tire," said Maya Ford, the board chair and interim director of the BCycle program. "They're looking at our gears, checking our brakes, and we want that. We really need it."
Lambert said METRO, which is in the midst of upgrading and expanding its transportation infrastructure and services with the help of a $3.5 billion bond from Harris County voters in 2019, already is aligned with the bike-sharing service in some ways, such as outfitting its buses with bike racks in 2007. METRO is interested in potentially taking over the bike-sharing operation and tweaking it to further align with its services, such as putting BCycle stations at bus stops to help transit users get from their home to a bus stop or from a bus stop to their job, according to Lambert.
Lambert said there also is the potential for expanding the BCycle network, in which users pay for single trips on traditional or electric bikes, across METRO's entire service area in Greater Houston, which would help improve transportation equity throughout the region. All of the existing BCycle stations are within Loop 610.
"We've got to look at every opportunity to move people in this region safely and effectively," Lambert said. "We're looking at the opportunity really to connect (the bike-share program) to the regional network we've been building for years and will build in the future."
Lambert said there are examples in other cities, such as Austin and Los Angeles, where public transit providers include bike-sharing as part of their services.
The idea of METRO doing the same has the support of BikeHouston, a cycling advocacy nonprofit that has about 12,000 members.
"Bike share is a critical piece of the transit system," BikeHouston executive director Joe Cutrufo said. "If we're serious about helping Houstonians get from A to B without a car, then this is a no-brainer."
Ford said Houston BCycle reached out to METRO and others for assistance after experiencing about a $200,000 shortfall each of the last two years between its operating expenses and revenue. The bike-sharing program reached a peak of 1 million annual users in 2020, coinciding with the onset of the COVID-19 pandemic, but has since seen about a 30 percent decline in ridership.
Private donations also have dwindled, Ford said, and many of the bikes, rack stations and program software purchased a decade ago began to break down sooner than anticipated. It all culminated with Houston BCycle temporarily suspending about half of its stations late last year in an attempt to reduce costs.
Those stations remain closed, with the remaining 75 or so stations concentrated in and around downtown. Ford and Lambert both said they expect the operation to continue as is throughout the upcoming transition and trial period, with usage prices remaining the same as well.
Ford said many regular BCycle users were understandably "mad" about the station closures. But she said it was a way to remain afloat while exploring ways to improve their operations and financial situation.
If the METRO board votes against the partnership proposal, Ford said BCycle could be forced to cease operations altogether. But she's hopeful that METRO will get on board and infuse the organization with its superior expertise and resources.
"This is the best option for us to stay open and find solutions," Ford said. "We just want it to thrive, to work for people, we want it to be predictable, and we want people to have options outside of their single-occupancy vehicles," Ford said. "This is the best option for us to stay open and find solutions."