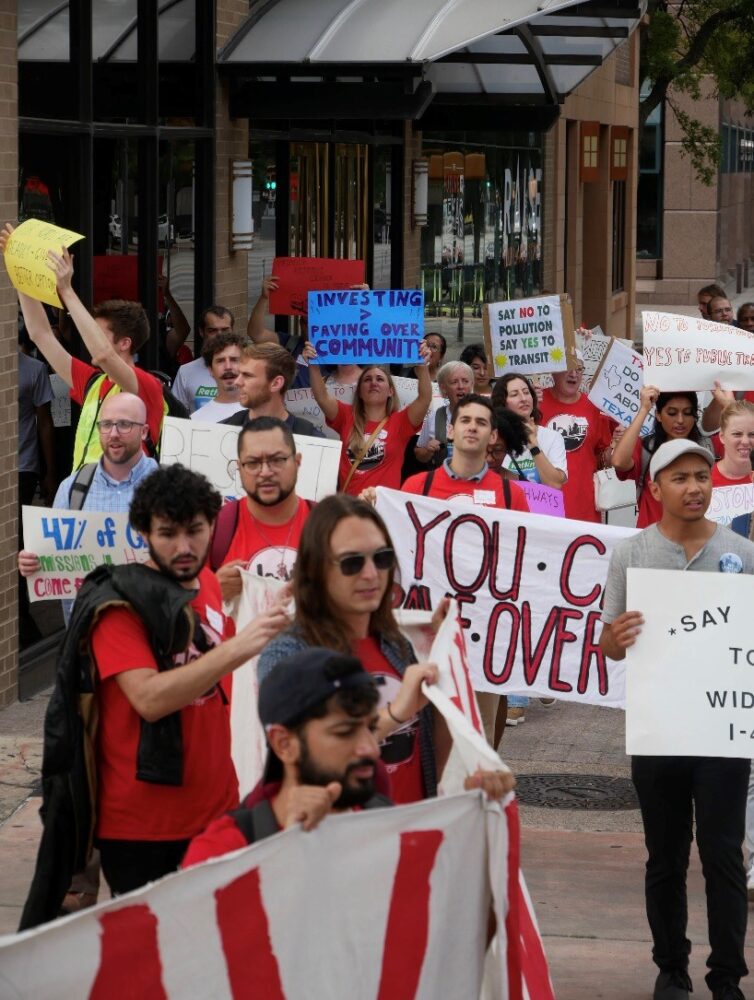 A busload of Houston residents traveled Tuesday to Austin, where they demonstrated outside of Texas Department of Transportation (TxDOT) headquarters and spoke out against its Interstate 45 expansion project, asking to have more of a say in its design and execution and in some cases asking for it to be removed from the state agency's long-term transportation plan.
About 60 members of STOP TxDOT I-45, a local grassroots organization that opposes the multi-billion-dollar freeway expansion, commented on the project and its potential impacts during a meeting of the Texas Transportation Commission, which oversees TxDOT. The five-member commission, without discussing the plan for I-45 or responding to the feedback from members of the public, still voted to keep the controversial project and its funding on TxDOT's slate of transportation work over the next 10 years.
It was the latest development in a drawn-out battle between TxDOT and Houston-area stakeholders who oppose the plan for the North Houston Highway Improvement Project (NHHIP), which calls for widening and rerouting I-45 between downtown and Beltway 8 and displacing more than 1,000 homes and businesses in low-income communities of color. Work on the project is largely on hold, per a request by the Federal Highway Administration (FHWA), while it investigates complaints made under Title VI of the Civil Rights Act of 1964 and audits TxDOT's implementation of federal environmental review requirements.
"We weren't discouraged," said Ally Smither, an organizer for STOP TxDOT I-45 who traveled to Austin and spoke before the commission. "We've come to expect TxDOT to treat us like this. We will keep showing up and keep waiting for the FHWA verdict."
TxDOT, through its media relations office, did not comment on the feedback it received from impacted residents and how that might have affected the decision by the transportation commission.
The Greater Houston Partnership, an economic development organization that represents about 950 businesses in the region, released a statement from president and CEO Bob Harvey saying it supports the transportation commission's decision to keep the I-45 project on TxDOT's Unified Transportation Program, which is the 10-year plan. TxDOT has said the goal of the project is to improve traffic flow, hurricane evacuation routes and stormwater drainage while accommodating high-occupancy, electric and self-driving vehicles.
"This project will improve mobility, address flooding issues and enhance Houston's overall quality of life," Harvey said. "The partnership advocates using the (NHHIP) to realize long-sought opportunities to reconnect communities with new pedestrian and cycling pathways while providing the prospects for new parks and greenspaces."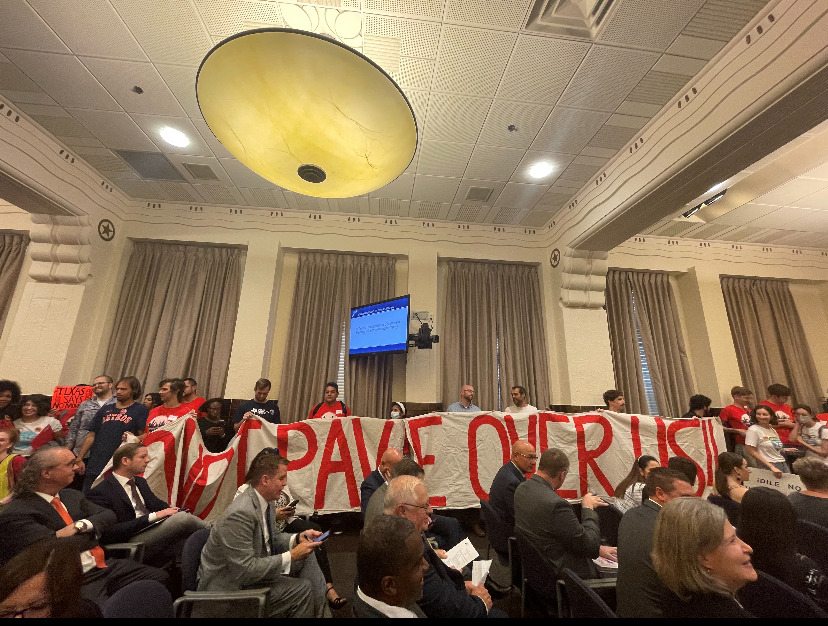 Impacted residents, groups like STOP TxDOT I-45 and Houston-area elected officials at the municipal, county, state and federal levels have expressed concerns about the project because of how many it will displace and also because of its potential to increase flooding risks as well as noise and air pollution. Harris County sued TxDOT over the project in March 2021, asking a federal judge to require TxDOT to give greater consideration to those concerns and work more closely with local stakeholders.
Molly Cook, another STOP TxDOT I-45 organizer who made the Tuesday trip to Austin, said she does not want the Houston region to lose out on the transportation funding that's been earmarked for the project, even though she opposes specifics of the plan. She does not want the project to displace any homes or businesses or expand the existing footprint of I-45, she said.
Houston City Council member Karla Cisneros, who represents residents who would be impacted by the I-45 project, expressed a similar sentiment in a letter submitted to the Texas Transportation Commission and shared with Houston Public Media. Cisneros urged TxDOT to work with local stakeholders "instead of fighting us," adding that highway reconstruction projects "need to solve serious existing problems, many of which were in fact created by construction of the highways in the first place."
According to Cook and Smither, residents from cities such as Austin, El Paso, Dallas, Fort Worth and San Antonio also attended Tuesday's meeting and expressed opposition to highway projects in their parts of the state.
"Our cities deserve better," Cisneros wrote in her letter. "On behalf of Houston and other urban residents of Texas, we insist that TxDOT partner with us. The state's aging highway infrastructure desperately needs attention, but it must be done responsibly and in collaboration with our cities. A project that goes away does not get us to where we want. Nor will a project that is just wrong get us to where we want. Let's work together."