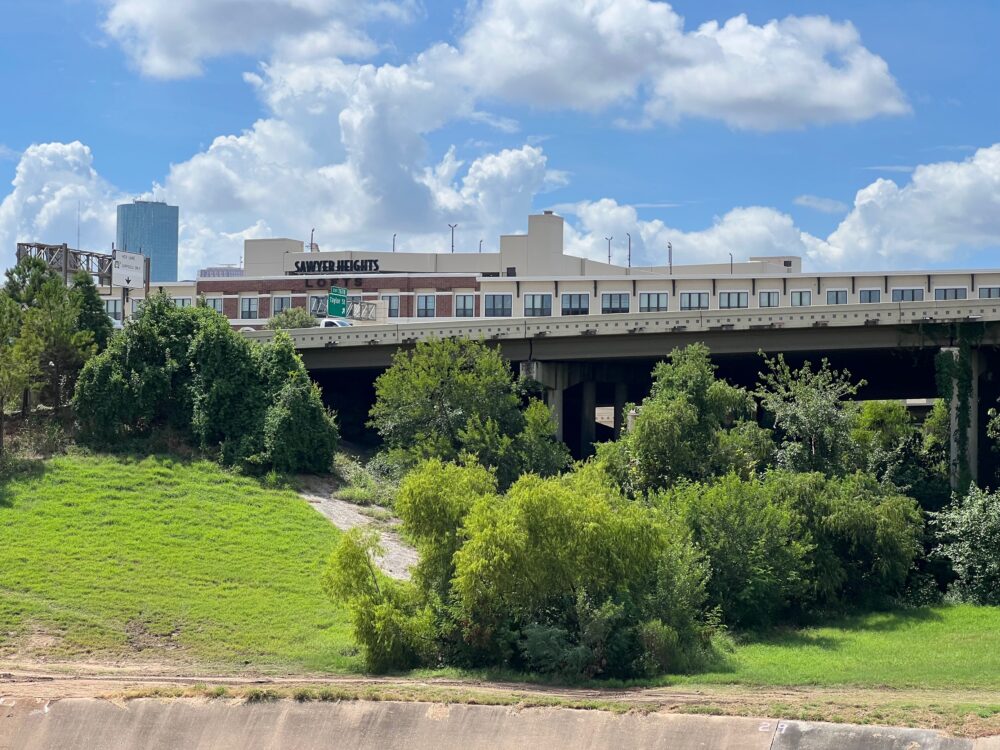 A proposed plan to elevate Interstate 10 in the Heights area has some nearby residents raising questions about how the project might increase traffic noise, decrease the amount of nearby green space and potentially exacerbate structural flooding.
The Texas Department of Transportation (TxDOT) held a public meeting Thursday to discuss its $347 million plan to raise the I-10 main lanes and high-occupancy vehicle lanes between Heights Boulevard and Interstate 45 to the east, with the intention of reducing flooding risks on a stretch of freeway that was covered with stormwater during Hurricane Harvey in 2017 and also during tropical storms Allison and Imelda. TxDOT also wants to construct a 21.7-acre detention pond underneath and just to the north of the elevated roadway, encroaching on a wooded area that sits between I-10 and White Oak Bayou to the north.
Brad Snead, a nearby resident who chairs the infrastructure committee for the Woodland Heights Civic Association, said Friday during Houston Matters with Craig Cohen that he and his neighbors are examining the proposal with a critical eye. Woodland Heights is situated to the northwest of the intersection between I-10 and I-45.
"Anytime TxDOT says it's going to touch those freeways, our antennas go up and we have skepticism," Snead said. "We're fearful there's a benefit for the exurbs over our neighborhood. ... But we don't have an official position on the project yet. Our biggest concern is noise and what it's going to do to that detention pond area."
A spokesperson for TxDOT's Houston office did not immediately respond to a Friday afternoon voicemail seeking comment. According to a virtual presentation on the TxDOT website, the project will use a mix of federal and state funding, with a legally required environmental impact assessment slated to be conducted in 2023 and construction to begin in the summer of 2024.
TxDOT is accepting public comments about the project through Aug. 12. Feedback can be submitted via email to hou-piowebmail@txdot.gov or mailed to TxDOT's Houston District Office at P.O. Box 1386, Houston, TX, 77251-1386. More information about the project and submitting comments can be found at txdot.gov, using a keyword search for "I-10 from Heights Blvd."
A representative of the Houston Parks Board, which manages hike-and-bike trails and other green-space amenities near the project area, said the nonprofit is studying TxDOT's proposal and does not have a comment to make at this time.
TxDOT said in its online presentation it does not anticipate any residences or businesses to be displaced by the project, which covers a 1.8-mile stretch of I-10. The proposed freeway elevation figures to work in conjunction with other TxDOT and METRO projects that are planned for the stretch of I-10 between I-45 and Loop 610 to the west, with those initiatives aimed at expanding lane capacity as well as multimodal transportation options.
Part of TxDOT's plan for the stretch between Heights Boulevard and I-45 calls for a 10-foot-wide shared path for pedestrians and cyclists that will run alongside I-10 and connect to existing trail systems. That is a welcome feature, according to Mark Williamson, the president of the Greater Heights Super Neighborhood Council and the land-use chair for the Houston Heights Association.
"I'm glad that they opened with trails," Williamson said of Thursday's meeting with community members. "Usually we have to argue with them to do some of the beautification."
Williamson said he shares Snead's concern about how much the proposed detention pond might encroach on the existing wooded area between I-10 and White Oak Bayou to the north, which Snead described as both a rare scenic area in an otherwise urban setting as well as a sound buffer between the freeway and residential area to the north. Both said they were pleased to learn Thursday that most of the detention pond would be located underneath I-10.
Snead said he still asked TxDOT to survey the existing wooded area and preserve as much of it as possible.
I-10 will be elevated to as much as 112 feet above Taylor Street, Snead said, which also raises concerns about potential increases in traffic noise.
"They don't yet know all the details of what they can do and how raising it is going to affect the sounds," Williamson said of TxDOT. "It's hard to make an intelligent comment about it when they don't know what they're going to do."
Regarding the desire to eliminate flooding risks on a well-traveled stretch of freeway, Williamson acknowledged it's a problem that needs addressing. He also said there are other low spots along I-10 that do not figure to be fixed by the proposed project.
There also could be a potential impact on Olivewood Cemetery, a historic African-American cemetery near the west end of the project area, located south of I-10 in a spot where White Oak Bayou meanders to the south of the freeway. Repeated flooding events near the bayou have eroded the northernmost part of the 7.5-acre cemetery, either damaging or moving dozens of gravesites.
"The raising of I-10 and its proposed detention pond may not solve the erosion problem at the cemetery," TxDOT said in its online presentation. "But the proposed project would not increase floodwater levels or erosion on the historic cemetery property."