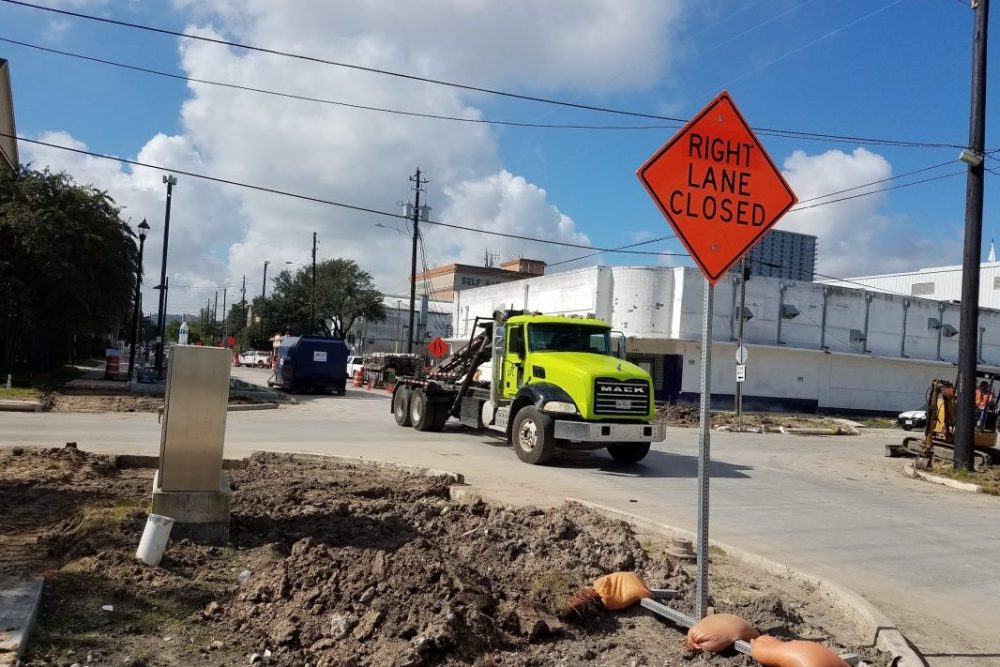 With three lanes of traffic headed one-way southbound, Caroline Street through Houston's Midtown was mostly designed for cars, lacking spots to cross safely and a designated bike lane.
That's about to change as the Midtown Redevelopment Authority wraps up Caroline Street's $14.5 million redesign.
"As we invest in our corridors in Midtown, we look at it holistically," said Marlon Marshall, the Midtown District's director of engineering and construction. "How can we provide a safe, equitable, accessible route for all modes of transportation?"
The Caroline Street redesign extends from Pierce Street downtown to the Houston Community College campus. Along with a newly-paved road surface and wider sidewalks, there will also be a one-way southbound bike lane that will connect with bike routes on Gray Street and Holman Street. Marshall said the bike lane will be created by reducing car traffic on Caroline from three lanes to two.
"We're adding pavement markings, signage, as well as armadillos to make sure cyclists will feel and remain safe and comfortable," Marshall said.
The current bike lane on Austin Street, which is currently functioning as a two-way route, will carry northbound bike traffic once the Caroline Street project is complete.
As for sidewalk improvements, Marshall said they've worked to upgrade crossings, especially for people who use mobility devices. He pointed out that before the project started, only 25% of the pedestrian crossings were considered safe for all users.
"We're upgrading all of the ramps to be ADA-compliant, which will make it safe for all users," Marshall said. "We're also upgrading traffic signals at each of the signalized intersections, which will include better timing for throughput for all users."
Another component of the project is drainage work both underground and on street level. There will be rain gardens to help channel water, something Marshall said is desperately needed on Caroline during severe weather.
"The plant material we're installing will serve as a filter to clean the runoff from the storm before it flows out into the bayou," Marshall said. "It cleans the water, clears the impurities, and that helps significantly before that flows into Buffalo Bayou."
As the Caroline Street project nears completion, local cyclists say they're looking forward to trying out the new route.
"Midtown Houston is a relatively dense, theoretically walkable and bikeable part of the city," said Joe Cutrufo, executive director of the advocacy group BikeHouston. "But when you have wide streets designed like highways, with multiple lanes of traffic jockeying for position to be first at the next red light, it doesn't make for a very attractive environment for walking or biking, especially for people with less experience riding a bike."
Back in 2013, the City of Houston adopted a complete streets transportation plan, but Cutrufo said local leaders need to do more to challenge the status quo.
"We let highway engineers do our city planning for us, engineers who design streets with the sole intention of moving as many cars as possible. And until recently, nobody questioned that," Cutrufo said. "We don't question the fact that practically every street in Houston has at least two car lanes, but when we consider adding sidewalks or a bike lane, we have to hold several meetings to get the blessing of drivers."
The Caroline Street project should be completed by this fall.