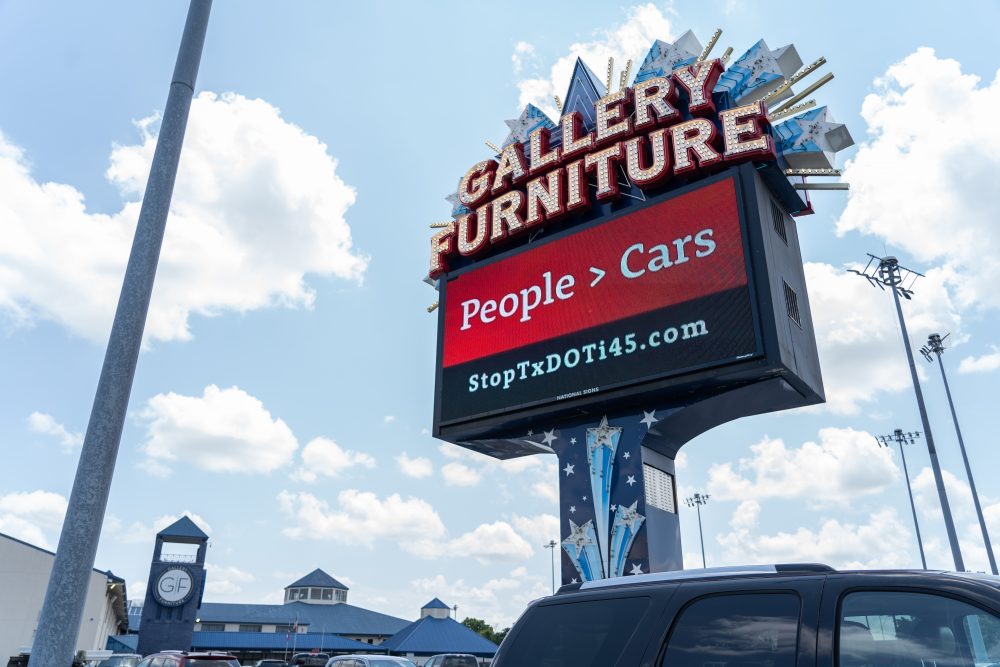 The public comment period for a controversial I-45 expansion project will close Monday afternoon, as local activists continue to push for changes to the plan and blast TxDOT's for its approach to community engagement.
TxDOT released a SurveyMonkey poll in late July seeking public input on several projects in the state's Unified Transportation Program, or UTP, with one question focusing on the I-45 North Houston Highway Improvement Project.
Critics of the plan have pushed for expansion funding to instead be used on other projects in the area. But the poll question asks participants to pick between supporting the project and keeping funding, or removing the project and its funding from the UTP — forcing an all-or-nothing approach on residents, according to Molly Cook, an organizer with the group Stop TxDOT I-45.
"It's very clear that TxDOT is, A, giving us a false binary, and B, trying to pit the Texas cities against each other, and it's not going to work," Cook said.
Cook spoke alongside Houston residents who say they would be impacted by the highway expansion during a press conference Saturday at Gallery Furniture, criticizing a plan that has come under scrutiny from the federal government over environmental and civil rights concerns.
The project would widen I-45 from Downtown North to Beltway 8, in an effort to reduce congestion and commute times amid a growing population. But critics say the plan would displace hundreds of families and worsen air quality.
"Inside of my community, there is a village. The only reason why I'm here is because that village taught me to stand up for myself," said Fifth Ward resident Kendra London. "I'm from a Fifth Ward woman, I'm a Fifth Ward woman, my grandmother's a Fifth Ward woman — we love our neighborhood."
Residents and activists were joined by city, county, state and federal politicians who also voiced their dismay towards the project, including Harris County Precinct One Commissioner Rodney Ellis, who slammed claims made by project supporters that the expansion would enhance safety, improve air quality, and address flood mitigation and disaster evacuation needs.
"The idea that a freeway is going to mitigate flooding — do you think we're drunk?," Ellis asked. "To say, 'we're gonna build more freeways to help with climate change.' Are you stupid? Do you think we're stupid?"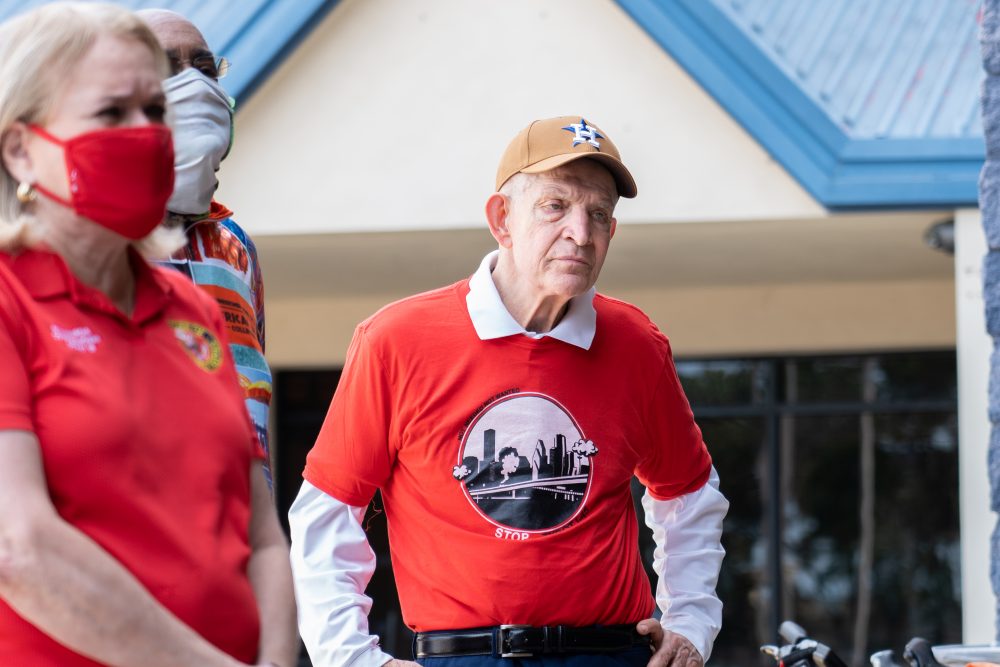 Among the project's most vocal supporters has been the Greater Houston Partnership, which urged their members to comment in favor of the expansion through several emails and thousands of dollars in Facebook ads.
In an email to members on Friday, GHP president and CEO Bob Harvey wrote that the expansion was "a transformational project" that was "necessary to promote economic growth and opportunity for all Houstonians."
The email also acknowledged that the expansion would impact several communities, and added that more could be done to "mitigate negative impacts," but the project would need to move forward for those possible changes to be considered.
After the public comment period closes at 4 p.m. Monday, the Texas Transportation Commission will decide whether to include the project in the state's 2022 Unified Transportation Program.
If the project is not approved, a TxDOT spokesperson said last week that the agency could take the money and use it elsewhere — a claim that Houston congresswoman Shelia Jackson Lee disputed during Saturday's press conference, since a portion of the project would be funded using federal money already earmarked for the Houston area.
"These are federal dollars that they're talking about," she said. "They don't belong to TxDOT, they belong to the people of Texas and the people of the United States of America."
On the sidelines of Saturday's press conference was Houston businessman Jim "Mattress Mack" McIngvale, who owns Gallery Furniture, and whose business stands to be affected if the project comes to fruition because of its close proximity to I-45.
While McIngvale said he was concerned about impacts on his business, he was more worried about the hundreds of community members who may lose their homes.
"We think the all-or-nothing offer from TxDOT is not good for anybody," he said. "It's gonna affect all the neighborhoods and the people who don't have the financial resources we do. It's gonna be devastating."