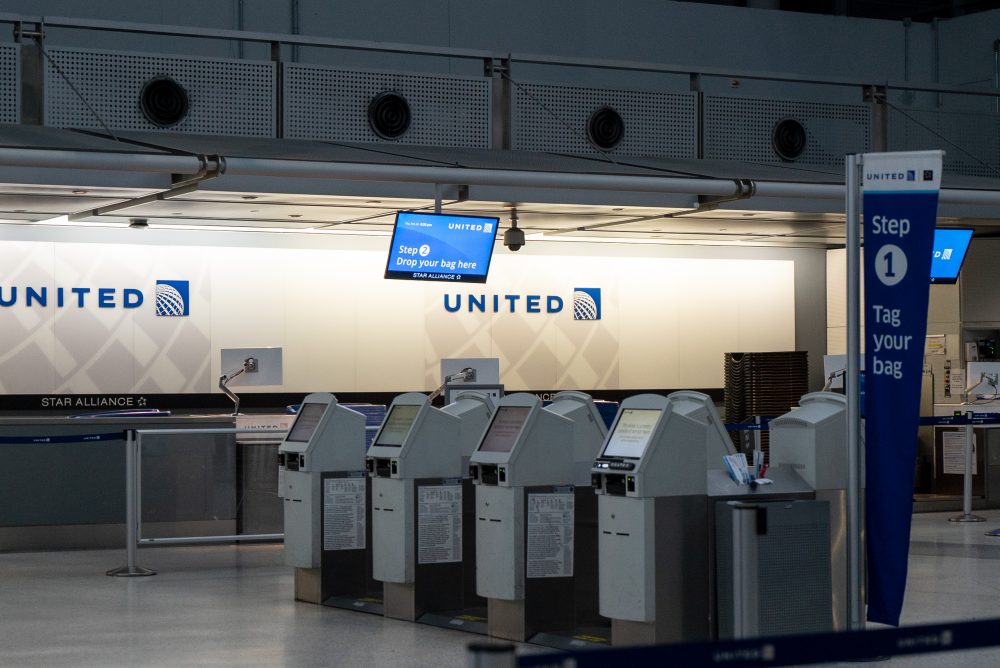 TODAY IN HOUSTON | Start your day with HPM's morning newsletter
United Airline workers on Tuesday urged Houston City Council to pass an ordinance that they say would help hundreds of employees keep their jobs at George Bush Intercontinental Airport.
During Tuesday's public session, two workers with UNITE HERE Local 23, the labor union representing United workers, told council members they were concerned about subcontracting out services through request for proposal, first established by United as part of their efforts to become more efficient during the pandemic.
Now, 800 workers are at risk of losing their jobs, union member Houston Daniels said.
"United Airlines has made no promises or guarantee that we will keep our jobs or our benefits during this transaction," Daniels said. "We have worked hard, and many of us, including myself, have worked through the pandemic. Right now we are uncertain of our futures with the company, and are left wondering how we can provide for our families if we lose our jobs."
Mayor Sylvester Turner said that he has been made aware of the issue and that he is doing all he can to ensure the employees would keep their jobs.
But when asked directly about any plans for a worker retention policy, which is what the labor union is pushing for, Turner declined to make a commitment.
"We are working to make sure that current employees are not going to be displaced by the incoming vendor or whoever that may be," Turner said. "I'm very sensitive to that and we are talking to United as we speak."
In a followup email, mayoral spokesperson Mary Benton said the administration does not believe it can mandate the terms of the agreement, though the office was waiting for the city's legal office to weigh in.
But, she said, "the city definitely encourages new contractors to give favorable consideration to existing staff."
Between rounds of federal funding, the airline industry raked in $96 billion, with $18.9 billion going to United Airlines alone, according to a report from the union. Of that money, $7.7 billion was for payroll protection in light of the pandemic — with an additional $15 billion coming from the American Rescue Plan.
In a statement, United Airlines said it was exploring ways to be more efficient to offset the economic impact from the COVID-19 pandemic, and that it was in talks with the union.
The union's fight is not new. United catering employees have been without a contract since 2018, which is when they first voted to unionize.
Based on data collected by UNITE HERE, 95% of United workers at IAH are people of color and immigrants, with 85% of the catering workers living in census tracts that are majority people of color, and 70% of those workers living in areas that had a median household income lower than the overall median in Houston between 2015 and 2019.
According to the report, a mass layoff of workers could potentially worsen economic disparity in non-white neighborhoods, causing devastating financial impacts.
Included in the report is Valerie Thomas, a 15-year transportation lead at United Airlines catering, who said losing her job means life or death.
"I'm scared to lose my health insurance if I lose my job in the fall," Thomas said in the report. "Without my health insurance, I wouldn't be able to go to the doctor to get treatment or afford my medication. If I can't take my medicine every morning, I don't know what will happen. This is life or death for me."
Another worker included in the report, Fernando Herrera, has been working for United Airlines catering for 20 years. He called the subcontracting decision unfair.
"It is an injustice," Herrera said. "It's not fair that United, even after getting the money from the government, is considering laying people off. That's all me and my coworkers think about."
Others said they have had no choice but to work through the pandemic. Heidy Rodriguez, a 13-year employee at Sky Chefs at IAH, who is also included in the report, said she just wants the job security she feels she deserves.
"My co-workers and I risked our lives every day coming to the airport throughout the pandemic," Rodriguez said. "I have sacrificed a lot for my job. We've spent a lot of time working at IAH, and we really would want the security of knowing we could stay, even if another company takes over the kitchen."
The report concluded that if United and the city do not work together to keep the current employees at IAH, they risk dire economic uncertainty.
"Airport workers have stepped up to be ambassadors for our city and have worked hard for the success of our economy," the report read. "This (ordinance) will put an end to employees losing their jobs simply because there is a change in contractors where they work."
Florian Martin contributed to this report.