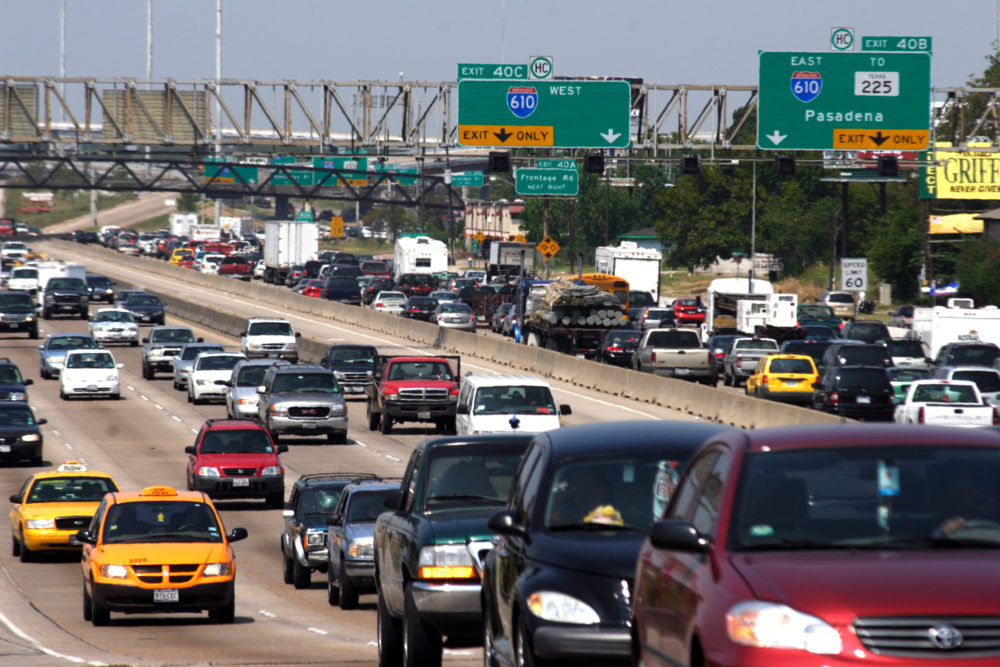 Houston Transtar has launched a new campaign aimed at educating Houston-area drivers on how to protect themselves in the event of a freeway crash or stall, to prevent more highway deaths after a collision takes place.
While the majority of traffic incidents don't involve serious injuries, some can have horrific consequences. That includes people getting hit while standing on or near the roadway after a breakdown or wreck.
Sometimes those secondary collisions are caused by a drunk or distracted driver. In other cases someone is grazed by a fast-moving 18-wheeler.
Transtar's leadership council, which is made up of professionals with expertise in incident management, trauma medicine, and vehicle insurance, procided input for "It's Only a White Line," a campaign to call attention to dangers faced by stranded motorists,
"People just don't seem to understand the deadliness of being on a freeway on foot whether as a pedestrian or as someone who's stepped out of a car," said Houston Transtar Executive Director Dinah Massie.
Massie said even if a vehicle is stopped in the main lanes, it's best to remain inside with a seatbelt on and flashing emergency lights activated. Although there's a chance the vehicle could be struck, drivers will be much more protected inside the vehicle than out on the road.
On huge video screens linked to the region's freeway cameras, crews at Houston Transtar monitor the crashes, breakdowns, and lost loads that can bog down traffic. Transtar says it sees on average about 1,200 crashes a month along with 7,000 breakdowns.
In the event of a freeway breakdown in Greater Houston, Transtar cameras will identify people in need. Stranded motorists can also call for help by using the DPS phone number on the back of a driver's license, or by can contacting the local Tow and Go program, which gets stranded vehicles off the freeway for free.
Instead of trying to deal with the problem, Massie said it's best for motrists to get help.
"Sometimes people get under their cars to try to see what's going on, see if something's stuck, see if they can change a tire," Massie said. "We've seen where the person who becomes disabled calls their friend or family to come provide aid and that's the person that's struck."
She added breakdowns on elevated freeways can be especially dangerous, because guardrails can offer little protection from getting knocked over the side.
Transtar is also trying to clear up misconceptions about what to do after a minor crash, and whether drivers should leave the vehicle in the roadway until police arrive for insurance purposes.
Independent Insurance Agents of Houston Executive Director David Wuthrich said people should by all means move their vehicle from a crash scene if they're able to do so, to a safe spot on the side of the road or preferably to a parking lot.
"Insurance companies want the number one concern of their policyholders in an accident to be safety first and then deal with the accident," Wuthrich said. "The police will still give you a report even if the vehicles have been moved for safety reasons. They will interview the participants and any witnesses and file the accident report with that information."
As for how often people are struck at crash scenes, it's not always easy to get the data.
Dr. Stacy Ann Drake with the Texas A&M Center of Excellence in Forensic Nursing said incidents where a stranded motorist is struck are usually just listed as pedestrian crashes. But they're now able to get data from Houston's Level 1 trauma centers, as well as the Harris County Medical Examiner, on whether the person who was struck was a stranded driver.
"When you're talking about prevention, primary prevention, you really have to dive deeper into what was going on in efforts to figure out how to prevent that incident from happening initially," Drake said.
Based on numbers obtained by Texas A&M, drivers appear to hit stranded motorists about four times a month in Greater Houston. That number doesn't include people who may not report the incidents, or who go to other hospitalis outside the Level 1 centers.
Houston Transtar says it hopes to encourage drivers to comply with the Move Over Slow Down law. That law requires people to change lanes when certain vehicles are on the side of the road with their lights flashing, like police cars and tow trucks.
Another goal is to get disabled vehicles cleared more quickly from local freeways. They're also hoping to strengthen awareness in the medical community of the nature of trauma suffered by stranded motorists who are hit.
For more information on road safety in greater Houston go to the Houston Transtar website.