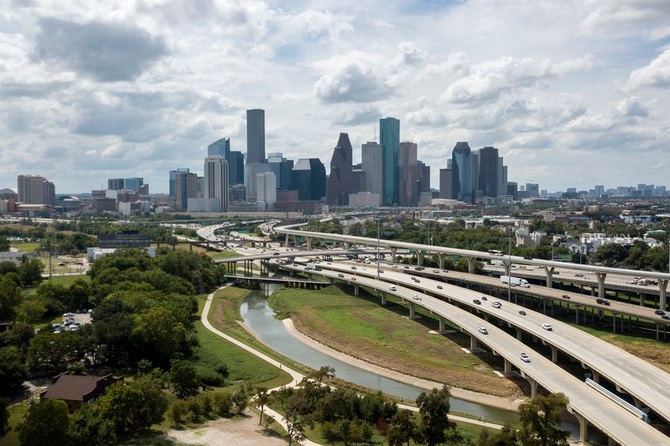 TODAY IN HOUSTON | Start your day with HPM's morning newsletter
Updated 5:55 p.m. CT
The Federal Highway Administration has asked Texas' transportation department to halt construction on an Interstate 45 expansion project, citing civil rights concerns.
The news comes the same day Harris County announced it was suing the Texas Department of Transportation over the North Houston Highway Improvement Project.
In its letter to TxDOT, the FHWA said it was acting in response to public input on the state's project — which would widen I-45 in three segments from downtown Houston to Beltway 8 — raising concerns under Title VI of the Civil Rights Act of 1964, as well as environmental justice concerns.
The federal agency said it alone was responsible for such civil rights complaints, and asked for time to review them.
"To allow FHWA to evaluate the serious Title VI concerns raised…we request that TxDot pause before initiating further contract solicitation efforts for the project, including issuance of any Requests for Proposals, until FHWA has completed its review and determined whether any further actions may be necessary to address those concerns," the March 8 letter reads.
The agency added that it would "expedite its efforts to resolve any issues as quickly as possble."
Here's the letter from the Federal Highway Administration asking TxDOT to halt plans for I-45 in Houston. Seems like a BFD pic.twitter.com/3nOFIl70LL

— Rafael Lemaitre (@CJOspox) March 11, 2021
According to TxDOT, the NHHIP is meant to reduce congestion on I-45 amid a growing population, and reduce commute times.
But the project has received opposition from people worried about noise, air pollution, and displacement, as the project requires new right-of-way that locals say could force the relocation of homes and businesses along the corridor.
At a press conference Thursday afternoon, Harris County Judge Lina Hidalgo said history shows the expansion won't solve traffic problems, pointing to a $2.2 billion widening of the Katy Freeway that ended up increasing average commute times, according to one study.
"For years, our community's been fighting this," Hidalgo said. "And as leaders in our community, we are determined to use any lever of government we can to change the trajectory of this project and advocate for the future of this county."
FHWA's intervention is a major win for critics of the project, who have said it failed to consider local community input and negatively impacted the environment and quality of life in nearby neighborhoods.
On the heels of the letter, Harris County sued TxDOT under the National Environmental Policy Act, a federal law enacted in 1969 that mandates proper environmental consideration for all projects requiring federal action.
In filing the suit, Harris County Attorney Christian Menefee also said the NHHIP would displace families in more than 1,000 homes, displace businesses and reduce parkland.
"We cant allow TxDOT to cut corners and fail to live up to their duty to consider environmental impact on this project," Menefee said.
In a statement, TxDOT Executive Director James Bass said the agency had not yet seen the Harris County lawsuit.
"We were looking forward to continuing our work with stakeholders on refining the plans for the project, but these plans may now be in jeopardy due to the lawsuit," Bass said. "We look forward to discussing our efforts to mitigate concerns about implementing the HGAC's vision for I-45."
TxDOT spokesperson Veronica Beyer added that the agency is in contact with FHWA, "seeking clarity around what a pause might mean as far as timing is concerned for future contract solicitation efforts."
Susan Graham of the group Stop TxDOT I-45, which advocates for safer streets and equitable public transportation, praised the lawsuit.
"The NHHIP is based on antiquated ideas, continuing the systemic racism and environmental injustice of past freeway projects," Graham wrote in an email to Houston Public Media. "Moving forward would further cement the car centric paradigm in Houston and run contrary to the City and County's Vision Zero, and Climate Action Plan."