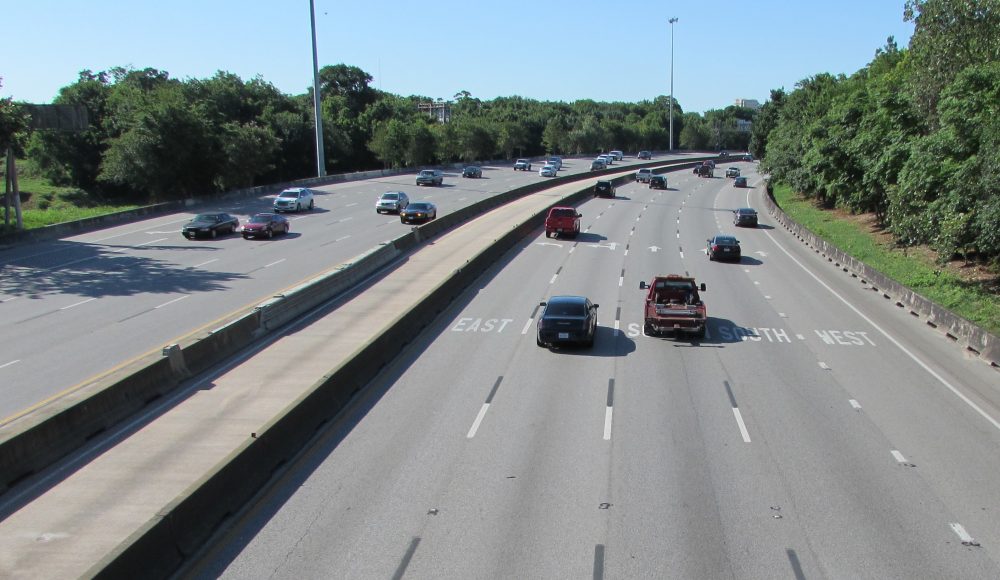 The Texas Department of Transportation is looking for public feedback on the environmental impact of a massive highway rebuild — a project critics say could be a major disruption to the surrounding community.
TxDOT wants the public to weigh in on the Final Environmental Impact Statement for the North Houston Highway Improvement Project to widen I-45 in three segments, from downtown Houston to Beltway 8.
The plan would include new managed lanes along with designated lanes for transit.
Considering the project requires new right-of-way, hundreds of homes and businesses along the corridor could be forced to relocate. That's what concerns Susan Graham, a northside resident who founded the group Stop TxDOT I-45.
"I'm afraid that peoples' lives will be disrupted in a way that they won't be able to recover from," Graham said. "We have to start putting value on our communities in the inner city. These communities have been around for many, many years. They have deep historic roots, especially in our communities of color."
People have 30 days to comment on the statement, but Graham said her group would like to see that period extended so residents would have more time to review the lengthy document.
She said her group has been walking through neighborhoods to talk to people about the widening plan, and she worries in particular about long-time renters who don't speak English.
"These tenants we've been talking with really didn't have enough information," Graham said. "We also feel like the noise and air pollution, flooding and all the other things that go with more concrete will be a problem for the people that remain. Because some of the people that are remaining are going to be severely impacted as well by how close the freeway is going to be to their homes."
Eliza Paul, TxDOT's district engineer for the Houston region, said the agency has heard those concerns, and has taken a lot of comments on the project over the past few years that are addressed in the FEIS.
Comments during this period will be considered as the project is put into its final form.
As for neighborhood outreach, Paul said they are sending out postcards in English and Spanish to people living along I-45 North. Emails are also going out to people who registered at previous public meetings.
Paul added that if residents want to visit the TxDOT offices to review the environmental statement in depth, they can make an appointment for detailed discussion with staff. Translators can be made available in Spanish and other languages, Paul said.
"We are taking very careful consideration of that," Paul said.
New managed lanes on a redesigned I-45 would also bring in commuters from outlying areas so they won't have to mingle with local drivers on the general purpose lanes, Paul said, addressing criticism from neighbors that the project will primarily benefit people who come in from the suburbs at the expense of urban communities.
"If you look at some of the traffic data there are actually a lot of local people driving around," said Paul.
Paul added there's also a lot of local freight movement with trucks making deliveries from local warehouses.
As for extending the public comment period for the project, Paul said that's something TxDOT is considering.
Meanwhile the Houston-Galveston Area Council's Transportation Policy Council has formed a working group to come up with a memorandum of understanding on the project's parameters.